12 Days of Christmas - Day 9, Access to insurance
By clicking on submit I / We give consent for you to call me / us on the number provided to discuss my / our financial requirements.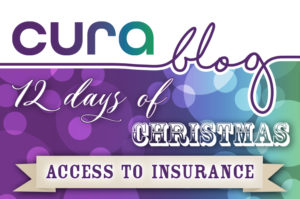 On the ninth day of Christmas
Cura gave to me
Access to insurance
There are some basics when it comes to applying for protection insurance which will nearly always remain the same no matter what your situation is. In order for an insurer to be able to make a sound decision on your application, they need to be able to get to know you and your circumstances.
What Insurers Want To Know
When completing the application form, an insurer will start off by asking details such as your name, age and date of birth, and most applications will then go on to ask more about your health, occupation, hobbies and travel.
There are also other things that insurers want to know such as who is paying for the policy and depending upon how much insurance you are applying for, they may ask you to complete some financial questionnaires too. This might seem strange but we can hopefully make it make sense.
Not everyone can just apply for get £1m worth of life insurance. Insurers want to know why you feel that you need that much cover. It doesn't mean that you can't apply for it, but things like life insurance are based upon what is known as 'insurable interest'. This is the amount of money that your loved ones will need to be financially secure if you die.
These calculations often include things like the value of any mortgages that you have, inheritance tax liability, your salary level and if you have any dependent children or adults.
Your Health
There are certain things an insurer will want to know about any health conditions you have, such as:
What is it?

When were you diagnosed?

Any medications or treatments you undertake.

Does it affect your ability to do day to day activities, or work?
The insurer will want to get an overall picture of you, and with the very nature of insurance being about risk, they want to know if you have any 'risks' that might increase your chance of claiming on the policy.
As there are so many different health conditions, it's often not easy to say exactly what terms you will be offered when you apply for insurance. We do a lot of research before we give you an idea of what might be available to you. If you have a health condition that triggers what is known as a GP report for the insurer to fully assess your application, it is possible to indicate what you might be offered based upon our discussions, but we cannot guarantee the outcome. This is because we find that GP reports often have errors in them and you can read more about this here.
When applying for life insurance, critical illness cover or income protection, you can be offered terms at standard rates (normal premiums) or an increased premium, depending on your individual situation. It could also be that your policy comes with an exclusion, this is unusual for life insurance, and is more likely to be seen within critical illness cover or income protection policies.
Depending upon your medical condition, the recency of the diagnosis or any potential flare-ups it is possible that your application could be postponed for a number of months. This can also happen if there are any tests or investigations still underway.
Unfortunately, it's not unheard of for an application to be declined. This is always a negative experience, there is no hiding away from the fact that being declined insurance does not feel great. However, some insurers look at health conditions more favourably than others, so one insurer may decline your application where another may offer you terms. This is where our advisers come in handy, as they will know which insurer will be best for you.
Your Occupation
Your occupation is also looked at when you apply for most protection insurances. This is because some occupations are seen as more risky than others e.g. an electrician, offshore worker, even teachers can be classed as a higher risk for some policy types. Though your work can have a bearing on what terms you're offered, insurance is still possible and at Cura we have many clients in roles that are seen as high risk.
Some of the common things an insurer will ask about your occupation include
What is your job?

Are you ever required to work outside of the UK?

Do you pay UK tax? (depending upon the policy type)

What percentage of your work is administrative versus manual?

How many miles do you drive for work each year?
These are some examples of questions that are asked, but the questions can quickly change and go into quite a bit of detail depending upon your occupation. For example, if you are a bomb disposal expert in the army the questions that we ask will be quite different to an administrator in a GP surgery. That's quite an extreme range of occupational risks, but I hope it shows that it isn't a one question fits all situation.
One reason why your job could be seen as high risk could be because it makes you travel much more than the average job. An insurer may want to know where you have travelled within the past 5 years (excluding holidays), if you have been outside of the UK for more than 1 week with work. They will also ask where you plan on going in the next few years.
Some people may visit these places for work, and be in such a specific environment that the insurers do understand that the risks aren't as high as simply wandering around the country. The more information that you have about your exact occupational duties, the specific locations that you visit and the types of transport that are used.
Your Travel
As you probably know, some countries are much riskier than others, and there can be an increased risk of things such as political conflict, civil unrest or contracting some illnesses if you spend significant time abroad. Insurers aren't concerned if you're jetting off to Spain or the south of France a couple of times a year but are interested in you visiting countries such as Iraq, Afghanistan or Moghadishu. Basically if you are going on holiday somewhere for less than 30 days, it's probably ok with most insurers.
The types of questions you are going to be asked include:
Where are you travelling to?

What is the reason for your journey?

How long will you be there for?

How many days will you be outside of the UK within the next year?
Since covid the countries that are seen to be of high risk in the insurers eyes are fluctuating quite a bit, as they are monitoring covid case numbers, vaccine rollouts and booster programmes.
Your Lifestyle
Hobbies such as open water diving, motor cross racing or mountain climbing sound super exciting to me, and done correctly they can be quite safe. You can probably imagine what I'm going to say next: insurers like to know about any hobbies which could potentially be seen as high risk. Even things such as horse riding or skiing can be high risk. The risk that insurers are seeing is not just specifically about you, it's the fact that there are so many environmental factors that could quickly change how safe things are.
Some key questions include:
What are you doing?

How often are you doing it?

When you do it are you part of a group or solo?

Do you hold any related qualifications?

Have you experienced any accidents when doing this activity?
Again, these are quite general examples of the questions that we ask. You can see more examples of specific questions about some common hobbies here: scuba diving, skiing, mountaineering.
Covid-19
With the recent pandemic, many people have been left wondering how this might affect their ability to take out protection insurance. In the height of the pandemic, many insurers were making their underwriting rules much more strict, as they were unable to predict what was going on. Though insurers aren't quite as strict now, covid can still play a part in the terms that you're offered.
If you have recently had covid then insurers are likely to postpone your application for a couple of weeks until you are all clear. Some insurers are now starting to ask about your vaccination status.
It's completely within a person's right to not have the vaccination and no-one is going to judge you for that, as there are many reasons as to why a person may choose not to have it. When it comes to applying for protection insurance, insurers see the vaccine as a positive and it's likely that you may be offered more favourable terms if you are fully vaccinated, as you are seen as more protected.
Case studies
Health
A woman in her late 40s came to us needing life insurance to offer financial security to her young family. Three years before speaking with us she had been diagnosed with stage 1A breast cancer. The tumour had been removed and she was taking some specific medication, to prevent the cancer from coming back. We arranged for her to have level life insurance of £500,000 over 15 years, for £70.35 per month.

A man

in his early 50s approached Cura needing protection insurance to protect his mortgage. He was diagnosed with a benign brain tumour around 20 years before coming to us. He had an operation to remove part of the tumour and laser surgery to remove the remaining parts. He was given the all clear after around 10 years. He now has a life insurance policy until he reaches the age of 67, covering him for £125,000 with a monthly premium of less than £19.



Occupation
A man in his early 40's needed protection cover to protect his mortgage. He is in the army with plans to be based in Northern Iraq for a number of months in the near future. He now has a life insurance policy for 9 years, covering him for £250,000 for less than £16 per month.

A man in his early 40's needing life insurance to protect his mortgage. He was employed as a remote operated vehicle pilot within the gas and oil industry, meaning he worked on a boat off the coast of Baku on a monthly rotation. We arranged a life insurance policy for him over 17 years, covering him for £155,000 with a monthly premium starting at just under £22 per month.
Travel
A woman in her mid 50s needed protection insurance to ensure her mortgage could be paid off in the event of her death. She worked for a company based abroad and was sent to different countries for work, and was currently living in Saudi Arabia. She returns home to England every now and then, but on average around 9 months out of the UK. Before being based in Saudi Arabia she had been based in Alergia, Abu Dhabi and Russia, and was due to shortly relocate back to one of those. This client now has a life insurance policy covering her for just shy of £180,000 for a period of 15 years, with a premium of close to £93 per month.

A man in his early 50s came to us as he was facing a UK inheritance tax liability, but was not resident in the UK. This person was not a UK national and they were not resident in the UK, which means that very specific insurers need to be used, due to international regulations. Working alongside an international taxation specialist, we arranged for him to have £2.5m of life insurance over 5 years, whilst the tax liability was active. The premium for this policy was £1.061.55 per month.
Hobbies
A woman approaching 50 needed protection insurance to offer financial security to her family. She had recently moved to Saudi Arabia for work and had no plans to return to the UK within the next few years. She often took part in skydiving, doing around 40 jumps per year. She does her jumps in UAE, Europe and the USA and it had been a hobby of hers for around 25 years. She now has a life insurance policy for £400,000, for a period of 12 years with a monthly premium of around £96 per month.

A woman in her mid 30s needed to protect his income. She had a hobby of rock climbing, sometimes to a height of over 3000 metres. She mainly did this in the UK but had also climbed in Europe and the USA. She did have a climbing accident a couple of years before approaching Cura and had an operation on her shoulder but is now fully recovered. She now has an income protection policy in place covering her for almost £2,300 per month with a premium of less than £32, until she reaches the age of 70. With her having had an injured shoulder a couple of years before the application, she is unable to claim on this policy for something relating to her shoulder.
Many of these case studies crossover, with people having a hazardous occupation and also working abroad, or working abroad and having a potentially risky hobby. We have a huge range of clients that we have sourced protection insurance for, having a potential risk certainly doesn't mean it's impossible to find insurance, even if you have been turned away before.
Categories: Access to insurance

"Alan and his team were great! Alan helped get me cover where my own company could not (I work in financial services too!) Would highly recommend and will come back in the future."

"Krystle was fantastic throughout and managed to knock almost 50% off my current life insurance premium."

"Very helpful, James worked hard to find the right cover for me and explore the detail with the underwriters."

"Couldn't rate more highly. I moved from another broker due to slow response speeds. Mark responded really quickly (sometimes from his holiday!)"

"Kathryn and her colleagues were very helpful because of my recent illness."

"Nick was my advisor, Excellent knowledge of products and what I needed, not just pushing me into a sale/policy, will always refer to him in the future."

Talk to a Friendly Adviser
Please feel free to call us on
0800 567 7450
and one of our qualified insurance advisers will be happy to assist you.
Please feel free to request a quote from us using our online form. The more information that you can provide us about your health conditions, hobbies, travel and/or occupation, the more accurate indications of price we'll be able to give you.
Experienced and knowledgeable advisers
Specialist advice with no fees to pay
Full assistance with all of your paperwork
Put your policy into trust at no cost
A dedicated insurance adviser for you
Here's our latest guides, musings, charity work, podcast, awards and industry updates. There's a lot going on!