By clicking on submit I / We give consent for you to call me / us on the number provided to discuss my / our financial requirements.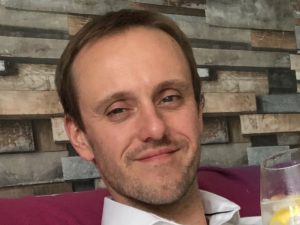 Hi everyone, I'm Alan.
I own Cura Financial Services and have been working in the insurance sector since 2005. I own Cura with my wife and we have made it our mission to help improve access to insurance.
You can find me on Twitter and LinkedIn. But I will admit that social media is not my strongest point, you'd be much better following Kathryn!
My Achievements
2020 – Appointed Executive of the Income Protection Task Force
2019 Winner – Outstanding Individual, AIG Life Quality Awards
2019 Winner – Individual Protection Adviser of the Year, Protection Review
2018 – Appointed Chair of the Protection Distributors Group
2018 – Founding Member of the Access to Insurance Working Group
A little bit about me
After originally joining financial services as a web programmer, I quickly became tempted to try being a protection adviser.
I quickly realised that I loved being an adviser. The thing that I love most about advising, is knowing that I am helping people.
I have three sons and I treasure the time that I get to spend with them. We are always rough and tumbling, getting muddy in the garden and exploring the world around us. They're only young but I'm already teaching them computer programming, I can't help myself.
What I do
My main role is as an insurance adviser, but I do many things as the owner of Cura. Over the years I have developed in-depth knowledge of protection insurance products, services and how the sector works as a whole.
I couple this with my extensive understanding of medical conditions, to fight for fairer access to insurance. I consult with reinsurers, insurers, trade bodies and charities, to challenge the way that insurers view risk.
I have positioned Cura as the go to specialist broker within five financial networks, with hundreds of introducing advisers and a number of charities.
As Chair of the Protection Distributors Group, I co-ordinate 14 of the UK's leading protection insurance brokers. The group has gained widespread commitment from insurers to it's Funeral Pledge and Claims Charter. These are promises made by insurers to do right by their clients, when they need it most.
I am an Executive at the Income Protection Task Force, a group that is dedicated to promoting the value of income protection. This is not just about protecting people's money, it's also the preventative and rehabilitative support that these polices provide. The work of the Seven Families charity is a key example of how income protection can truly help people.
As a founding member of the Access to Insurance working group, I sit amongst reinsurers, insurers, underwriters, fellow advisers and charities, to monitor and promote change within our sector. There has been incredible work to improve access to insurance within recent years and it is our aim to build upon this and embed the need for equality within our industry.
Why I do what I do
When we setup Cura we had a clear vision that our focus would be on helping people with medical conditions and other 'risks', to get insurance.
My wife had difficulty getting insurance because of her health and we didn't want other people to face what she did. I've always wanted to do something where I'm helping people and I'm really happy that we have been able to focus our company to do that.

"Alan and his team were great! Alan helped get me cover where my own company could not (I work in financial services too!) Would highly recommend and will come back in the future."

"Krystle was fantastic throughout and managed to knock almost 50% off my current life insurance premium."

"Very helpful, James worked hard to find the right cover for me and explore the detail with the underwriters."

"Couldn't rate more highly. I moved from another broker due to slow response speeds. Mark responded really quickly (sometimes from his holiday!)"

"Kathryn and her colleagues were very helpful because of my recent illness."

"Nick was my advisor, Excellent knowledge of products and what I needed, not just pushing me into a sale/policy, will always refer to him in the future."

Talk to a Friendly Adviser
Please feel free to call us on
0800 567 7450
and one of our qualified insurance advisers will be happy to assist you.
Please feel free to request a quote from us using our online form. The more information that you can provide us about your health conditions, hobbies, travel and/or occupation, the more accurate indications of price we'll be able to give you.
Experienced and knowledgeable advisers
Specialist advice with no fees to pay
Full assistance with all of your paperwork
Put your policy into trust at no cost
A dedicated insurance adviser for you
Here's our latest guides, musings, charity work, podcast, awards and industry updates. There's a lot going on!