Armed Forces Personnel - Army
By clicking on submit I / We give consent for you to call me / us on the number provided to discuss my / our financial requirements.
Life Insurance, Critical Illness Cover and Income Protection for Armed Forces Personnel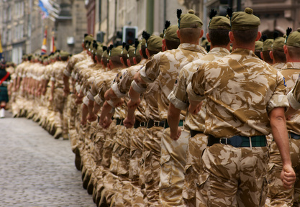 Example Occupations:

Pilot, Infantry, Gunner

Possible Risks:

Active combat, explosives, hazardous countries, total permanent disability

Occupational Duties:

Manual worker, adminstrator, medical staff
Life Insurance
The main concern for insurance providers in regards to insuring Armed Forces personnel is when the individual concerned is in active deployment or due to see frontline action within six months. As a member of the Armed Forces the insurance provider will need to know your regular duties in order to fully assess the risks of your job.
We regularly arrange Life Insurance for Armed Forces personnel and there is often the potential to get cover at standard terms (no price increase), but this depends on the likelihood of you going on active tour in the foreseeable future. Additional consideration is also given if the cover is mortgage related. Companies are frequently changing their views on this so there is rarely a 'single' best company to choose. Whilst cover can be accepted with no loading, it can also be loaded quite heavily.
Critical Illness Cover
If you are eligible for Life Insurance you are likely to be able to apply for Critical Illness Cover for Armed Forces personnel too. Your occupation will have a direct impact upon the range of Critical Illnesses that the insurance provider will offer cover for. For example, if you are an explosives handler you should be prepared that the Critical Illness 'loss of limbs' may be excluded from your policy's claimable conditions.
This should not deter you from applying for Critical Illness as you may get quite favourable terms depending upon your regular working tasks in the Army. Critical Illness contracts will generally cover you for up to 59 claimable illnesses should you be diagnosed with a specified medical condition within the term of your policy. There is one provider who offers a Serious Illness contract which offers protection for up to 161 illnesses and may not include any exclusions directly related to your occupation.
Income Protection
Income Protection for Army personnel is available with a select number of insurance providers. You will typically find that any offer of Income Protection available to you will come with a war and terrorism exclusion to the policy claims set. This is due to the associated higher risk of you becoming unable to work over a long-term, as a direct result of your occupation.
If you find that the offer of Income Protection does not suit you, you may want to consider short-term Accident, Sickness and Unemployment Insurance. This policy will provide you with a monthly income should you be unable to work, for a period of up to 24 months. You need to be careful of wording under these policies however, as many exclude accidents that happen whilst working abroad.
Please use our free online quotation system to see how much Accident, Sickness and Unemployment Cover you could receive. Redundancy cover for Armed Forces personnel will come with strict claims criteria and we strongly recommend that you speak with one of our insurance advisers before applying for this cover.
Summary Definition
Armed Forces personnel include a varied set of occupations including Pilots, Bomb Technicians, Doctors, Cooks and Band members. The day to day working task requirements of individuals employed by the Armed Forces varies significantly between low and high risk activities. Should you be due to serve in active duty within the next six months you will certainly need to speak to an adviser to find out which insurance companies will consider your application. In this circumstance you are likely to receive a higher price on your policy dependent upon your occupation, destination and risk profile.
In some circumstances if you pay a higher price for cover because of your position in the Armed Forces you can claim back a percentage of the extra premium by use of a JPA F010 form. This is only done by your personnel department and cannot be completed or guaranteed by insurance provider or broker.
Occupations:
The Special Risks Bureau often handle enquires for members of the Armed Forces, example occupations are:
Combat (Pilot, Infantry Soldier, Security Guard, Infantry Platoon Officer, Light Gunner, Naval Gunfire Observer, Infantry Musician, Infantry Driver, Household Cavalry Officer, Helicopter Pilot Officer, Combat Air Controller, Military Policy Guard, Commando, Artillery Troop Officer, Artillery Observer, Guards Platoon Officer, Mortar Operator, Tank Crewman, Air Defence Gunner (HVM), Special Gunfire Observer, Sniper, Rocket Ssytem Gunner, Tank Troop Officer, Human Intelligence Officer, Dog Handler, Air Defence Gunner (Rapier), Combat Assault Engineer, Household Cavalry Soldier, Guardsman, Armoured Gunner (AS90), Tank IT Systems Operator, Anti Tank Missile Operator, Parachutist Reconnaissance, Sound Surveillance Operator, Deputy Tank Commander, Aviation Crewman, Close Reconnaissance Soldier, Radar Surveillance Operator, Reconnaissance Tank Crewman, Paratrooper, Machine Gunner, Tank Commander, Weapons Specialist Adviser, Paratroop Platoon Officer, Parachutist, Unmanned Aircraft Operator)
Engineering (Geographic Suppot Technician, General Fitter, Bricklayer, Plumber, Avionics Technician, Clerk of Works (Mechanical), Aircraft Artificer, Dental and Medical Technician, Elec and Mech Draughtsman, Machinist, Bridge Operator Driver (ABLE), Armoured Engineer, Avionics, Artificer, Engineer Troop Officer, Diver, Fabricator, Search Specialist, Engineer Specialist Driver, Vehicle Artificer, Clerk of Works (Electrical), Plasterer/Painter, Design Engineer Team Officer, Infrastructure Engineer, Vehicle Mechanic, Air Conditioning Fitter, Engineer Logistics Specialist, Logistic Marine Engineer, Aircraft Technician, Tank Bridge Transporter Driver, Engineer Deputy Troop Officer, Plant Transporter Driver, Fuel and Water Systems Engineer, Metalsmith, Amphibious Engineer, Clerk of Works (Construction), Electronics Artificer, Plant and Construction Foreman, Plant Operator Mechanic, Vehicle Recovery Mechanic, Electrician, Weapons Systems Engineer, Equipment Fitter, Engineering Platoon Officer, Carpenter and Joiner, Well Driller, Weapons Artificer, Ship Repair Engineer, Design Draughtsman, Electronics Technician, Bomb Disposal Specialist, Welder, Crane Operator, Survey Engineer, Building Materials Technician)
Logistics and Support (Logistics Supply Specialist, Logistic Ammunition Technician, Logistic IT Systems Analyst, Prison Officer, Logistic Hygiene Technician, Aviation Groundcrew Specialist, Technical Storeman and Trainer, Aviation Support Specialist, Storeman, Driver, Military Police Soldier, Logistic Troop Officer, Logistic Support Chef, Logistic Support Driver, Military Police Detective, Tailor, Logistic Fuel Specialist, Logistic Port Operator, Tank Transporter Driver, Logistic Movement Coordinator, Aviation Support Officer, Logistic Postal Courier, Artillery Logistics Specialist, Logistic Boat Crewman, Health and Safety Adviser, Logistics Support Photographer, Military Police Officer, Logistic Air Dispatcher, Specialist Driver, Logistic Boat Pilot)
Intelligence, IT and Comms (Communication Systems Operator, Comm Logistic Specialist, Communication Adviser Soldier, Intelligence Cell Operator, Artillery IT Systems Operator, Webmaster, Electronic Warfare Supervisor, Human Intelligence Analyst, Signals Installation Tech, Communication Electrician, Engineer IT Systems Operator, Language Specialist, Infantry IT Systems Operator, Communication Troop Officer, Communication Adviser Officer, Special Forces Signaller, Intelligence Linguist, Communication Systems Engineer, Signals Operator Supervisor, Counter Intelligence Operative, Aviation IT Systems Operator, Driver Comms Specialist, Information Systems Supervisor, Imagery Intelligence Analyst, Intelligence Officer, Weapons Intelligence Analyst, Intelligence Operative, Signals Engineer Supervisor, Electronic Warfare Operator)
HR and Finance (HR Specialist, HR Officer, Chaplain, Welfare Worker, Management Accountant, Physical Training Instructor, Learning Development Officer, Fitness Instructor, Army Skills Instructor, Legal Officer)
Medical (Student Nurse, Adult Health Nurse, Combat Medical Technician, Veterinary Officer, Dental Nurse, Combat Team Medic, Environmental Health Officer, Adult Health Nursing Officer, Medical Support Officer, Healthcare Assistant, Mental Health Nurse, Pharmacist Officer, Biomedical Scientist, Farrier, Clinical Physiologist, Operating Theatre Practitioner, Veterinary Technician, Pharmacy Technician, Dentist, Physiotherapist Officer, Radiographer, Environmental Health Tech, Doctor, Mental Health Nursing Officer)
Music and Ceremonial (Musician (Horse Mounted), Sound Technician, Musician, Riding Instructor, Saddler, Ceremonial Gunner, Musical Instructor, Band Accountant)
Further Reading and Research
By clicking on the link(s) above you will be departing from the regulatory site of Special Risks Bureau. The Special Risks Bureau (Cura Financial Services) is not responsible for the accuracy of the information contained within the linked site(s).

"Alan and his team were great! Alan helped get me cover where my own company could not (I work in financial services too!) Would highly recommend and will come back in the future."

"Krystle was fantastic throughout and managed to knock almost 50% off my current life insurance premium."

"Very helpful, James worked hard to find the right cover for me and explore the detail with the underwriters."

"Couldn't rate more highly. I moved from another broker due to slow response speeds. Mark responded really quickly (sometimes from his holiday!)"

"Kathryn and her colleagues were very helpful because of my recent illness."

"Nick was my advisor, Excellent knowledge of products and what I needed, not just pushing me into a sale/policy, will always refer to him in the future."

Talk to a Friendly Adviser
Please feel free to call us on
0800 567 7450
and one of our qualified insurance advisers will be happy to assist you.
Please feel free to request a quote from us using our online form. The more information that you can provide us about your health conditions, hobbies, travel and/or occupation, the more accurate indications of price we'll be able to give you.
Experienced and knowledgeable advisers
Specialist advice with no fees to pay
Full assistance with all of your paperwork
Put your policy into trust at no cost
A dedicated insurance adviser for you
Here's our latest guides, musings, charity work, podcast, awards and industry updates. There's a lot going on!