By clicking on submit I / We give consent for you to call me / us on the number provided to discuss my / our financial requirements.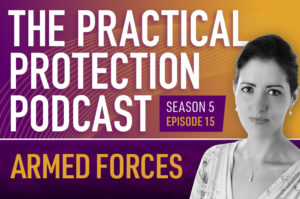 Armed Forces
With 25 June fast approaching, Armed Forces Day marks a time where we give thanks to the people that work to protect our country, those that have been affected by their time in the forces and others that we have lost in the line of duty.
When it comes to insurance some of the risks that insurers see might seem quite obvious, others maybe not so much. Key things that insurers are looking out for if you are wanting to apply for protection insurance are:
Current or planned deployment

Frontline duties

Fast jet pilots

Bomb disposal

Post traumatic stress disorder


These are just a few examples. The very nature of insurance is all about risk and if someone is doing a job that puts them at a higher risk of death or being seriously harmed, then options for life insurance, critical illness cover and income protection can be trickier. It's worth bearing in mind that being a reservist can also make things a bit trickier too.
You can listen to the podcast here:
Armed Forces Life Insurance
Life insurance is probably the main insurance where it's quite clear why the insurer might be a tad cautious. People that might go to active war zones are a higher risk than someone that is working in an office in the middle of York. There will always be instances where this isn't the case, but insurers work off statistics and the data shows that working in the Armed Forces is riskier than many other occupations.
This can be frustrating as you might be in the Armed Forces and not be doing any kind of high risk job, with a very low chance of being deployed. There are some insurers who see any form of Armed Forces work as high risk, but there are some that really take a good luck at your actual duties and make a sensible decision about your application.
It is possible that your life insurance will be offered at standard terms, but sometimes there can also be occupational exclusions placed on parts of the policy. You might find that the insurer will want your life insurance to specifically match a mortgage liability.
Our advisers will find you the right insurer that offers you the best terms possible.
IMPORTANT: Have you had your insurance premiums increased due to your occupation? Then get a hold of a JPAF0100 now! Once processed this form means that the MOD may refund you 90% of the additional premium that you have paid due to your occupation.
Armed Forces Critical Illness Cover
For critical illness cover it can feel a bit confusing over why insurers might be cautious of insuring people in the Armed Forces. Afterall the insurance covers you if you are diagnosed with cancer and other conditions, but what's that got to do with working in the Armed Forces? Well, you might be surprised at how many conditions you might be at a higher risk of experiencing due to this occupation:
Heart attack

Loss of a limb

Stroke

Third degree burns

Total permanent disability

Traumatic head injury
These are just a few examples but heart attack and stroke are really important ones in this list. The main conditions that are claimed for in critical illness policies are cancer, heart attack and stroke. So straight away the insurer is assessing an application for someone that is at a higher risk of experiencing two of their most claim areas. This doesn't mean that you can't get critical illness cover at sensible terms, but there really does need to be some good research done to find the right insurer for you.
Armed Forces Income Protection
Income protection can be a bit of a debatable insurance for people that are working in the Armed Forces. As part of working in the Armed Forces you get a really good medical retirement package that can provide a monthly income to you if you can no longer work due to ill health. The ability to get this depends upon the circumstances surrounding your injury or illness and will be reviewed under the War Pension Scheme (WPS) and Armed Forces Compensation Scheme (AFCS).
Until recently there were options to arrange income protection for people in the Armed Forces, but recent rule changes mean that this is not currently available. We are monitoring the market and will release an update if/when this is available again.
For dedicated advice on medical discharge from the Armed Forces you can access Veterans UK , the Royal British Legion and the SSAFA Armed Forces Charity .
Armed Forces Case Studies
It's all well and good writing a blog but the proof comes from the people that we have helped.
A male in his late 30s came to us needing life insurance to provide some family protection to his family and young child. He worked in the Armed Forces and there were no plans for deployment. We were able to arrange for him to have £200,000 of level life insurance over 20 years, for a monthly premium of just under £14.

A female in her mids came to us needing life and critical illness cover to cover her mortgage. She was an Army Reservist and there was no intention for deployment. We arranged for her to have a decreasing life and critical illness policy of £150,000 over 28 years, for a monthly premium of approximately £36. The critical illness cover part of this policy had the following exclusion "any event occurring while the person covered is undertaking duties on behalf of, or during service with, the British Armed Forces or any other militia in an active theatre of operations or conflict.."
Our advisers are dedicated to helping you find the right insurer for you and your circumstances. If you are a member of the Army, Navy or RAF, our team are able to access insurers that can help you to ensure that your family are financially secure if you pass away or become critically ill. Get in touch with us for a no obligation quotation.
To listen to more episodes of the podcast please visit the Practical Protection Podcast website.
If you have listened to this as part of your work, you can claim a CPD certificate on the website, thanks to our sponsors Octo Members.
If you want to know more about how to arrange protection insurance, take a look at my Protection Insurance in Practice course here.
Related blogs
Kathryn featured in the Financial Times Adviser 'Can I get life cover if I'm called up?'

"Alan and his team were great! Alan helped get me cover where my own company could not (I work in financial services too!) Would highly recommend and will come back in the future."

"Krystle was fantastic throughout and managed to knock almost 50% off my current life insurance premium."

"Very helpful, James worked hard to find the right cover for me and explore the detail with the underwriters."

"Couldn't rate more highly. I moved from another broker due to slow response speeds. Mark responded really quickly (sometimes from his holiday!)"

"Kathryn and her colleagues were very helpful because of my recent illness."

"Nick was my advisor, Excellent knowledge of products and what I needed, not just pushing me into a sale/policy, will always refer to him in the future."

Talk to a Friendly Adviser
Please feel free to call us on
0800 567 7450
and one of our qualified insurance advisers will be happy to assist you.
Please feel free to request a quote from us using our online form. The more information that you can provide us about your health conditions, hobbies, travel and/or occupation, the more accurate indications of price we'll be able to give you.
Experienced and knowledgeable advisers
Specialist advice with no fees to pay
Full assistance with all of your paperwork
Put your policy into trust at no cost
A dedicated insurance adviser for you
Here's our latest guides, musings, charity work, podcast, awards and industry updates. There's a lot going on!