The insurance application process in 3 steps
By clicking on submit I / We give consent for you to call me / us on the number provided to discuss my / our financial requirements.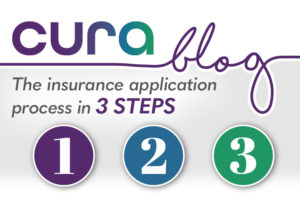 The insurance application process in 3 steps
So many people don't know where to start when it comes to applying for protection insurance, but I think that can be expected if you're not within the industry.
There are so many people who are under-insured or don't have adequate insurance to cover exactly what they want it to. Many don't have insurance at all, and it has been found that this is partly due to them not knowing much about it. Let's face it, learning about mortgages, pensions and insurance would have been far more useful in school than quite a lot of subjects!
Before I get into it too much, it might be helpful to give a little explanation about the types of protection insurance available through Cura.
Life insurance

– this will pay a lump sum to your loved ones in the event of your death. This type of policy is usually taken out if you have any dependents, such as young children that rely on your income, or have a mortgage that will need to be paid off.

Critical illness cover

– this pays a cash lump sum of money, if you are diagnosed with a medical condition that is listed in the insurer's claims set e.g. cancer, stroke, heart attack. This policy is all about supporting you financially if you are really ill. You can use the money for any number of things, people usually choose to pay off their mortgages or debts, pay for private treatment or adaptations to their home.

Income protection – this pays you a percentage of your monthly income, if you are unable to work because of ill health. This can be for any medical reason which means you cannot carry on doing your normal job.


Though there are a few types of protection insurance, you might not necessarily need all of them, though they are worth looking into. These aren't the only types of cover we offer advice for, as we also help with group and business insurances.
The first step to taking out protection insurance is working out what cover you need, how much you think you need and how long for. If you use a protection adviser, they will be able to give you advice on this depending on your own individual circumstances.
If you take out the insurance through a price comparison website or directly with an insurer, this is a non-advised route, they won't determine any of your needs. There are also some insurance brokers who will find insurance to meet what you would like, but not assess your circumstances or give too much guidance, this is known as a non-advised service.
Step 1. The application
When you apply for insurance, you will be asked basic questions such as your name, date of birth, address, and often a question about your occupation. The application will then move on to ask about your health. This will usually include some general questions which everybody is asked, and then some more specific questions if you have mentioned a medical condition or have seen a medical professional recently.
After the health related questions, it's likely that you will be asked about any hazardous hobbies, such as sky diving or deep sea diving. The application will then move on to ask about your travel history. Things like an average length holiday to the Costa Del Sol will usually have no bearing on the application. With some destinations, or if you are planning to be outside the U.K. for more than 40 days, the insurer might have some extra questions for you.
Step 2. Underwriting
The next step is underwriting. If you're not familiar, this is when the insurer will assess your application to see if anything else is needed, such as further information from yourself or a report from your GP. Sometimes you will be offered cover straight away, in which case no further information is required.
If a medical report is needed, the insurer will ask for your permission and then request this from your GP or other health care professional, and the cost is usually covered by the insurer. Once the request is with your GP, it's in their hands and the insurer will chase this up until it has been completed and returned. Sometimes reports can be returned within just a few days, but it has been known for reports to take a few weeks, even months! Don't be surprised if it takes 1-2 months. With the recent strain on the NHS, some reports have been taking longer than usual to be completed.
If the insurer has requested further information from yourself, this will usually just be a few questions over email or they may ask you to have a tele-interview, which sounds much more daunting than it actually is. A tele-interview is a chat with a medical professional, usually a nurse, to confirm details around something you have mentioned in your application.
There are times where an insurer might ask for some medical tests to be conducted, in which case a third party would contact you to arrange a time and day that suits you. The tests don't usually take too long, and can even be carried out in your own home if you wish.
Once this information has been sent back to the insurer, it will then go back to their underwriters to make an informed decision on your application, using all the information that they have gathered. It can be that the insurer has a couple more questions or needs to clarify something with your GP again, if they have not received everything the first time around.
Step 3. Terms
After reviewing your application, the insurer will now have a decision in mind.
Accepted – the insurer may offer you standard terms (no price increase), or there may be a price increase due to a disclosure made on your application. Depending on the type of policy you have applied for, some insurers may add an exclusion to the policy due to a health condition that you have, your occupation or something else that they class as a "risk". Generally life insurance will be a premium increase instead of an exclusion. For income protection and critical illness cover, it could be a price increase and/or exclusion.
Postponed – sometimes an insurer may postpone your application, and suggest that you apply in a certain number of months. This is often the case if you're awaiting any investigations or test results, or if there hasn't been much time passed since a diagnosis.
Declined – depending on your circumstances, an insurer might decline your application. I know that doesn't sound great, and it isn't nice when this happens. If you're using a protection adviser then they should be able to find out why the application was declined, and do some research in order to apply elsewhere. It's really important to know that just because one insurer has said no, it doesn't mean that they all will.
Once you have accepted the terms you have been offered, your policy will be set up and it is then down to you to pay the monthly premium. Protection advisers such as us at Cura will be paid in the form of a commission by the insurer, so there is nothing to be paid by yourself.
If you have used a protection adviser, they should then be on hand for the remainder of your policy to help with anything that may come up, whether it be that you have a quick question, need to update some details or want to review your policy. Most importantly they should be there for you and your loved ones, if there is ever a claim on the policy.
At Cura, nothing is ever too much, and we are always more than happy to help our clients with anything they need.
Categories: Lifting the lid

"Alan and his team were great! Alan helped get me cover where my own company could not (I work in financial services too!) Would highly recommend and will come back in the future."

"Krystle was fantastic throughout and managed to knock almost 50% off my current life insurance premium."

"Very helpful, James worked hard to find the right cover for me and explore the detail with the underwriters."

"Couldn't rate more highly. I moved from another broker due to slow response speeds. Mark responded really quickly (sometimes from his holiday!)"

"Kathryn and her colleagues were very helpful because of my recent illness."

"Nick was my advisor, Excellent knowledge of products and what I needed, not just pushing me into a sale/policy, will always refer to him in the future."

Talk to a Friendly Adviser
Please feel free to call us on
0800 567 7450
and one of our qualified insurance advisers will be happy to assist you.
Please feel free to request a quote from us using our online form. The more information that you can provide us about your health conditions, hobbies, travel and/or occupation, the more accurate indications of price we'll be able to give you.
Experienced and knowledgeable advisers
Specialist advice with no fees to pay
Full assistance with all of your paperwork
Put your policy into trust at no cost
A dedicated insurance adviser for you
Here's our latest guides, musings, charity work, podcast, awards and industry updates. There's a lot going on!