By clicking on submit I / We give consent for you to call me / us on the number provided to discuss my / our financial requirements.
Life Insurance, Critical Illness Cover and Income Protection for Divers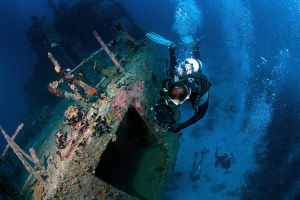 Popular Pastimes: Scuba diving, cave diving, deep diving, free diving, ice diving, open water diving, pothole diving, wreck diving
Possible Risks: Equipment malfunction, decompression sickness (the bends), barotrauma, pulmonary embolism, wildlife
Additional Considerations: Depth, location, group, solo, frequency, qualifications, experience
In many circumstances Life Insurance for divers doing recreational scuba diving will not have a massive impact upon the policy application, so long as you are not going diving too often or too deep. Scuba divers Life Insurance applications will need to detail the frequency of your dives, whether you dive to depths of more than 40m or do more hazardous pursuits such as wreck diving, pothole diving or cave diving then you may well find that your policy premiums are increased. Each client is assessed on a case by case basis and factors such as the frequency of the dives, your experience and qualifications (PADI and BSAC) will all have a bearing on the policy acceptance terms.
If you dive as a occupation please see our occupation diving page.
As with Life Insurance, Critical Illness Cover for divers should not be too difficult to arrange. Divers Critical Illness Cover applications can often see cover accepted at normal terms, so long as you are not diving too frequently or too deep for the insurers acceptance criteria. If you are a frequent diver or one who does dives such as wreck exploration, ice dives or cave exploration then you are likely to see a premium increase or exclusion on cover. Insurance companies will likely want to know your qualifications, if you ever dive solo and if you do any wreck, cave or ice dives.
Income Protection for divers can be available at standard terms with some insurers. You will need to inform the insurer of the depths that you dive to, any diving related injuries that you have had and you should also detail any qualifications that you hold.
Depending upon your needs and budget you could apply for Accident, Sickness and Unemployment cover as an alternative to Income Protection. This short-term Income Protection could be more suited to you, if long-term policies come with exclusions due to you diving activities. Accident, Sickness and Unemployment cover will provide you with a regular monthly payment for between 12 and 24 months should you be unable to work. Please use our free online quotation system to see the type of cover that is available to you.
Are you going wreck diving, open water swimming, reef exploring? Find out if you have the correct travel insurance place with a specialist broker. Click here for more details.
In order to take part in frequent dives, it is important for scuba divers to maintain a healthy lifestyle. Divers who are fit and active may find that an insurance policy from VitalityLife suits them well. A VitalityLife protection policy can reward you for living healthier, to find out more click here.
Coconuts are more dangerous than sharks when it comes to fatality rates
Below the depth of 10 metres it is not possible to see the colours red or yellow
Scuba diving is safer than running a marathon

"Alan and his team were great! Alan helped get me cover where my own company could not (I work in financial services too!) Would highly recommend and will come back in the future."

"Krystle was fantastic throughout and managed to knock almost 50% off my current life insurance premium."

"Very helpful, James worked hard to find the right cover for me and explore the detail with the underwriters."

"Couldn't rate more highly. I moved from another broker due to slow response speeds. Mark responded really quickly (sometimes from his holiday!)"

"Kathryn and her colleagues were very helpful because of my recent illness."

"Nick was my advisor, Excellent knowledge of products and what I needed, not just pushing me into a sale/policy, will always refer to him in the future."

Talk to a Friendly Adviser
Please feel free to call us on
0800 567 7450
and one of our qualified insurance advisers will be happy to assist you.
Please feel free to request a quote from us using our online form. The more information that you can provide us about your health conditions, hobbies, travel and/or occupation, the more accurate indications of price we'll be able to give you.
Experienced and knowledgeable advisers
Specialist advice with no fees to pay
Full assistance with all of your paperwork
Put your policy into trust at no cost
A dedicated insurance adviser for you
Here's our latest guides, musings, charity work, podcast, awards and industry updates. There's a lot going on!