By clicking on submit I / We give consent for you to call me / us on the number provided to discuss my / our financial requirements.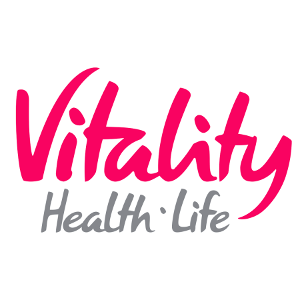 Do you eat well? Are you physically active?
Do you want an insurance policy that rewards you for living an active and healthy lifestyle?
VitalityLife and VitalityHealth offer a range of insurance policies that do just that. You can receive premium discounts for eating right and being physically active on a regular basis*.
Healthy Living Insurance
Policy Perks*
Up to 50% off selected sportswear
Up to 50% off selected fitness devices and gym memberships
Up to 40% off British Airways travel
Up to 25% off healthy food
Here's how it works!
VitalityLife - Life Insurance
With the VitalityLife Optimser Life Insurance plan you will accrue points on your insurance policy and once you reach a certain level, you will be eligible for reductions in your monthly policy premium the year after your policy renews (one year from the policy start date).
VitalityLife categorise levels of activity within four tiers of activity: bronze, silver, gold and platinum. The category that you fall within will determine the level of discount that you receive in your policy premiums and the discount that you receive at participating partners.
Bronze – low activity – +2% change to policy premiums
Silver – average activity – +1% change to policy premiums
Gold – active lifestyle – 0% change to policy premiums
Platinum – highly active – -1% change to policy premiums
It is worth noting that unless you eat well and are physically active you may find that your policy premiums increase instead of go down. So it is worthwhile carefully considering beforehand if this policy is the right one for you!
VitalityLife - Serious Illness Cover
The VitalityLife Serious Illness Cover provides you protection for 145 illnesses on their primary cover; this increases to over 178 conditions on their comprehensive plan!!
Unlike traditional critical illness policies, the VitalityLife Serious Illness Cover provides severity based cover meaning that you are covered for a wider range of illnesses but paid out based on the severity of the condition.
Severity payments range from 5% to 100% payouts with the comprehensive plan and 25% to 100% with the primary plan.
VitalityHealth - Private Medical Insurance
There are a number of benefits to choosing the VitalityHealth Private Medical Insurance policy. You can book an online appointment with a GP with a time that is convenient for you, in a location that is convenient for you. You can do a video call or a traditional phone call depending on your mobile device… no more waiting in the GP surgery!
Any diagnoses or treatments that are recommended can then be transferred to your regular GP who can then note and start arranging your medical requirements. You will also have the benefit of knowing that you can receive private treatment, if you choose to do so, to bypass NHS waiting times. This can be extended to include your children as well.
Still unsure if this could be the policy for you?
If you are interested in how the VitalityLife Optimiser and/or VitalityHealth plan could work for you please feel free to speak with one of our advisers on 0800 567 7450. Alternatively please feel free to request a quotation online. Please note that the Vitality Optimser plan is offered from just one provider that we can recommend, we use a range of providers whose products may be more suitable for your needs.
*Premium discounts and money off offers are based upon your accrued points level. You will need to evidence your healthy living through partner devices such as Nectar at Sainsburys, Polar, Garmin, Fitbit, etc.

"Alan and his team were great! Alan helped get me cover where my own company could not (I work in financial services too!) Would highly recommend and will come back in the future."

"Krystle was fantastic throughout and managed to knock almost 50% off my current life insurance premium."

"Very helpful, James worked hard to find the right cover for me and explore the detail with the underwriters."

"Couldn't rate more highly. I moved from another broker due to slow response speeds. Mark responded really quickly (sometimes from his holiday!)"

"Kathryn and her colleagues were very helpful because of my recent illness."

"Nick was my advisor, Excellent knowledge of products and what I needed, not just pushing me into a sale/policy, will always refer to him in the future."

Talk to a Friendly Adviser
Please feel free to call us on
0800 567 7450
and one of our qualified insurance advisers will be happy to assist you.
Please feel free to request a quote from us using our online form. The more information that you can provide us about your health conditions, hobbies, travel and/or occupation, the more accurate indications of price we'll be able to give you.
Experienced and knowledgeable advisers
Specialist advice with no fees to pay
Full assistance with all of your paperwork
Put your policy into trust at no cost
A dedicated insurance adviser for you
Here's our latest guides, musings, charity work, podcast, awards and industry updates. There's a lot going on!