12 Days of Christmas - Day 8, Great customer service
By clicking on submit I / We give consent for you to call me / us on the number provided to discuss my / our financial requirements.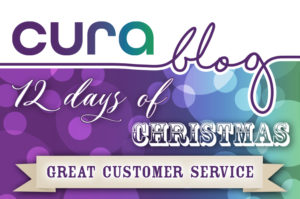 On the eight day of Christmas
Cura gave to me
Great customer service
Customer satisfaction is such a huge part of Cura, as we wouldn't be where we are today if we didn't have clients putting their trust in us.
There are a number of things that we do to try and keep our clients happy, but there is one thing that we have found stands out.
When applying for protection insurance, it's quite common for an insurer to ask for a medical report from your GP or health care specialist, or they may even ask for medical tests to be conducted. This can be a daunting time for some, especially if it takes a while for information to be sent back to your GP.
When you speak with us, we go through your medical history with you and any other potential 'risks' such as your work and travel. We listen to you and if you do have anything that is going to pop up on the application, we ask you some more specific questions, so that we can do research before we give you any pricing of what is on offer. This means that we can manage your expectations over what insurances may be available on the costs of the cover.
With You Every Step of the Way
From the moment you come to Cura to the moment your policy is taken out, we check the progress on all aspects of your application. Meaning that if any medical information has been requested, we will contact your GP or health care professional as well as the insurers to ensure everything is on track and being dealt with as expected. We keep you up to date by email, phone or text message, whatever you prefer. We are also really conscious that people don't want to be contacted every day, so we aim to update people once a week with how things are going. We are happy to contact you more or less, whatever you need to feel comfortable.
We believe the NHS does a fantastic job, especially considering the enormous amount of pressure placed on them each and every day. Unfortunately due to lack of funding and resources, we do see quite a few instances where mistakes are made on the reports that GPs complete for insurance companies. Some examples that we have seen are
A report that contained a line stating that someone was diabetic, even though they never had been, and this was leading to an increase in their premiums.

A report that stated that someone was drinking 7-9 units a day, when they were actually drinking between 7-9 alcoholic drinks per year.

A report that detailed that someones' cancer was 10x the size than it had actually been, that had led to them being declined insurance by most insurers.


Whilst we are not medical doctors we do understand health conditions well, and we know how insurers assess applications, so we are often able to identify when a report must contain the wrong information. When this happens we provide support on how to challenge the incorrect information that is held on you, which must be corrected quickly by your medical professionals, due to the most recent data protection laws.
The majority of times medical reports come back as expected with no surprises, and the insurers are happy that this matches up with the application. So please do not worry about this, it is frustrating when it happens, but the main thing is that it is found out now. It is much better for the process to take a little longer now, than for something to happen and a claim to come in years down the line when you can't as easily challenge the medical reports.
How Important Are Medical Reports
Very.
Depending upon the details in the report the insurer may have some more questions to ask to get to the bottom of things, and might decide to decline or postpone the application. At Cura, we have a lot of experience in studying a client's medical report to try and find out exactly what the insurer has seen that has led to their decision.
If this happens to you the next stages can go a few ways:
We might ask you to speak with your GP to clarify what has been included in the report.

From there it may be

That your GP needs to alter your records and update the insurer with the correct information.

It may be that your GP has not explained your health to you in full, and that you might learn more after your chat with them.

A postpone or decline with one insurer, does not necessarily mean that you will see this with every insurer, we can try with others.


One thing that we like to encourage people to do is get a copy of the medical report before it goes to the insurer. It is your right to do this. You can then check that you agree with what it says before it goes to the insurer. If anything is different to what you have told your adviser it's a good idea to let them know as soon as possible, so that they can check with the insurer if this will change the indicated terms.
It's Normal to Feel Disheartened or Angry
It is disheartening to hear that your application has been declined or postponed. It's also quite natural to feel angry too.
There are so many ways to arrange insurance and your first choice might not end up being right, but that does not mean that all insurance options are a no. It certainly doesn't stop us looking and finding something for you.
Insurers tend to all view health conditions or potential risks differently to others, so where one insurer may decline an application another might offer terms. By speaking with our advisers we are doing all the donkey work for you. The benefit of our team is that we check your circumstances with you in detail first, and give you options based specifically upon you and your needs. We work closely with insurers and know which ones will be best for you.
As with any company we are bound to say that our service is fantastic, that you should use us and that we are the best at what we do (which we are!). But don't take our word for it, take a look at what our clients have to say.
Client testimonials
"I was kept in the loop every step of the way, it was a long process (not their fault), and I felt I was kept up to date with any information they had at all times."
5*
Samuel, 23rd November 2021
"Excellent service.
Excellent service. Cura tried really hard to get me insurance despite my pre-existing health condition. Kept fully informed throughout the process."
5*
Richard, 4th November 2021
"Great service delivered by real experts & very nice people
Have dealt with Alan and his team for many years now – absolutely lovely to deal with and extremely responsive. I have transacted various policy types with them and at times, I have needed things to be done quickly – they have never let me down and have also been very accommodating in terms of fitting in with my time constraints. They also take what can be confusing to a lay person and make it simple and digestible. Would strongly recommend their services."
5*
Nathan, 12th October 2021
"Great service, friendly staff who kept me informed throughout the process
Friendly, well informed staff who kept me informed throughout the process. Usually insurance companies appear faceless impersonal but not Cura! It's challenging having a medical condition that many companies won't insure so it was refreshing to deal with a company who are prepared to look beyond this and with a common sense approach. Can't fault the service and the price for life assurance was very competitive! Will definitely use cura again for any future insurance."
5*
Anonymous, 26th August 2021
"I will be highly recommending Alan and the Cura team to anyone I know
I cannot recommend Alan and his team enough. Having dealt with a number of IFAs and Life Insurance specialists over the past few months I can definitely say he has been the best, most comprehensive and without question knowledgeable person I've spoken to. I'm incredibly grateful for the recommendation I was given to seek his services. On top of his knowledge I have also found himself and his team an absolute pleasure to work with. A massive thank you to them and wonderful peace of mind I now have with my policies in place."
5*
Georgina, 11th February 2021
Categories: Access to insurance

"Alan and his team were great! Alan helped get me cover where my own company could not (I work in financial services too!) Would highly recommend and will come back in the future."

"Krystle was fantastic throughout and managed to knock almost 50% off my current life insurance premium."

"Very helpful, James worked hard to find the right cover for me and explore the detail with the underwriters."

"Couldn't rate more highly. I moved from another broker due to slow response speeds. Mark responded really quickly (sometimes from his holiday!)"

"Kathryn and her colleagues were very helpful because of my recent illness."

"Nick was my advisor, Excellent knowledge of products and what I needed, not just pushing me into a sale/policy, will always refer to him in the future."

Talk to a Friendly Adviser
Please feel free to call us on
0800 567 7450
and one of our qualified insurance advisers will be happy to assist you.
Please feel free to request a quote from us using our online form. The more information that you can provide us about your health conditions, hobbies, travel and/or occupation, the more accurate indications of price we'll be able to give you.
Experienced and knowledgeable advisers
Specialist advice with no fees to pay
Full assistance with all of your paperwork
Put your policy into trust at no cost
A dedicated insurance adviser for you
Here's our latest guides, musings, charity work, podcast, awards and industry updates. There's a lot going on!