How do summer sports impact your access to protection insurance?
By clicking on submit I / We give consent for you to call me / us on the number provided to discuss my / our financial requirements.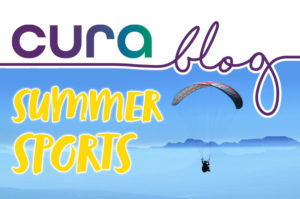 How do summer sports impact your access to protection insurance?
Summer is great for so many reasons: sunshine, barbecues, the smell of suntan lotion that takes you back to being a kid covered in sand, not needing to worry about laundry and eating ice-cream to your heart's content…
I know that many of our clients agree with all the super fun and intense sports that they get up to. We've helped people who like to do a spot of sailing, hang gliding, bouldering, scuba diving and a whole load of other pastimes more suited to the summer weather.
When it comes to applying for protection insurance, many people don't think about how their pastimes can make a difference to the terms that they are offered. In reality, insurers do like to know about certain hobbies and will ask you some extra details to assess your application. Some of the questions you could be asked are:
What is it that you do?

How often do you take part?

Do you ever complete?

Do you take part on your own or as part of a team?

Do you have any relevant qualifications?

How many hours per year do you take part?

What countries do you take part in?


This is of course dependent on your hobby, an insurer isn't going to be too concerned if you like to play a game of tennis at the weekend. But it's important to know that they are likely to start asking a few more questions if you take part in things like sailing competitions, or you do mixed air or wreck diving, and it isn't always so obvious what sports they do and don't want to know more about. You might even be asked more questions if you use a motorbike or ride horses!
There are a number of hobbies that are highly likely to increase the premium that you pay for life insurance, critical illness cover and income protection, but in our experience there are many hobbies which won't play a huge role in the terms offered to you. We often see our clients being offered standard terms for hobbies such as:
This massively depends on what you are actually doing in your hobby and if any part of it is a bit more high risk, then things can quickly change into non-standard terms. There are also some activities that we know can easily increase the price that you'll pay on the standard insurance market, and this is because of the risk involved in those activities. For example:
Taking part in these activities doesn't mean that you will definitely have to pay more, but it's best to be prepared that they might. Even where there is a price increase, it might sometimes be by a small amount. You might also find that some insurers place an exclusion on your policy for claims relating to your hobby, it's best to avoid this wherever possible and this is where our experienced adviser's can really step in and get you the best cover possible.
To show you what we mean, we have included a case study of a client of ours.
Case study
A woman in her late 30s came to Cura wanting life insurance to provide financial security to her family. She worked as a commercial diver and also enjoyed scuba diving in her free time. We arranged a life insurance policy covering her for £300,000 for 25 years, with a premium of less than £17 per month.


Related blogs
5 Tips on how to choose the right protection adviser
Categories: Access to insurance

"Alan and his team were great! Alan helped get me cover where my own company could not (I work in financial services too!) Would highly recommend and will come back in the future."

"Krystle was fantastic throughout and managed to knock almost 50% off my current life insurance premium."

"Very helpful, James worked hard to find the right cover for me and explore the detail with the underwriters."

"Couldn't rate more highly. I moved from another broker due to slow response speeds. Mark responded really quickly (sometimes from his holiday!)"

"Kathryn and her colleagues were very helpful because of my recent illness."

"Nick was my advisor, Excellent knowledge of products and what I needed, not just pushing me into a sale/policy, will always refer to him in the future."

Talk to a Friendly Adviser
Please feel free to call us on
0800 567 7450
and one of our qualified insurance advisers will be happy to assist you.
Please feel free to request a quote from us using our online form. The more information that you can provide us about your health conditions, hobbies, travel and/or occupation, the more accurate indications of price we'll be able to give you.
Experienced and knowledgeable advisers
Specialist advice with no fees to pay
Full assistance with all of your paperwork
Put your policy into trust at no cost
A dedicated insurance adviser for you
Here's our latest guides, musings, charity work, podcast, awards and industry updates. There's a lot going on!