Our greatest successes - Case studies
By clicking on submit I / We give consent for you to call me / us on the number provided to discuss my / our financial requirements.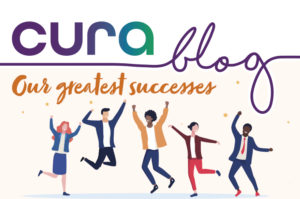 Our greatest successes – Case studies
With Cura being within the protection insurance industry for around 10 years, we are proud to have a great number of successes.
Of course we always do our very best to find insurance to meet the needs of our clients, no matter what the circumstances are, but there are some things which are completely out of our hands which can sometimes put a spanner in the works.
Our advisers receive ongoing training and reviews to ensure that they're always in a position to help our varied client circumstances. Even after researching which insurer is best to use for each client, something unexpected can come up and ultimately, it's the underwriters decision if they want to offer terms, and what terms they will be.
At Cura we are passionate about what we do, and are often finding ourselves challenging the decisions of underwriters to ensure there's good reasoning behind them and that they're fair for our clients.
The proof is in the pudding
Rather than explaining why we do well, we think it's better to show some case studies of our greatest successes.
Case Study 1
A woman in her mid 40s came to us needing protection to cover their new mortgage, she already had life insurance in place but was due to purchase a new property. Around 10 years before approaching us, she was diagnosed with a rare disorder, amyloidosis of the bladder. A condition that causes a build up of protein within an organ that affects its function.
We arranged a life insurance and critical illness policy covering her for £100,000 for 22 years with a premium of around £104 per month. The policy did have an exclusion, which was for any type of bladder cancer, the cost of the policy had been reduced to reflect this.
We then also arranged a number of insurances through her business to offer additional protection for her and her employees, some of which don't ask about medical conditions up to a certain amount of cover. This included life insurance and income protection policies that had no exclusions for claims relating to her pre-existing conditions.
Case Study 2

A man in his mid 30s needed financial security for his mortgage, to ensure that his family can pay off the liability and keep the family home if he passed away. He had been involved in a motorbike accident just a few years before coming to Cura which left him with T2 complete paraplegia from the chest down. This meant that he had use of his arms, but was unable to use his legs and used a wheelchair. Following his accident, he had rehab and spinal fusion. He has a full time job and exercises regularly, as well as attending yearly medical tests which show him to be in excellent health.
We were able to arrange a life insurance policy, covering him for £445,000 for 25 years, with a monthly premium a little less than £39 per month.

Case Study 3
Cura had been approached by a woman in her early 50s, she had three children and a mortgage to provide protection for. She had been diagnosed with phocomelia. This is a condition that causes the upper and/or lower limbs to not fully grow.
We arranged a joint life insurance policy covering her and her husband for close to £378,000 for 20 years to protect the mortgage, with a premium of less than £55 per month.
We also arranged for her to have a life insurance policy of £500,000 for 20 years with a premium close to £114 per month, to provide financial security to help raise her children if she passes away. We came to this level of cover based upon protecting a specific multiple of her salary until her children reached an age of independence.
Case Study 4
Cura is incredibly proud to have arranged the first ever personal income protection policy in the UK for a person living with HIV. A man came to us as he wanted the security of knowing his income could be replaced if he was unable to work due to ill health. He had been diagnosed with HIV less than 10 years before coming to us.
We arranged an income protection policy with a monthly benefit of £2000 with a 2 year claim period until he reaches 67, this is for less than £60 per month.
Case Study 5

A man in his 30s needed protection insurance for his family. He worked for the RAF as aircrew, more specifically he worked on a chinook as a machine gun operator. He was also due to be sent to Mali just a few months after coming to us. We arranged a life insurance policy for him, covering him for £230,000 for 32 years, with a premium of less than £21.
We have such a diverse range of clients at Cura, and we love helping every single one of them. We specialise in arranging life insurance, critical illness cover and income protection for those with health conditions, hazardous occupations and hobbies and or a history of foreign travel. We also arrange group and business insurances too.
We fight continuously for fairer terms and access to insurance for all, which means we have a number of clients who now have the protection they once thought was close to impossible. No matter what the circumstances are, we are always at hand to give our advice and do right by our clients.
Related blogs
Categories: Access to insurance

"Alan and his team were great! Alan helped get me cover where my own company could not (I work in financial services too!) Would highly recommend and will come back in the future."

"Krystle was fantastic throughout and managed to knock almost 50% off my current life insurance premium."

"Very helpful, James worked hard to find the right cover for me and explore the detail with the underwriters."

"Couldn't rate more highly. I moved from another broker due to slow response speeds. Mark responded really quickly (sometimes from his holiday!)"

"Kathryn and her colleagues were very helpful because of my recent illness."

"Nick was my advisor, Excellent knowledge of products and what I needed, not just pushing me into a sale/policy, will always refer to him in the future."

Talk to a Friendly Adviser
Please feel free to call us on
0800 567 7450
and one of our qualified insurance advisers will be happy to assist you.
Please feel free to request a quote from us using our online form. The more information that you can provide us about your health conditions, hobbies, travel and/or occupation, the more accurate indications of price we'll be able to give you.
Experienced and knowledgeable advisers
Specialist advice with no fees to pay
Full assistance with all of your paperwork
Put your policy into trust at no cost
A dedicated insurance adviser for you
Here's our latest guides, musings, charity work, podcast, awards and industry updates. There's a lot going on!