The PPP - The Kids Are Alright
By clicking on submit I / We give consent for you to call me / us on the number provided to discuss my / our financial requirements.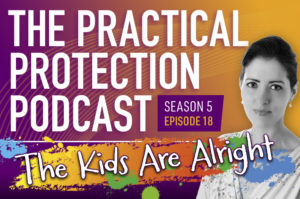 The Kids Are Alright
For the final episode of season 5 of the Practical Protection Podcast, Kathryn mixed things up a little bit and hosted a super fun episode with the Cura kids.
Now, you might be thinking what I mean by that or the reason behind it. The average reading age in the UK is that of a 9 year old, so how does this then play a role when it comes to protection insurance. Is it too difficult to apply for insurance? Do people understand the documents they are given? The kids of Cura consist of the children of our staff members, and range from the ages of 4 to 12. You will be hearing from Grace, Theodore, Sophia, Alexander, Kaydee, Kara and Zachary.
The insurance knowledge of a 4 year old child is expected to be quite limited, but for the children aged 8 to 12 this could give us a broad idea of how the average person within the UK is able to read the terminology often used on documents and within the industry as a whole. Of course, this isn't going to give us any scientific data or true statistics, but we thought it would be fun to fit in before the summer holidays.
With our special guests being young children, there is only so much that Kathryn can ask without them being distracted or wanting to run off to play. When it came down to the technical jargon, none of the guests were able to understand what was being said. They did however come somewhat close to knowing what a policy lapsing means. Serious or critical illness also had a few responses with some of the guests wondering about cancer and covid, though covid wouldn't be included in serious or critical illness cover.
How we speak with children is often different to how we would speak with an adult, and because of this Kathryn made sure her guests knew how great they were throughout the episode. One of the ways they were being so great was by speaking up, and being able to tell Kathryn exactly where adults were being too confusing and not getting it quite right!
I think we can all agree that season 5 has been great. We have learnt many things from accessing insurance with health conditions, when working in the armed forces, right through to public relations in our industry.
On top of that, we can see how much of a useful resource the podcast has been for people in many different areas of the insurance industry, and useful for some of our clients too! So far we have:
A bank of over 52 hours CPD

Over 6,000 unique listeners

Over 13,000 downloads

Issued over 1300 CPD certificates, that's over 61,000 hours of CPD!




To see exactly what Kathryn and her special guests got up to during this episode, you can listen to below.
Check out the Practical Protection Podcast website to listen to more episodes.
If you have listened to this as part of your work, you can claim a CPD certificate on the website, thanks to our sponsors Octo Members.
If you would like to know more about how to arrange protection insurance, take a look at Kathryn's Protection Insurance in Practice course.
Related blogs

"Alan and his team were great! Alan helped get me cover where my own company could not (I work in financial services too!) Would highly recommend and will come back in the future."

"Krystle was fantastic throughout and managed to knock almost 50% off my current life insurance premium."

"Very helpful, James worked hard to find the right cover for me and explore the detail with the underwriters."

"Couldn't rate more highly. I moved from another broker due to slow response speeds. Mark responded really quickly (sometimes from his holiday!)"

"Kathryn and her colleagues were very helpful because of my recent illness."

"Nick was my advisor, Excellent knowledge of products and what I needed, not just pushing me into a sale/policy, will always refer to him in the future."

Talk to a Friendly Adviser
Please feel free to call us on
0800 567 7450
and one of our qualified insurance advisers will be happy to assist you.
Please feel free to request a quote from us using our online form. The more information that you can provide us about your health conditions, hobbies, travel and/or occupation, the more accurate indications of price we'll be able to give you.
Experienced and knowledgeable advisers
Specialist advice with no fees to pay
Full assistance with all of your paperwork
Put your policy into trust at no cost
A dedicated insurance adviser for you
Here's our latest guides, musings, charity work, podcast, awards and industry updates. There's a lot going on!