By clicking on submit I / We give consent for you to call me / us on the number provided to discuss my / our financial requirements.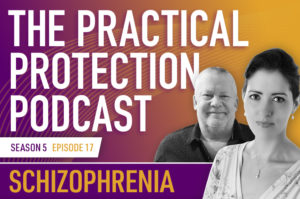 Schizophrenia
For the penultimate episode of season 5 of the Practical Protection Podcast, Kathryn was joined by Matt to discuss schizophrenia ahead of Schizophrenia Awareness Day.
Advisers such as us at Cura can speak to hundreds of people each year, so the likelihood of speaking to a person with schizophrenia can be quite high. Though during the episode there was a slight debate on the statistics surrounding this, the statistics do show that schizophrenia is more common than people might think.
It is estimated that 1 in every 100 people are living with schizophrenia.
Statistics also show that stressful life events can bring on psychotic disorders or make a person more likely to receive a diagnosis. This could include this such as a stressful working life, bereavement, eviction and relationship breakdown. When thinking of a diagnosis as a result of a traumatic event, many people would initially think of PTSD, but it has been found that that can also be the cause of schizophrenia.
Schizophrenia is the most common psychotic disorder, and can make a person interpret reality in an abnormal way. Psychotic disorders are known to cause people to have hallucinations, delusions and disordered thinking to the point of impacting daily life. With that being said, these are also symptoms of schizophrenia. Looking at the symptoms present, a psychiatrist would then consider a diagnosis and suggest the most appropriate treatment.
After receiving a diagnosis it is likely that medication will be prescribed. When it comes to treatment and medication there are a number of options, some of which work better for some people. Antipsychotic medication is often given, which can depress symptoms but not make them go away completely. Because of that, talking therapy (cognitive behaviour therapy) is often used at the same time.
When it comes to applying for protection insurance as a person with schizophrenia, the insurer will want to know the details surrounding the condition, such as:
When did you receive a diagnosis?

What medication or treatment have you had?

Have you been an inpatient at a hospital or under the care of a community mental health team.
They will also quite often ask questions about any suicidal thoughts, self-harm or suicide attempts. Please do not worry if this feels too much for you to go through, we have options for you that will not need you to discuss these things.
The insurer will also usually request a medical report from the GP surgery (with the applicant's consent) to get a clear picture of the condition and overall health. This will then be used alongside the application to make a decision. If the diagnosis was received within the past year then it's common for the application to be postponed, but after that year the terms might be different. And 5 years post symptoms, it can be possible to receive standard rates for life insurance or critical illness cover.
Income protection can be more difficult to get for a person with schizophrenia, this is because of many exclusions possibly being needed on the policy. Each application is assessed individually, so it can still be worth exploring the options available.
Receiving a diagnosis of schizophrenia doesn't have to make it impossible for you to access protection insurance. If you're ever unsure, speaking with a protection insurance adviser can be hugely beneficial. Our advisers at Cura do a fair analysis of the whole of the market, meaning there's more possibility of finding an insurer and insurance policy which suits your needs the best. If the more conventional options aren't available, specialist routes can also be explored.
To find out everything else that was spoken about between Kathryn and Matt during this episode, you can listen to this below.
To listen to more episodes of the podcast please visit the Practical Protection Podcast website.
If you have listened to this as part of your work, you can claim a CPD certificate on the website, thanks to our sponsors Octo Members.
If you want to know more about how to arrange protection insurance, take a look at Kathryn's Protection Insurance in Practice course.
Related blogs
The PPP – Mental Health In Life Insurance Week

"Alan and his team were great! Alan helped get me cover where my own company could not (I work in financial services too!) Would highly recommend and will come back in the future."

"Krystle was fantastic throughout and managed to knock almost 50% off my current life insurance premium."

"Very helpful, James worked hard to find the right cover for me and explore the detail with the underwriters."

"Couldn't rate more highly. I moved from another broker due to slow response speeds. Mark responded really quickly (sometimes from his holiday!)"

"Kathryn and her colleagues were very helpful because of my recent illness."

"Nick was my advisor, Excellent knowledge of products and what I needed, not just pushing me into a sale/policy, will always refer to him in the future."

Talk to a Friendly Adviser
Please feel free to call us on
0800 567 7450
and one of our qualified insurance advisers will be happy to assist you.
Please feel free to request a quote from us using our online form. The more information that you can provide us about your health conditions, hobbies, travel and/or occupation, the more accurate indications of price we'll be able to give you.
Experienced and knowledgeable advisers
Specialist advice with no fees to pay
Full assistance with all of your paperwork
Put your policy into trust at no cost
A dedicated insurance adviser for you
Here's our latest guides, musings, charity work, podcast, awards and industry updates. There's a lot going on!