Underwrite hard, Claim easy
By clicking on submit I / We give consent for you to call me / us on the number provided to discuss my / our financial requirements.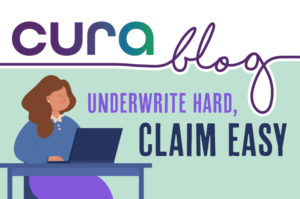 Underwrite hard, Claim easy
Although applying for protection insurance isn't difficult for many people, it can sometimes seem like a lengthy process, especially if underwriters see a need for things such as medical reports.
Steps to applying for protection insurance
Complete an application form and submit it to the insurer

The application will then be assessed by their underwriters

Their underwriters may request further information

OR

make a decision based on your application
The application form
Applications can sometimes be quite long depending on what exactly it is that you're applying for. It will start off by asking quite basic questions, such as your name, date of birth, address. As well as some questions about the cover you're after, how much and how long for.
It will then go on to ask some more personal questions, relating to your health. Insurers make a decision for each individual person, and they need to have a lot of personal information in order to do that. Many insurers will ask some quite specific health related questions, such as have you ever had

A heart attack,

A stroke,

cancer.

A mental health condition that has caused you to see a psychiatrist, spend time as an inpatient in hospital, or attempted suicide.
There are quite a few conditions that they will ask about, that will at first require a yes or no answer. If you were to answer yes, they will then ask some further questions related specifically to that condition.
An insurer will often ask about other health conditions you have had in the last 3 to 5 years, and often some details about anything specific in the last few months. This could be if you take any medication, have been an inpatient for a certain number of days, awaiting any hospital appointments or have had investigations for something not already mentioned.
It doesn't quite stop there. They are usually interested in the medical history of family members that were diagnosed before the age of 65. Conditions which came about after this age don't usually need to be disclosed. This is linked to your blood related parents and siblings. If you are estranged from your family or are adopted, the applications usually have an option for you to say that you do not know these answers.
It is worth knowing that some insurers now ask for your covid vaccination status. With some insurers, if you have what is considered a higher risk health condition, having the vaccine could be the deciding factor on if they will offer you cover or not.
You will typically be asked about any hazardous pastimes, extensive travel that you do and your occupation. The insurers are generally going to want to know

Hobbies – what are you doing, how often do you do it, do you take part in competitions

Travel – where are you going, how long for and why

Occupation – what are your duties, how much of your working time is manual or administrative, are you based in the UK
There are a number of situations where insurers will want to have more information from you, to fully assess your application, and we go over some of these in the next section.
To get more of an understanding of the underwriting process, check out Kathryn's podcast episode on Insurance Underwriting.
Assessment by the underwriters
There are some common questions asked by insurers, depending on your situation. For example, if you were diagnosed with cancer, the insurer would want to know what the diagnosis was, when you received the diagnosis, the stage and grading or TNM score, what treatment you have had and when treatment ended or is due to end. Similarly, there are other common questions you can expect for other health conditions, and possibly some more specific questions for your own circumstances.
Depending on the hobbies you participate in, there will again be some common questions to do with it. Using motorbike riding as an example, the insurer will want to know the size of the engine of the motorbike, if you ever compete, if you ride the motorbike purely for commuting and have many hours you spend on your motorbike each year or the mileage you do.
The questions asked for an occupation vary depending on your job role, as there's a huge range of things that can be done. There are common questions for most roles, even those which don't seem risky. An office worker can expect to be asked how much business mileage they may do and how much of their work is manual, administrative and supervisory.
The places that you're travelling to and the reason behind your travels plays a big role in the questions that the insurer will ask you. The insurer will be interested in how long you're going to be out of the UK for, they will ask if you're going to be away for more than 30 days for a holiday or more than 1 week for business trips. Some countries are also seen as being more risky, so the insurer may ask what country you're visiting, and maybe even the region too.
To get more of an understanding of the underwriting process, check out Kathryn's podcast episode on Insurance Underwriting.
If further information is required
If further information has been requested from a medical professional, this could take a couple of weeks to a few months to be returned to the insurer. Once the insurer receives this information back, their underwriters will look at your application alongside the further information to make their decision.
When a decision is made
You may receive terms, if you're happy with these then your policy can be started on an agreed date once you have provided direct debit details.
Are all of these questions necessary?
It might seem like the insurers are asking a lot from you, and you may think that it's not all completely necessary. In reality, asking more questions during the application process can actually end up more beneficial for you if you were ever to claim on your policy.
If you're taking out critical illness cover or income protection, there are sometimes terms with your policy, such as the policy cannot be claimed on for a pre-existing condition (a condition that you had before applying), or you may have a policy which excludes certain conditions that you have experienced in the past. These are more common with income protection policies, but can apply for either policy type. It is unusual to get exclusions on life insurance policies.
For critical illness cover potential exclusions can include

Breast Cancer

Multiple sclerosis

High risk activities e.g occupation exclusion for military work
For income protection exclusions can often be focused on

Mental health

Back pain

Chronic conditions e.g. Parkinson's
If an insurer has gathered information and asked all the questions they find necessary to make a decision on your application, they then have a lot of information about you and your health. If a claim was then to be made on any aspect of your policy, there's less likely to be issues regarding things such as dates or details surrounding any health conditions you may have.
It could be that you find an insurer that has a shorter application form with many fewer questions. Some people find long applications intrusive, so may prefer this. An issue with shorter application forms is that the policies aren't always quite as good, and may have terms with them that mean they come with certain exclusions. For example, an insurer may not cover you until a certain number of years has passed since your recovery or treatment has ended for a certain condition. If you have had an acute condition then the exclusion may disappear after a while, whereas it may be permanent for a chronic condition.
Claims
The insurance industry in the UK gets quite a bad rap from policies not paying out or not going to plan, but thankfully the protection insurance has much better statistics. You can kind of think of insurance as having two departments: general insurance and protection insurance. We are focusing on protection insurance.
Claims for protection insurance are much more likely to be paid out than those of other types of insurance, with 98% of claims being paid. 97% of life insurance claims and 99.99% of whole of life claims were paid in 2020, totaling over £4,378,000,000 (ABI, 2021).
Stronger underwriting can help when it comes to protection insurance because if there has been a medical report or information requested, then there's very little chance that you've missed something off your application.
Medical reports help insurers make their decision on the application but can also help if a person has been declined insurance or the terms that they've been offered aren't as expected. It's not unheard of for there to be mistakes on medical reports, and having a medical report requested could bring these errors to light, meaning that they can be challenged and changed before it's too late. If for example a claim was made in 20 years time and an error came up on a medical report, it could be far too late to challenge the mistake and have anything rectified.
A medical report can also allow you to gain a better understanding of your health, as there's not as much room for miss-communication when you have all of your information written down in front of you. It could be that there's something on your report that you weren't aware of or understood fully, which is where this can help.
In the very sad situation that a person were to take out life insurance and die just a couple of months later, the insurer might then want to see evidence that there were no issues or symptoms before applying for insurance. If the insurer had already seen the medical report then this step could be reviewed far more smoothly.
In my eyes, the insurer having all the details surrounding your health right from the start is a bonus. You shouldn't have to ever feel concerned that the insurer will say that you didn't tell them something relevant so they are voiding your claim. It can ultimately mean the difference between your loved ones receiving the money from a claim in a matter of days, rather than having to wait months.
If you're unsettled about some of the questions you may be asked, our advisers are always on hand to answer questions, and can run through the application with you so you know exactly what will be asked, before you decide to
Resources
ABI. (2021). Record amount paid out to help families cope with bereavement, ill health, and injury ABI. [online] Available at: https://www.abi.org.uk/news/news-articles/2021/05/record-amount-paid-out-to-help-families-cope-with-bereavement-ill-health-and-injury/ [Accessed 28 Jan. 2022].
Categories: Lifting the lid

"Alan and his team were great! Alan helped get me cover where my own company could not (I work in financial services too!) Would highly recommend and will come back in the future."

"Krystle was fantastic throughout and managed to knock almost 50% off my current life insurance premium."

"Very helpful, James worked hard to find the right cover for me and explore the detail with the underwriters."

"Couldn't rate more highly. I moved from another broker due to slow response speeds. Mark responded really quickly (sometimes from his holiday!)"

"Kathryn and her colleagues were very helpful because of my recent illness."

"Nick was my advisor, Excellent knowledge of products and what I needed, not just pushing me into a sale/policy, will always refer to him in the future."

Talk to a Friendly Adviser
Please feel free to call us on
0800 567 7450
and one of our qualified insurance advisers will be happy to assist you.
Please feel free to request a quote from us using our online form. The more information that you can provide us about your health conditions, hobbies, travel and/or occupation, the more accurate indications of price we'll be able to give you.
Experienced and knowledgeable advisers
Specialist advice with no fees to pay
Full assistance with all of your paperwork
Put your policy into trust at no cost
A dedicated insurance adviser for you
Here's our latest guides, musings, charity work, podcast, awards and industry updates. There's a lot going on!