By clicking on submit I / We give consent for you to call me / us on the number provided to discuss my / our financial requirements.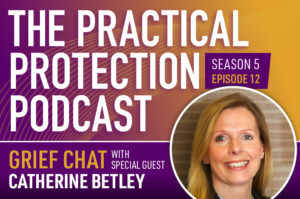 Grief Chat
Grief and bereavement are natural parts of life, which many people will go through at some point, which is exactly why it has been chosen as the focus of this episode.
For the newest episode of the Practical Protection Podcast, Kathryn is joined by co-host Roy McLoughlin and special guest Catherine Batley from Grief Chat. Grief Chat is a great organisation, offering anonymous conversations with trained counsellors for those experiencing grief or bereavement.
After finishing university, Catherine worked for a local charity and after many years, then went on to start Grief Chat because of her want to help other people. As Catherine mentions during this episode, a lot of people can feel uncomfortable reaching out to a person for face to face support, and with the rise in instant messaging apps, Grief Chat began.
Within the protection industry, and probably most industries actually, we can all get a little bit worried about saying the wrong thing and maybe upsetting somebody. Even when it comes to speaking to a person online or over the phone it might be easier than being face to face, but speaking to a person about their grief can sometimes be tricky, as you might not know what to say. The important thing to remember is that saying something is better than nothing, and showing that you care can really help.
Grief and bereavement aren't things which everybody experiences the same. The effects can be different from person to person, which again is why you could be stuck on what to say. One tip mentioned is that you can share if you have been in a similar situation, what helped you? Having the right level of empathy and understanding goes a long way.
Catherine shared the statistics that there were nearly 50,000 conversations in 2021 through the Grief Chat service, that's almost 136 conversations for every day of the year, and interestingly around 40% of those conversations were with men. That's a higher percentage compared to non-anonymous services. Men seem to find it much more comfortable speaking to a person anonymously, and in their own time and space. No identifying information has to be given to speak with Grief Chat, which provides the peace of mind that everything said will be confidential.
Grief counselling is quite different to mental health support, though until recently both have sometimes been considered taboo topics. Having services such as these can play a big role in a person's overall wellbeing, especially when COVID had to put a temporary stop to many in person support services.
If you think Grief Chat is something that might be of use to you, you can visit their website to find out how to put their services to good use.
You can listen to the episode below, or find more of the episodes on the website here.
If you have listened to this as part of your work, you can claim a CPD certificate on the website, thanks to our sponsors Octo Members.
If you want to know more about how to arrange protection insurance, take a look at Kathryn's Protection Insurance in Practice course Advice for Advisers website.
Related blogs
The PPP – Declined income protection
The PPP – Testicular cancer

"Alan and his team were great! Alan helped get me cover where my own company could not (I work in financial services too!) Would highly recommend and will come back in the future."

"Krystle was fantastic throughout and managed to knock almost 50% off my current life insurance premium."

"Very helpful, James worked hard to find the right cover for me and explore the detail with the underwriters."

"Couldn't rate more highly. I moved from another broker due to slow response speeds. Mark responded really quickly (sometimes from his holiday!)"

"Kathryn and her colleagues were very helpful because of my recent illness."

"Nick was my advisor, Excellent knowledge of products and what I needed, not just pushing me into a sale/policy, will always refer to him in the future."

Talk to a Friendly Adviser
Please feel free to call us on
0800 567 7450
and one of our qualified insurance advisers will be happy to assist you.
Please feel free to request a quote from us using our online form. The more information that you can provide us about your health conditions, hobbies, travel and/or occupation, the more accurate indications of price we'll be able to give you.
Experienced and knowledgeable advisers
Specialist advice with no fees to pay
Full assistance with all of your paperwork
Put your policy into trust at no cost
A dedicated insurance adviser for you
Here's our latest guides, musings, charity work, podcast, awards and industry updates. There's a lot going on!