The PPP - Testicular Cancer
By clicking on submit I / We give consent for you to call me / us on the number provided to discuss my / our financial requirements.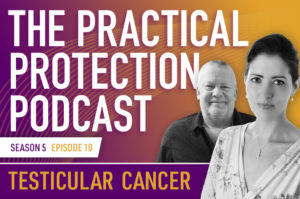 Testicular Cancer
Kathryn is back with a new episode of the Practical Protection Podcast. This time she is joined by Matt for an episode focusing on testicular cancer.
Kathryn and Matt go right back to basics talking about testicular cancer. What is it? Can it be avoided? What should you look out for? What is the treatment? They go into depth explaining what things are, with it being such an important topic to be aware of. Unlike many other cancers, there aren't any known causes for testicular cancer. So rather than avoiding certain lifestyle choices, it's important to know what the telltale signs could be.
Some key statistics are brought into the conversation. Did you know that testicular cancer accounts for 1% of cancers diagnosed in men in the UK? Though this doesn't sound like a lot when you put it like that, it's actually 6 men each day!
Kathryn and Matt also talk through the different possible readings of testicular cancer, and what might happen when applying for protection insurance.
With any application for protection insurance, there's a lot for the insurers and underwriters to take into consideration before making a decision and possibly offering terms. With Matt having been a chief underwriter, he explains part of the process when receiving an application and how they would go about assessing it.
As an adviser speaking with others about their health conditions, Kathryn mentions why it can be so important to make sure these conversations are approached in the right way. People have different ways of coping with their diagnosis, and advisers should be accommodating to that.
To listen to the episode and catch more of what was said, visit the website here or check it out below.
Life insurance
Receiving a cancer diagnosis can leave you feeling a whole range of different emotions. It also comes at no surprise that you might start thinking about the future.
When it comes to applying for life insurance, there are a few questions you can expect from insurers:
When were you diagnosed with testicular cancer?

What was the stage and grade of the cancer?

What treatment did you receive?

When did you last receive treatment?

How much time has passed since being given the all-clear?
It's not always easy talking about your experiences, but it's important for insurers to have this information so that they can make a sound decision on the application. Testicular cancer is actually one of the most treatable, so it is known for people to have life insurance at the same price as a person who has never had cancer, permitting a while has passed since being given the all clear.
If the cancer is more recent or had a high stage or grade, it's likely that there will be a price increase on the policy, but as time goes on it's normal for your options to open up more.
It's likely that a medical report will be requested from your GP, but this is only ever done with your consent and is paid for by the insurer.
Critical illness cover
An application for critical illness cover will ask similar questions to one for life insurance. It's not quite as straightforward getting critical illness cover but that certainly doesn't mean it's impossible. Some insurers might offer you cover with standard terms (normal prices) if you have a low stage or grade and quite a while has passed, or it could be that the best option is to use a specialist insurer who will be more tailored to help your individual circumstances.
It's a good idea to watch out for exclusions too. Some insurers may place a testicular cancer exclusion on the policy, others might offer terms with a full cancer exclusion.
Income protection
Income protection is put in place to protect you and your family against loss of earnings if you were unable to work because of illness or injury.
Again, you will see some of the same questions as mentioned already, but you are likely to also be asked how much time you have been ill and unable to work over the last few years. As with critical illness cover, you might find that you are offered an income protection policy at an increased premium and with an exclusion for claims relating to cancer.
Case studies
A man in his early 30s came to Cura needing protection for his family and mortgage. He had been diagnosed with stage 2 testicular cancer around 5 years before coming to us, he had surgery and two rounds of treatment for this. We arranged a life insurance policy covering him and his partner for 21 years. This had a monthly premium of less than £25 and a benefit amount of £90,000.

A man in his mid 30s approached Cura needing insurance to provide support for his family. He had been diagnosed with stage 1 testicular cancer just a few years before coming to us. He had surgery for this and has been in remission. He now has a life insurance policy for 45 years, covering him for £250,000 with a premium under £19 per month. This policy came with standard terms, meaning there was no price increase because of his health.
As advisers or brokers, we are there to help make the insurance journey for our clients much easier and hassle free. Making sure you approach conversations in the right way can be the first step towards things going smoothly.
Related blogs

"Alan and his team were great! Alan helped get me cover where my own company could not (I work in financial services too!) Would highly recommend and will come back in the future."

"Krystle was fantastic throughout and managed to knock almost 50% off my current life insurance premium."

"Very helpful, James worked hard to find the right cover for me and explore the detail with the underwriters."

"Couldn't rate more highly. I moved from another broker due to slow response speeds. Mark responded really quickly (sometimes from his holiday!)"

"Kathryn and her colleagues were very helpful because of my recent illness."

"Nick was my advisor, Excellent knowledge of products and what I needed, not just pushing me into a sale/policy, will always refer to him in the future."

Talk to a Friendly Adviser
Please feel free to call us on
0800 567 7450
and one of our qualified insurance advisers will be happy to assist you.
Please feel free to request a quote from us using our online form. The more information that you can provide us about your health conditions, hobbies, travel and/or occupation, the more accurate indications of price we'll be able to give you.
Experienced and knowledgeable advisers
Specialist advice with no fees to pay
Full assistance with all of your paperwork
Put your policy into trust at no cost
A dedicated insurance adviser for you
Here's our latest guides, musings, charity work, podcast, awards and industry updates. There's a lot going on!