The PPP - Declined Income Protection
By clicking on submit I / We give consent for you to call me / us on the number provided to discuss my / our financial requirements.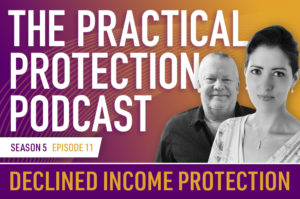 Declined Income Protection
Kathryn is back with another episode of the Practical Protection Podcast, this time joined by co-host Matt Rann.

This episode is much more personal than normal, as it focuses on Kathryn's own experiences and health conditions. Kathryn explains why she has been declined personal income protection insurance by all insurers because of her circumstance.

Kathryn has always been very open about her health conditions, in the hope that sharing these might challenge people's mindsets about what these conditions are and what they might mean for a person who is diagnosed with them. With the help of Matt, offering the knowledge and reasonings of an underwriter, they discuss her health conditions and exactly how they have had an impact.

Income protection is a policy that will replace a person's income if they are unable to work because of injury or ill-health.
You can listen to the episode below, or see more of the episodes on the website here.

Hypermobility syndrome
Kathryn was diagnosed with hypermobility syndrome at the age of 12, with a 9 out of 9 Beighton score (this is used to measure the hypermobility). Kathryn's diagnosis came about after a number of sprains and fractures, and possibly because of her early diagnosis she hasn't had too many issues since being a teenager. After tests to make sure none of her organs had been affected, Kathryn has over time adapted her activities to make sure they weren't damaging. For example, instead of taking part in things like running or ice skating, she will do zumba or pilates. There are also a few adaptations which might seem small, but can make a big impact on her comfort, such as cushioned supports for her wrists when in the office.
Generalised anxiety disorder
Kathryn's anxiety came about when she was 20, she started having panic attacks and agoraphobia. Speaking with a person about their mental health can be difficult, especially gauging when the last symptoms might have been, Kathryn explains her thoughts on this. A prominent situation where she doesn't feel like she is in control, is if she is travelling on a plane, and this is when the anxiety becomes heightened. Since her recent diagnosis of autism, it has become apparent to Kathryn that some of her symptoms are related to this rather than the generalised anxiety disorder, which is discussed a little bit later on.
Underactive thyroid
For Kathryn, this isn't a major issue. This just means that her thyroid doesn't quite work as fast as other peoples. For which she takes some medication for this to help.
Tachycardia syndrome
This is something that Kathryn had recently been diagnosed with, just last year. But she had actually felt like this is something she had noticed throughout her whole life. Tachycardia shows itself in a number of different ways, and for Kathryn this might mean that she will feel dizzy when standing up quickly and her heart can beat very fast at times.
Autism
Kathryn has recently been diagnosed with level 1 autism. She received her diagnosis privately, with the view to help her understand herself more. Autism can be positive, and this is how Kathryn likes to think of things. She has an analytical mind and is able to remember things more, and in more detail too. This can help with day to day life and with the running of Cura.
An underwriters point of view
Matt goes through each of these conditions separately, to say exactly what an underwriter might be concerned about and what questions they might have when considering the cover.
The outcome and reasonings
It's important to be sure of the difference between hypermobility syndrome and Ehlers Danlos syndrome, as they can be somewhat similar but insurance terms can be quite different. Kathryn is fortunate enough to have seen specialists when she was younger so can definitely rule this out. Though not many people are able to rule this out completely, it is important to get an accurate diagnosis as underwriters will want to know.
Though Matt sees no major cause for concern here, Kathryn hasn't seen a person with full hypermobility syndrome be offered income protection. There are however times where a person for example with hypermobility of just the knees, will be offered the cover with an exclusion.
For a person with generalised anxiety disorder, an underwriter will want to know when the last symptoms were and if any medication is taken. The underwriter will also want to know about any treatment. In Kathryn's case, does her dislike of travel prevent her from doing her job? Matt believes that though this hasn't ever stopped her before, the symptoms are ongoing so could potentially result in an exclusion on a policy.
An underactive thyroid doesn't usually raise any alarms for underwriters, if this is controlled then this often won't have an impact on any insurance terms.
When it comes to tachycardia, Kathryn had mentioned that her heart can beat very fast. An underwriter will want to know if there are any structural issues or rhythm disturbances, and in Kathryn's case there aren't any. In Kathryn's experience working in the industry, it's common to see tachycardia be accepted for income protection with a slight increase of the premium. An issue that Matt can see is that dizziness can stop a person from working, depending on what their job is, especially if the person works at height.
Autism for Kathryn doesn't impact her work in a negative way, in fact it can have quite a positive effect.
Basically, for each of these conditions the insurer is looking to see if this could stop a person from doing their job. Altogether these have prevented Kathryn from being able to take out personal income protection. One way to get protection in place is to be covered by a group income protection policy, as up to a certain point there's much less underwriting. If you're concerned about your health conditions and how they might affect your options, our advisers are on hand to offer their support and advice.
Remember, if you have listened to this as part of your work, you can claim a CPD certificate on the website, thanks to our sponsors Octo Members.
If you want to know more about how to arrange protection insurance, take a look at Kathryn's Protection Insurance in Practice course here.
Related blogs
Movember 2021 – The issues around mental health and income protection
12 Days of Christmas – Day 3, Income protection

"Alan and his team were great! Alan helped get me cover where my own company could not (I work in financial services too!) Would highly recommend and will come back in the future."

"Krystle was fantastic throughout and managed to knock almost 50% off my current life insurance premium."

"Very helpful, James worked hard to find the right cover for me and explore the detail with the underwriters."

"Couldn't rate more highly. I moved from another broker due to slow response speeds. Mark responded really quickly (sometimes from his holiday!)"

"Kathryn and her colleagues were very helpful because of my recent illness."

"Nick was my advisor, Excellent knowledge of products and what I needed, not just pushing me into a sale/policy, will always refer to him in the future."

Talk to a Friendly Adviser
Please feel free to call us on
0800 567 7450
and one of our qualified insurance advisers will be happy to assist you.
Please feel free to request a quote from us using our online form. The more information that you can provide us about your health conditions, hobbies, travel and/or occupation, the more accurate indications of price we'll be able to give you.
Experienced and knowledgeable advisers
Specialist advice with no fees to pay
Full assistance with all of your paperwork
Put your policy into trust at no cost
A dedicated insurance adviser for you
Here's our latest guides, musings, charity work, podcast, awards and industry updates. There's a lot going on!