Group protection insurance: An A-Z of key terms
By clicking on submit I / We give consent for you to call me / us on the number provided to discuss my / our financial requirements.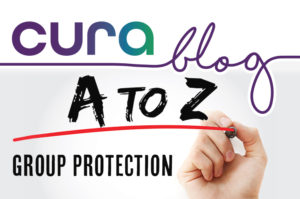 Group protection insurance: An A-Z of key terms
Group protection insurance can feel like a bit of a minefield for people that are not used to this type of insurance; it can even be tricky for people that work within the protection insurance industry. Thankfully, there are people who will specialise in group protection and can be on hand to help, such as some of our advisers at Cura.
To try to make things a little easier, we have decided to do an A-Z list of some of the things we think are the most important to understand when it does come to group protection insurance.
Managing director Kathryn also hosted a podcast episode on group insurance. Kathryn was joined by a special guest and together they discussed the benefits of group insurance and some key statistics.
Categories
The people covered by a group protection insurance policy are split into categories, this is quite straightforward. The categories depend on the size and set up of a company. For example,
Category 1 – directors,
Category 2 – managers and
Category 3 – all other employees.
It could be that you are a small firm and have everyone under the same category, there are lots of ways to set these up so that it suits you.
An insurance policy will have specific terms and benefit amounts for each category.
Critical Illness Cover (Group)
Nobody is immune from a critical illness diagnosis, and critical illness cover can offer some much needed support if you were to receive a diagnosis. This kind of policy is arranged as a part of an employment benefit package and is becoming a highly sort after perk by employees.
This policy would see the employee of a company receiving a tax free lump sum on the diagnosis of a covered critical illness. This money can then be used however you wish, many choose to use this money to pay off their mortgage, replace their income or pay for enhanced medical care if they don't have private medical insurance.
This type of cover can remove the stress of financial concerns at a time when you, your employee and their loved ones should be focusing on their health.
There is core critical illness cover and enhanced critical illness cover. Core critical illness cover is a set amount of conditions covered and enhanced will have added conditions, more than the usual amount. You can choose between enhanced and core cover across different categories, which can be useful to keep the overall cost of the policy within an affordable budget.
It's important to be aware that group critical illness cover comes with a pre-existing condition exclusion. Whilst this might be seen as a negative, for some people that cannot access critical illness cover for their own personal policy due to their health, they can find that group insurance is the perfect way to access this type of insurance.
Group critical illness cover is different to other group policies as the premiums are classed as a benefit-in-kind and treated as a P11D benefit.
Excepted Life Insurance
This is incredibly important and possibly one of the most important parts of arranging a group life insurance policy. An excepted group life insurance policy is a bit of a technical choice between the two types (registered being the other, see below), that is something that your adviser should arrange for you in the background.
By choosing to arrange your group life insurance under this route you are ensuring that any claim that is paid is not added to the claimant's Lifetime Allowance. This can make a huge difference to anyone that is close to the current pensions lifetime allowance of £1,073,100, as it means there will not be a tax on the benefit if the claim pushes them above this level.
Even more importantly, anyone that is currently within your organisation or joins at a later day will be able to maintain any protection pension status' that they have. If you arrange the policy under a registered route, any pension protections that are in place are immediately lost as soon as they join the scheme and cannot be set back up. This is a huge risk to them financially and a huge complaint risk for you as the employer.
An extra thing to know about excepted life insurance is that if there are any funds from a claim within the Trust for the policy on the date of the 10th anniversary, and subsequent 10 year anniversaries, it might be subject to tax. Some people see this as a risk and prefer a registered route as there is not this technicality with the Trust through that route.
Free Medical Underwriting Limits
When taking out group protection insurance, there is often a free medical underwriting limit. This is basically the amount of cover you can get before your application is needed to be assessed by underwriters, who would then look into your personal health.
It might sound a bit strange but it is true. With group insurance the insurers consider anyone within the company as being a part of 'pooled risk'. This means that they set a level where they say that they will accept anyone without asking about their medical history, and without exclusions for life insurance and income protection within these amounts. For life insurance this amount can often be a minimum of £250k per person, and income protection a maximum of £65k per year (depending upon income levels).
An area that we see quite a bit of confusion comes from life insurance, critical illness cover and income protection that is offered by employers, but are a kind of opt-in or voluntary take up by employees. With these arrangements there can often be medical underwriting for any amount of cover that the employee tries to sign up for and it's essential to check over the terms and conditions.
Human Resources
Quite often if you're covered by a group insurance policy or are an employer who has taken out a group policy, there will be a member of staff or team who deal with HR and who will have all of the necessary information.
It's good to have all of the information prepared for if anyone in your company asks for details, if you have used a broker then it should be easy to gather the information. It's also incredibly helpful to remind your employees of what they're covered for and what the benefits are.
With these policies it is not just about the end claim, it's can be ongoing support throughout the policies, known as value added benefits (discussed below).
Income Protection (Group)
Income protection is a type of protection insurance which will pay you a tax free monthly sum if you are unable to work due to ill health. This can be really handy to have as it gives you the security of being able to pay your bills and living expenses even if you're not able to work.
Policies can be set up to pay this monthly benefit for different periods of time. You could have a policy which will pay for up to two years or you could have a policy which will pay to the state retirement age, or a little higher. There are lots of ways to tweak and build this policy to match what you need.
There are different definitions when it comes to income protection:
Own occupation – you're no longer able to do your own occupation e.g. you are currently an administrator and can no longer work in an administration role.
Suited occupation – you're not able to do a similar job to your current role e.g. you are currently an administrator and can no longer do any form of desk based job.
It's important to know what type of cover you have, as it can make a big difference to long-term financial security if someone claims on the policy.
It's worth knowing that statutory sick pay can be available so long as you're eligible, though this only provides £96.35 per week for a maximum period of 28 weeks. I can't speak for everybody but that certainly wouldn't cover my basic living expenses.
This policy is paid for by the employer and can be offset against corporation tax, something that a lot of firms find of more interest than a group critical illness policy which is classed as a P11D.
Life Insurance (Group)
Life Insurance is really beneficial if you have a mortgage, loan or people financially dependent on you such as a partner or young children. This insurance policy pays out a tax free lump sum in the event of your death. The money from this can then be used to pay off a mortgage or loan, provide income for your family or to help with any funeral costs. If your loved ones are financially dependent on you, then a life insurance policy can provide you with the peace of mind that they will be taken care of if you are no longer there.
A life insurance policy can be put in place by your employer as a kind of thank you for your employment.
Lifetime Allowance
This is super important. If you have anyone in your company that has a protection lifetime allowance for their pension, then they could be faced with losing their protected status if they join a 'registered' group life insurance scheme. This cannot be undone, if they lose it, they lose it, and the loss is instant to them joining the scheme.
You might not think that this is an issue right now, but you never know who you might employ and what their financial background could be. The current lifetime pension allowance is £1,073,100 and a payout from a registered group life scheme is added to a person's lifetime allowance. An excepted scheme keeps a payout away from the lifetime allowance and does not cause a loss of the protected status.
Master Trusts
Just like a personal protection insurance policy can be written into trust, a group insurance policy will be set up under a master trust. The insurer will have a master trust, and can then set up individual trusts for companies that take out a policy. Each person covered by this policy should complete a nomination of beneficiary form, which will explain exactly who they would want their money to go to if the worst was to happen.
Partial Payments
With group income protection you might come across a situation where there are partial payments. This is when someone is unable to work their full working hours because they are unwell, but can potentially work some hours. The insurer's claims and rehabilitation team will work with the person that is ill and come up with a plan to try and keep them working, whilst also supporting their need to manage their health.
A partial payment kind of works like this. If someone is eligible for £2,000 of income through if they're ill and unable to work and are able to work half of their hours, then the insurer will pay 50% of the monthly benefit i.e. £1,000.
In a similar way, if someone has been off work and is wanting to try and get back to work, they could do a 'phased return'. They could return for 25% of their working week and using the example above the insurer would pay £1,500 of the monthly benefit and the employer would pay them for the hours worked as usual.
Pension Contributions
Within group income protection schemes you can potentially include pension contributions, while someone is making a claim. It's also possible to include National Insurance contributions too. It basically means that if someone is ill and unable to work, the insurance will pay these contributions for them, so that they can keep contributing towards their future financial security.
Registered Life
This is a specific way of arranging group life insurance, an alternative to excepted group life insurance (see above). The key differences are that with this route there is not the concern of a taxation of any claims that happen on the date of the 10th anniversary, but it does put anyone that is a part of the company or joins it at a later time, at risk of losing any protection pension status.
Rehabilitation Support
Insurers are big on supporting their clients, which is why rehabilitation support is usually included in protection policies. If you have taken a period of time off work, rehabilitation support is there to help you phase yourself back into work at a pace that really suits you and your needs, rather than rushing into things.
Rehabilitation can involve a number of things and a few examples are:
Physiotherapy

Psychological support

Neuro occupational support

Training for the employer to support the person to come back to work

Guidance and support through new software, hardware or other adaptations

Scheme
This is simply a fancy word for the policy. The scheme is often named after the company e.g. Group Is Great Ltd.
Size Of Firms
In order to be eligible for a group protection policy, there must be at least two people working for the company for group life insurance or income protection. For a group critical illness policy, there must usually be at least three people working for the company..
Value Added Benefits
When you're covered by a group protection policy, you will also usually have access to value added benefits. These are fully complementary to the policy which has been arranged. The benefits made available to you will depend on the insurer you have used as well as the type of protection you have, but they are put in place to benefit you.
The added benefits available can vary but all have a focus on benefiting the client, they can range from things such as a 24/7 online GP to fitness programs. Quite often these are also made available to your immediate family to make use of too.
Some common benefits you might find are:
24/7 online GP – access to a GP every hour of every day. These can usually be contacted by phone call or video call.
Best Doctors – a second opinion on a diagnosis or medical case, these doctors can also recommend suitable treatments. A leading expert in your specific health condition will look through your record and double check that everything has been thoroughly assessed for you.
Mental health support – trained staff are available to provide support and treatment.
Parent and child cover – protection for if your child was to be diagnosed with an illness or was in need of an operation
Rehabilitation services – support in returning to work at a pace that suits you. Meaning that you don't rush back into work before you are truly ready.
Wellbeing services – access to fitness programmes, nutritional plans and online health checks.
If you're an employer looking into taking out a group protection insurance plan, it can be really helpful speaking with an adviser who can run through all the technicalities with you. If you're an employee wondering what your workplace has arranged, it's worth questioning this and certainly making use of your added benefits.
Related blogs
12 Days of Christmas – Day 4, Small business cover
Why your staff might like to be rewarded in other ways, other than just pay rises
Categories: Access to insurance

"Alan and his team were great! Alan helped get me cover where my own company could not (I work in financial services too!) Would highly recommend and will come back in the future."

"Krystle was fantastic throughout and managed to knock almost 50% off my current life insurance premium."

"Very helpful, James worked hard to find the right cover for me and explore the detail with the underwriters."

"Couldn't rate more highly. I moved from another broker due to slow response speeds. Mark responded really quickly (sometimes from his holiday!)"

"Kathryn and her colleagues were very helpful because of my recent illness."

"Nick was my advisor, Excellent knowledge of products and what I needed, not just pushing me into a sale/policy, will always refer to him in the future."

Talk to a Friendly Adviser
Please feel free to call us on
0800 567 7450
and one of our qualified insurance advisers will be happy to assist you.
Please feel free to request a quote from us using our online form. The more information that you can provide us about your health conditions, hobbies, travel and/or occupation, the more accurate indications of price we'll be able to give you.
Experienced and knowledgeable advisers
Specialist advice with no fees to pay
Full assistance with all of your paperwork
Put your policy into trust at no cost
A dedicated insurance adviser for you
Here's our latest guides, musings, charity work, podcast, awards and industry updates. There's a lot going on!