Bowel Cancer Awareness Month 2022
By clicking on submit I / We give consent for you to call me / us on the number provided to discuss my / our financial requirements.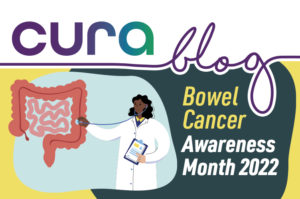 Bowel Cancer Awareness Month 2022
Bowel Cancer Awareness Month runs annually in April, with the idea being to raise awareness and funds to support the work of charities and organisations such as Bowel Cancer UK.
There's somebody diagnosed with bowel cancer every 15 minutes in the UK
.
That's a huge amount of people, which is why charities and organisations are working towards early diagnosis and the best possible treatment and care. With bowel cancer being the fourth most common cancer in the UK, it's important to know what to look out for and to know what some of the symptoms might be.
What many people don't know is that bowel cancer is a more general term and can actually be called rectal or colon cancer too, so don't be too surprised if you see these names pop up.
Step up for 30 is a campaign that people can get involved in, it's simple and can be tailored to your own ability. To take part you just have to do something active every day for the 30 days in April and ask for sponsors. This could be a small walk if you're not usually an active person, or you could decide to take part in a football match or zumba class, the choice is yours! Not only does this get you exercising it could also make you feel better mentally, all whilst raising money for a good cause.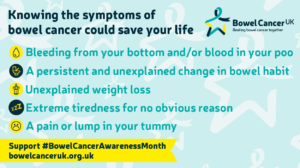 If you're concerned or want to know more information about bowel cancer, the NHS website has some great information about the symptoms, possible causes and what the next steps could be if you were to receive a diagnosis.
Access to insurance
Managing director Kathryn focused an episode of the Practical Protection Podcast on bowel cancer. In this episode she is joined by Matt Rann, a consultant underwriter, who shares his personal experience with bowel cancer, including spotting some of the signs and symptoms. They spoke about the treatment Matt underwent when he was diagnosed with bowel cancer and discussed some of the key medical terms that you might hear.
Listen to the episode below, or check out the rest of the season here.
Life insurance
There are a few common questions that you can expect to see on an application for life insurance if you have had a diagnosis of bowel cancer. The insurer will want to know when it was that you were diagnosed, what treatment you have had, when you last had treatment and what the staging and grading of the bowel cancer was.
It's likely that the insurer will request a medical report from your GP surgery, which is common practice for a lot of different medical conditions. The insurer does this so that they have a clear picture of your overall health, which can help them assess your application. The insurer pays for it, all you need to do is sign a form to given them permission to speak with your GP, as your GP will not give them your medical history without it.
If there have been a number of years since your treatment ended then the insurer might offer you a policy, and it will likely have an increased premium. This doesn't necessarily mean it will be extremely expensive!
Critical illness cover
The application for critical illness cover is very similar and the questions you would expect on a life insurance application will probably come up here too.
An application for critical illness cover is a little bit more strict as the insurer will assess the likelihood of you potentially being diagnosed with bowel cancer again, or a linked condition.
Your ability to access critical illness cover will depend upon the staging and grading of the bowel cancer and when you last had treatment. If you have had some difficulty in arranging critical illness cover with insurers that you have approached, we have access to some specialist policies that might suit you.
Income protection
Again, income protection is assessed more strictly than life insurance, as a person is more likely to have time off work because of sickness than to die earlier than expected.
Similar to critical illness cover, if you have had a low stage or grade then the insurer might offer you cover with a price increase or exclusion. In most cases you will need to be at least a few years from your last treatment to be able to get income protection with standard insurers, and it will come with an exclusion for bowel cancer as a minimum. Speaking with one of our experienced protection advisers can give the best advice for your own specific circumstances, and discuss specialist insurance policies that we have.
Case study
A person in their 50s came to Cura needing advice on what protection they might need. They were married with a mortgage in place and had been diagnosed with bowel cancer around 5 years before coming to us. The cancer hadn't spread and there was surgery to remove the cancer and they had since been fully discharged. We arranged a joint life insurance policy for the couple, this covered them both for £170,000 for 16 years with a monthly premium a little under £81.


Applying for insurance can be a little bit daunting if you've had a health condition such as bowel cancer. That's where we step in, our team is trained to give you the best possible advice and insurance journey.
Resources
https://www.bowelcanceruk.org.uk/
https://www.bowelcanceruk.org.uk/support-us/fundraise/step-up-for-30/
https://www.nhs.uk/conditions/bowel-cancer/
Related blogs
Categories: Access to insurance

"Alan and his team were great! Alan helped get me cover where my own company could not (I work in financial services too!) Would highly recommend and will come back in the future."

"Krystle was fantastic throughout and managed to knock almost 50% off my current life insurance premium."

"Very helpful, James worked hard to find the right cover for me and explore the detail with the underwriters."

"Couldn't rate more highly. I moved from another broker due to slow response speeds. Mark responded really quickly (sometimes from his holiday!)"

"Kathryn and her colleagues were very helpful because of my recent illness."

"Nick was my advisor, Excellent knowledge of products and what I needed, not just pushing me into a sale/policy, will always refer to him in the future."

Talk to a Friendly Adviser
Please feel free to call us on
0800 567 7450
and one of our qualified insurance advisers will be happy to assist you.
Please feel free to request a quote from us using our online form. The more information that you can provide us about your health conditions, hobbies, travel and/or occupation, the more accurate indications of price we'll be able to give you.
Experienced and knowledgeable advisers
Specialist advice with no fees to pay
Full assistance with all of your paperwork
Put your policy into trust at no cost
A dedicated insurance adviser for you
Here's our latest guides, musings, charity work, podcast, awards and industry updates. There's a lot going on!