Triathlons & Life Insurance
By clicking on submit I / We give consent for you to call me / us on the number provided to discuss my / our financial requirements.
Triathlons & Life Insurance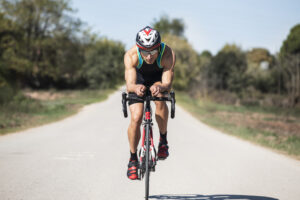 Taking part in triathlons is a fantastic way to keep fit. Our MD Alan Knowles has taken part in over 5 triathlons and knows just how amazing it feels to complete one.
With life insurance insurers see regular exercise as a positive lifestyle factor and it makes them feel that you are going to take steps to really care for your health. Most of the time taking part in triathlons will have no bearing on your life insurance, but there are times that it can do.
To double check this our advisers will ask you:
How often are you taking part in triathlons?
Do you take part in professional competitions?
Are you taking part in triathlons in the UK or abroad?
Insurers can be a bit cautious when sports have a professional aspect to them, this is usually where you are competing for money. This isn't to say that you can't get life insurance, it's just that we might need to go with a particular insurer that can support you, especially if you are regularly outside of the UK.
When you are travelling abroad for triathlons the insurers might ask about the country that you will be visiting, so that they can assess potential risks there. If your trip abroad to a triathlon is purely for your own enjoyment and less than 30 days, it is quite likely that you will be able to arrange life insurance at normal terms.
Our award winning advisers will find the best life insurance to meet your needs.
It's a good idea to prepare for triathlons with no music or podcast to entertain you, some events don't allow you to listen to anything!
Triathletes might shave their body in the hopes that it reduces air resistance so they get a quicker time.
Well it's not a fun fact, it's a bit of a stinky one, triathletes will often choose to pee their pants rather than stop and lose precious time.
Classic triathlon
Ironman
Olympic triathlon
Sprint triathlon
Broken bones
Drowning
Falls
Sprains
Traumatic brain injury
Competitions

Environment

Frequency
Hi, it's good to hear from you. If you are planning on being in Morocco for less than 30 days and you are doing the triathlon for a hobby, you should have no issue getting life insurance with most insurers in the UK.
Client Reviews
Cura Financial Services has been rated 5 out of 5 based on 724 reviews.
Review by Matthew on 1st August 2023
"Very friendly and always happy to discuss things clearly." - 5 
You can read more of our reviews here.

"Alan and his team were great! Alan helped get me cover where my own company could not (I work in financial services too!) Would highly recommend and will come back in the future."

"Krystle was fantastic throughout and managed to knock almost 50% off my current life insurance premium."

"Leanne couldn't have been more helpful and thoughtful with her questions and work on my enquiry."

"Couldn't rate more highly. I moved from another broker due to slow response speeds. Mark responded really quickly (sometimes from his holiday!)"

"Kathryn and her colleagues were very helpful because of my recent illness."

"Nick was my advisor, Excellent knowledge of products and what I needed, not just pushing me into a sale/policy, will always refer to him in the future."

"I would like to say a very big thank you especially to Amy you really went above and beyond."

"Fantastic at keeping in contact. Happy with how they dealt with my more complex medical history. Would recommend Vivek and the team!"

"Annaliese was absolutely fantastic, making us both feel at ease and helping us navigate issues that had caused us problems with previous attempts to obtain insurance."

Talk to a Friendly Adviser
Please feel free to call us on
0800 567 7450
and one of our qualified insurance advisers will be happy to assist you.
Please feel free to request a quote from us using our online form. The more information that you can provide us about your health conditions, hobbies, travel and/or occupation, the more accurate indications of price we'll be able to give you.
Experienced and knowledgeable advisers
Specialist advice with no fees to pay
Full assistance with all of your paperwork
Put your policy into trust at no cost
A dedicated insurance adviser for you
Here's our latest guides, musings, charity work, podcast, awards and industry updates. There's a lot going on!