The Offshore Workers Guide to Life Insurance
By clicking on submit I / We give consent for you to call me / us on the number provided to discuss my / our financial requirements.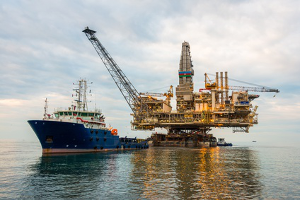 Life Insurance for offshore workers needs to be placed with specific insurers who will be able to consider the cover. Insurance providers view the risks of working offshore differently depending upon the length of time you spend offshore, your occupation and the location that you are travelling to.
In this article we aim to provide you with a clear and concise guide as to what an insurance provider will be looking at when you apply for Life Insurance.
Occupations and Occupational Duties
There seem to be a million and one occupations for offshore workers. The insurer that you place your Life Insurance application with will be interested primarily in your occupational duties to establish the level of cover they can offer you.
Below are some example occupations and the position that they generally fall within insurance risk ratings:
Low risk

Cleaner
Cook
Drilling Supervisor
Health and Safety Officer
Medical Personnel
Office-based Manager
Remote Submersible Operator

Medium risk

Deck Hand
Maintenance Supervisor
Mechanic
Rigger
Roustabout
Scaffolder
Welder

High risk

Bell Diver
Boilermen
Heavy Mechanical Engineer
Rope Access Technician
Insurance providers may vary whereabouts an occupation is placed on their risk rating scale. You should ensure that your Life Insurance application is placed with an insurer that places your occupation in as low a risk rating as possible. This will result in your Life Insurance policies having the potential to be accepted at normal terms, meaning that your premiums will be cheaper than applying to an insurer who increases the policy premiums due to your offshore status.
Location
Where you are physically based on the offshore rig or boat will also be a determining factor in the terms available to you for Life Insurance.
The insurance provider will be particularly interested in your working duties if you:
are required to work under water
work at heights
operate heavy machinery
handle hazardous materials
Your occupational duties will determine the occupational risk factor that the insurer reviews your insurance applications upon. If you are seen to be in a low risk job you may be able to secure Life Insurance at standard terms if you approach specific insurers. Where your occupational duties are considered to be of a higher risk then you may find that your Life Insurance policy is accepted at non-standard terms and/or that you need to place your application with a specialist insurer.
Geographical Location
Where you are based offshore in the world can have a significant impact upon your Life Insurance policy acceptance terms. If you are based somewhere that is seen to be of low risk, such as UK waters, then you may be able to secure Life Insurance at normal terms.
Other low risk countries are currently seen as:
Bahrain
Gulf of Mexico
Kuwait
Oman
Saudi Arabia
South America (Brazil)
Insurance providers view some countries as being of a higher risk if there is a heightened chance of terrorism, political instability or piracy where you are based. Countries that are seen to be of a higher risk and will have an implication for your Life Insurance include:
Afghanistan
Angola
Democratic Republic of Congo
Iraq
Libya
Nigeria
Somalia
Syria
Once your Life Insurance policy starts if there is a change in where you work geographically, it may be worthwhile reviewing your cover. If you no longer travel to hazardous locations you may find that your Life Insurance policy can be reviewed and the premiums that you pay for the cover reduced, as you are no longer in a high risk location.
If you take out a Life Insurance policy and once it is live find out that you are to be stationed offshore in a high risk location, this will typically have no bearing on the Life Insurance. Life Insurance policies are underwritten at the time of application based upon your 'intended' areas of work and travel. Whilst changes in employment do not usually affect Life Insurance we would suggest that you fully read your policy documentation to ensure that you are still covered in the event of death, given your new working circumstances.
Another consideration for Life Insurance is the shift pattern that you work onshore and offshore. For those who work on a 4 week on / 4 week off shift pattern it may be possible to secure Life Insurance at standard terms regardless of where you are based geographically.
Life Insurance
Depending upon your individual circumstances the terms of Life Insurance available for offshore workers can greatly differ. We have seen the following terms for offshore workers looking for Life Insurance:
Standard / Normal terms – the policy is accepted at a base premium
Non-standard / Special terms – the policy is accepted with an increased premium
Specialist providers only – policies are tailored specifically to your needs, such as one months worth of cover to provide you Life Insurance for short periods based offshore
The terms that you are offered will be based upon your individual circumstances and it is impossible to definitively provide a blanket set of provisional terms for Life Insurance for offshore workers. In general if you are in a low risk occupation and based in a low risk country, then you are likely to be able to secure Life Insurance at standard terms. If you are in a medium to high risk occupation and/or located in a hazardous country then you are likely to receive at least a small premium increase to the policy.
Other Insurances
Critical Illness Cover for offshore workers may be available at standard with some insurers, if you place your application with the right insurer! If you work in a hazardous geographical location and/or your occupational duties are of a high risk, the Critical Illness policy may be subject to a premium loading to offset the added risk of your working environment. It is also possible that the insurer that you approach may offer Critical Illness Cover at a standard policy premium but place an occupational exclusion on the policy. This will mean that you will not be able to place a Critical Illness Claim for any illness that you suffer as a direct result of your work.
Income Protection cover for offshore workers can be available with some insurers but you should ensure that you fully read the terms and conditions of your policy. Some insurers will provide Income Protection cover but can exclude any claim for inability to work if you suffer a disability or long-term injury whilst on transit to your work location; often applied to helicopter travel.
Unemployment Cover is worthwhile considering if you are an offshore worker due to the turbulent nature of the energy sector. An Unemployment policy can provide 12 to 24 months of income replacement if you are made involuntarily redundant during the duration of the cover. These policies are only valid if you are not aware of any potential redundancies being made by your employer. For many Unemployment policies if you are notified of redundancy proceedings by your employer within the first 60 days of cover*, you will not be able to place a claim on the policy. Unemployment policies are available if you have a house within the UK and pay UK tax. You should check your Unemployment policy documents to ensure that the length of time that you are out of the UK and the location do not invalidate your policy.
If you would like to apply for Life Insurance and are an offshore worker please feel free to contact us on 0800 567 7450 where an insurance adviser can help you through the application process.
*some policies will have an initial exclusion period of 90 or 120 days.

"Alan and his team were great! Alan helped get me cover where my own company could not (I work in financial services too!) Would highly recommend and will come back in the future."

"Krystle was fantastic throughout and managed to knock almost 50% off my current life insurance premium."

"Very helpful, James worked hard to find the right cover for me and explore the detail with the underwriters."

"Couldn't rate more highly. I moved from another broker due to slow response speeds. Mark responded really quickly (sometimes from his holiday!)"

"Kathryn and her colleagues were very helpful because of my recent illness."

"Nick was my advisor, Excellent knowledge of products and what I needed, not just pushing me into a sale/policy, will always refer to him in the future."

Talk to a Friendly Adviser
Please feel free to call us on
0800 567 7450
and one of our qualified insurance advisers will be happy to assist you.
Please feel free to request a quote from us using our online form. The more information that you can provide us about your health conditions, hobbies, travel and/or occupation, the more accurate indications of price we'll be able to give you.
Experienced and knowledgeable advisers
Specialist advice with no fees to pay
Full assistance with all of your paperwork
Put your policy into trust at no cost
A dedicated insurance adviser for you
Here's our latest guides, musings, charity work, podcast, awards and industry updates. There's a lot going on!