By clicking on submit I / We give consent for you to call me / us on the number provided to discuss my / our financial requirements.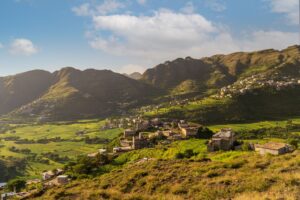 When you are planning to travel outside of the UK, insurers can ask you what your plans are and where you are going on your life insurance application. You will likely find that short holidays to Yemen will have no affect on your life insurance application.
But it is important to keep an eye on travel advice to the country, as insurers will change their views on what countries they see as safe or risky. These changes can happen incredibly quickly. If you already have life insurance in place and you took this out before you had any intention to travel to Yemen, then it's unlikely that you will need to tell your existing life insurance provider about this.
If you are in the start or middle of arranging your life insurance, it's important that you answer their questions truthfully.
To check your life insurance options we will ask:
When are you planning on travelling to Yemen?

How long will you be in Yemen?
Are you travelling for work or a holiday?
At the moment if you are going to Yemen for a holiday of 30 days or less, there is a good chance that you will be able to arrange life insurance at standard terms. This means no price increase due to your travel.
If you are going to be outside of the UK for more than 30 days, for a few trips a year, or for more than a week for work, the insurer will ask you more details. They are wanting to make sure that you still fall into the rules of being a UK resident, with all of the background requirements that we need to follow in the insurance industry. Don't worry, we are here to take care all of the technical side of things so that you don't have to.
Our award winning advisers are here to search the market for you, so you don't have to, to make sure that you get the best life insurance cover.
Yemen travel advice

June 22, 2023

Information about the global terrorism risks to British nationals abroad on all FCDO travel advice pages
Primary Concerns:

Duration of stay, location

Reason for Travel:

Business, leisure

Duration of Stay:

Holiday break, sabbatical, employment contract

Popular Locations: Socotra island, Old City of Sana'a, Qalansiyah beach, Shoab beack, Arher beach, Dar Al-Hajar Palace.
The gorgeous drink that is the Mocha comes from Yemen.
The Dragon Blood tree is unique to Yemen.
Yemen has rich biodiversity and is home to partridges, linnets, ibis, leopards and baboons.
Client Reviews
Cura Financial Services has been rated 5 out of 5 based on 724 reviews.
Review by Marc on 21st April 2023
"Very good 👍. Thanks Krystle for chasing the providers to completion." - 5 
You can read more of our reviews here.

"Alan and his team were great! Alan helped get me cover where my own company could not (I work in financial services too!) Would highly recommend and will come back in the future."

"Krystle was fantastic throughout and managed to knock almost 50% off my current life insurance premium."

"Leanne couldn't have been more helpful and thoughtful with her questions and work on my enquiry."

"Couldn't rate more highly. I moved from another broker due to slow response speeds. Mark responded really quickly (sometimes from his holiday!)"

"Kathryn and her colleagues were very helpful because of my recent illness."

"Nick was my advisor, Excellent knowledge of products and what I needed, not just pushing me into a sale/policy, will always refer to him in the future."

"I would like to say a very big thank you especially to Amy you really went above and beyond."

"Fantastic at keeping in contact. Happy with how they dealt with my more complex medical history. Would recommend Vivek and the team!"

"Annaliese was absolutely fantastic, making us both feel at ease and helping us navigate issues that had caused us problems with previous attempts to obtain insurance."

Talk to a Friendly Adviser
Please feel free to call us on
0800 567 7450
and one of our qualified insurance advisers will be happy to assist you.
Please feel free to request a quote from us using our online form. The more information that you can provide us about your health conditions, hobbies, travel and/or occupation, the more accurate indications of price we'll be able to give you.
Experienced and knowledgeable advisers
Specialist advice with no fees to pay
Full assistance with all of your paperwork
Put your policy into trust at no cost
A dedicated insurance adviser for you
Here's our latest guides, musings, charity work, podcast, awards and industry updates. There's a lot going on!