By clicking on submit I / We give consent for you to call me / us on the number provided to discuss my / our financial requirements.
Life Insurance, Critical Illness Cover and Income Protection for Skydivers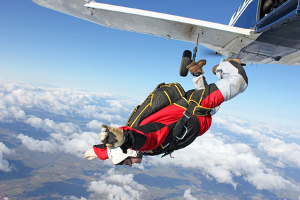 Popular Pastimes: Parachuting, cross-country jumping, tracking, base jumping, freeflying, tandem skydiving, night jumps, formation skydiving
Possible Risks: Equipment malfunction, falls, rough landings, environmental factors
Additional Considerations: Weather, frequency, location, group, solo, qualifications, experience
When you apply for Life Insurance, skydiving applications will need to detail how regularly you perform the activity in a given year and may also require details of any qualifications you hold and where you do the jumps (UK or abroad). Skydivers Life Insurance applications can be accepted at normal terms if the amount of jumps conducted in a year is less than 30. There are some specialist insurers who will consider Life Insurance for parachute jumpers, if the number of jumps is less than 50 a year. Where the frequency of sky diving is higher than this, it is possible that your policy may be subject to a premium loading.
Critical Illness Insurance for skydivers is treat by many insurers in the same way as Life Insurance applications. The insurer will want to know the frequency of the dives and provided that this is less than 30 jumps per year, it is likely that favourable terms will be offered. Where skydivers Critical Illness Insurance applications detail jumps of more than 50 per year it is probable that a premium loading may be applied to the policy. Applications for parachuters may be subject to a Total Permanent Disability exclusion but this is a relatively small aspect of the policy and should not deter you from considering the cover. Of course you should discuss this with a financial adviser before taking cover so you understand what cover you are being offered.
Income Protection for skydivers can be available at standard terms. The insurer you approach will want to know how often you jump and whether it is for business or leisure. If you have had multiple injuries due to your skydiving activity, you may need to place your application with a specialist insurer.
Skydiving Travel Insurance
Planning on skydiving while you are on holiday? Make sure that you have the right travel insurance in place, find out more here.
At one point skydiving involved the use of a canvas canopy, after jumping from a hot air balloon
Whilst falling, the speed of the wind past your ear makes it impossible to hear anything
It is thought that the earliest forms of parachuting happened in 12th Century China

"Alan and his team were great! Alan helped get me cover where my own company could not (I work in financial services too!) Would highly recommend and will come back in the future."

"Krystle was fantastic throughout and managed to knock almost 50% off my current life insurance premium."

"Very helpful, James worked hard to find the right cover for me and explore the detail with the underwriters."

"Couldn't rate more highly. I moved from another broker due to slow response speeds. Mark responded really quickly (sometimes from his holiday!)"

"Kathryn and her colleagues were very helpful because of my recent illness."

"Nick was my advisor, Excellent knowledge of products and what I needed, not just pushing me into a sale/policy, will always refer to him in the future."

Talk to a Friendly Adviser
Please feel free to call us on
0800 567 7450
and one of our qualified insurance advisers will be happy to assist you.
Please feel free to request a quote from us using our online form. The more information that you can provide us about your health conditions, hobbies, travel and/or occupation, the more accurate indications of price we'll be able to give you.
Experienced and knowledgeable advisers
Specialist advice with no fees to pay
Full assistance with all of your paperwork
Put your policy into trust at no cost
A dedicated insurance adviser for you
Here's our latest guides, musings, charity work, podcast, awards and industry updates. There's a lot going on!