By clicking on submit I / We give consent for you to call me / us on the number provided to discuss my / our financial requirements.
Life Insurance, Critical Illness Cover and Income Protection for Steeplejacks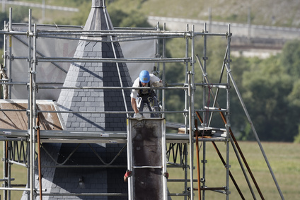 Example Occupations:

Steeplejack

Possible Risks:

Equipment safety, falls, environmental factors, building instability

Occupational Duties:

Maintenance of buildings, church steeples, cooling towers, clock towers and chimneys, health and safety
Life Insurance
Life Insurance for steeplejacks who work below 40 feet can often be sourced at standard terms. Where your work regularly requires you to be above 40 feet you will need to choose the right insurance company to place your cover to or you will face significant price increases. There are some insurers who will consider offering steeplejacks Life Insurance at standard terms regardless of the heights worked at as they are aware of the significant advances that have been made with safety equipment.
Critical Illness Cover
Critical Illness Insurance for steeplejacks may be available at standard terms for those who work above 40 feet, if you place your application with the correct insurer for your circumstances. It is likely that a part of the policy known as Total Permanent Disability will be excluded from the policies claim set. This is a small part of the policy and should not deter you from applying for Critical Illness Cover where you can be covered for well over 45 conditions or more. For people working over 40 feet standard rates may still be available but with a limited number of providers.
Income Protection
Steeplejacks Income Protection policies can be available with a few insurance providers depending upon the heights that you regularly work at. It is important that any Income Protection policy that you apply is made on an own occupation definition for the policy. This will mean that at the point of claim you are assessed on your ability to work as a steeplejack, rather than your ability to perform any like job or any job at all; claims are then much harder to insure. Our financial advisers can ensure that your application is placed with the correct insurer to enhance your chances of being offered an own occupation policy.
Income Protection for steeplejacks will be written with a deferment period of 1 day, 1 week, 4 weeks, 8 weeks, 13 weeks, 26 weeks or 52 weeks. This figure is the amount of time that you must wait from becoming unable to work, to receiving the benefit payout. When you apply for your Income Protection policy you should consider any employment benefits, savings and budget that you have which could affect your choice of deferment period. Our financial advisers regularly help clients to determine which deferment period best suits their individual circumstances and we are happy to discuss the benefits of different options with you.
Summary Definition
Steeplejacks conduct maintenance on building structures at heights that are typically difficult to reach. A steeplejack will either work on scaffolding or by abseiling down a structure to survey, maintain and repair the building. The use of a belay rope fall-arrest system can reduce the danger that is present when working at such heights. A steeplejack will perform masonry work as well as other aspects of building repair such as carpentry, painting and sandblasting.
Further Reading and Research
By clicking on the link(s) above you will be departing from the regulatory site of Special Risks Bureau. The Special Risks Bureau (Cura Financial Services) is not responsible for the accuracy of the information contained within the linked site(s).

"Alan and his team were great! Alan helped get me cover where my own company could not (I work in financial services too!) Would highly recommend and will come back in the future."

"Krystle was fantastic throughout and managed to knock almost 50% off my current life insurance premium."

"Very helpful, James worked hard to find the right cover for me and explore the detail with the underwriters."

"Couldn't rate more highly. I moved from another broker due to slow response speeds. Mark responded really quickly (sometimes from his holiday!)"

"Kathryn and her colleagues were very helpful because of my recent illness."

"Nick was my advisor, Excellent knowledge of products and what I needed, not just pushing me into a sale/policy, will always refer to him in the future."

Talk to a Friendly Adviser
Please feel free to call us on
0800 567 7450
and one of our qualified insurance advisers will be happy to assist you.
Please feel free to request a quote from us using our online form. The more information that you can provide us about your health conditions, hobbies, travel and/or occupation, the more accurate indications of price we'll be able to give you.
Experienced and knowledgeable advisers
Specialist advice with no fees to pay
Full assistance with all of your paperwork
Put your policy into trust at no cost
A dedicated insurance adviser for you
Here's our latest guides, musings, charity work, podcast, awards and industry updates. There's a lot going on!