By clicking on submit I / We give consent for you to call me / us on the number provided to discuss my / our financial requirements.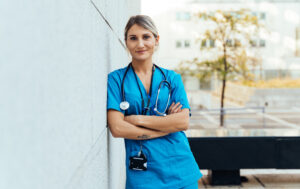 As a nurse you are at the very front of seeing when things don't work out as people planned. You probably understand far more than most people, just how important it is to have things like life insurance to help loved ones in their time of need.
Nurses should be able to get life insurance at standard terms with most UK insurers, assuming that you don't have any health conditions, travel or sporting risks that could affect your application.
To check if you can access life insurance at standard terms we will ask you:
Are you working full-time or reduced hours due to a health condition?
Is your work based in the UK or abroad?
Most nurses working in the UK will be able to access life insurance in the UK, without their occupation affecting the terms that they are offered. This means that nurses should be able to get life insurance at the lowest premiums possible.
Our advisers are here to help you find the right insurer to match your circumstances, to get you the best terms possible.
Income protection pays you a replacement of your monthly income, if you are unable to work due to ill health.
When you work in the NHS you can potentially get up to six months full pay, followed by six months half pay if you are ill and cannot work. Income protection is designed to kick in to top up your income at 6 months and 12 months.
In your role as a nurse you will have seen people who have experienced life changing events, that mean that they cannot work again. These are the situations that income protection is designed for.
Some insurers have specific income protection policies for nurses. We will look at placing your income protection to get you the advantages that come with these policies.
If you do not work for the NHS you might need an income protection policy that kicks in far more quickly than 6 months.
Our advisers recommend income protection for people every day and we will be able to let you know exactly what you can have. Get in touch today for a no obligation quotation.
Critical illness cover pays out a cash lump sum of money, if you are diagnosed with a medical condition that is listed in the insurer's claims set e.g. cancer, heart attack, stroke.
Critical illness cover should be available to nurses without any price increases or exclusions relating to your role.
Critical illness cover often comes at a core or enhanced options with most insurers. There is often more conditions that are covered in the enhanced version of critical illness cover and sometimes the definitions of how you can claim are better too. As a medical professional you will be able to make a clear decision as to which of these options suits you best.
Our expert advisers will find the right critical illness policy to match your work.
We work alongside a specialist travel broker to get you the travel insurance that you need. It is even more important to make sure that seek advice if you are regularly travelling outside of the UK to see your clients. To find out more, please visit our travel page here.
Back pain
Exposure to hazardous materials
Needle stick injuries
Physical assault
Stress
Heavy lifting
Medical examinations
Medication management
Patient care
Record keeping
Adult nurse
Bank nurse
Cardiac nurse
Children's nurse
Critical care nurse
District nurse
General practice nurse
Health visitor
Learning disability nurse
Mental health nurse
Neonatal nurse
Nurse anaesthetist
Nursing associate
Oncology nurse
Paediatric nurse
Parkinsons nurse
Prison nurse
Registered nurse
School nurse
Theatre nurse
Client Reviews
Cura Financial Services has been rated 5 out of 5 based on 724 reviews.
Review by James on 30th October 2023
"Cura have helped me find life insurance, with my HIV diagnosis I was refused by high street providers. Cura knew exactly who to approach and understood the medical history and obtained life insurance for me." - 5 
You can read more of our reviews here.

"Alan and his team were great! Alan helped get me cover where my own company could not (I work in financial services too!) Would highly recommend and will come back in the future."

"Krystle was fantastic throughout and managed to knock almost 50% off my current life insurance premium."

"Leanne couldn't have been more helpful and thoughtful with her questions and work on my enquiry."

"Couldn't rate more highly. I moved from another broker due to slow response speeds. Mark responded really quickly (sometimes from his holiday!)"

"Kathryn and her colleagues were very helpful because of my recent illness."

"Nick was my advisor, Excellent knowledge of products and what I needed, not just pushing me into a sale/policy, will always refer to him in the future."

"I would like to say a very big thank you especially to Amy you really went above and beyond."

"Fantastic at keeping in contact. Happy with how they dealt with my more complex medical history. Would recommend Vivek and the team!"

"Annaliese was absolutely fantastic, making us both feel at ease and helping us navigate issues that had caused us problems with previous attempts to obtain insurance."

Talk to a Friendly Adviser
Please feel free to call us on
0800 567 7450
and one of our qualified insurance advisers will be happy to assist you.
Please feel free to request a quote from us using our online form. The more information that you can provide us about your health conditions, hobbies, travel and/or occupation, the more accurate indications of price we'll be able to give you.
Experienced and knowledgeable advisers
Specialist advice with no fees to pay
Full assistance with all of your paperwork
Put your policy into trust at no cost
A dedicated insurance adviser for you
Here's our latest guides, musings, charity work, podcast, awards and industry updates. There's a lot going on!