By clicking on submit I / We give consent for you to call me / us on the number provided to discuss my / our financial requirements.
Life Insurance, Critical Illness Cover and Income Protection for Divers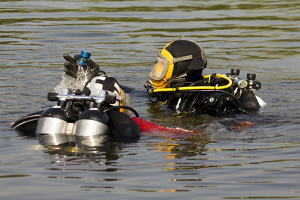 Example Occupations:

Bell divers, communications diver, offshore diver

Possible Risks:

Equipment malfunction, decompression sickness (the Bends), barotrauma, pulmonary embolism, wildlife

Occupational Duties:

Maintenance of equipment, ship husbandry, search and rescue, tourism
Life Insurance
Life Insurance for commercial divers has the potential to be accepted by insurance providers at standard terms. The insurer will be particularly interested in the use of any experimental equipment or explosives that you use whilst diving. If you do use explosives or experimental equipment as part of your diving duties the insurer may choose to offer Life Insurance at non-standard terms (premium increase).
If you only dive as a hobby please see our scuba diving page.
Critical Illness Cover
Critical Illness Insurance for commercial divers may be available at standard terms, depending upon where you dive and what you do whilst diving. However in general, Critical Illness Cover for divers will probably have an occupational exclusion on the policy claims set. This means that should you become critically ill as a result of activities whilst diving for your job, you will be unable to place a claim on the policy. If you were to fall critically ill with one of the named conditions on the policy claims set outside of your occupational duties, then you should be able to place a successful claim on the policy. The Critical Illness application will need to detail any specific areas of hazardous activities such as the use of explosives or experimental equipment.
Income Protection
Income Protection for commercial divers will need to be placed with a specialist insurance provider. The specialist insurer will be able to tailor an Income Protection policy to your individual circumstances. You should expect to pay a higher premium than someone who works in a less hazardous occupation than yourself.
As an alternative you may wish to consider Accident, Sickness and Unemployment Cover. This type of policy will provide 12-24 months income replacement if you are unable to work due to disability, long-term injury or involuntary redundancy. You should fully check the policy documentation to ensure that you are eligible for this policy based upon where you are based geographically and how long you are out of the UK.
Summary Definition
Divers are present in a range of different occupations and occupational duties and risks can vary greatly depending upon the career path taken. A diver will use specialist breathing equipment so that they are able to spend a great deal of time underwater to complete their occupational duties.
Occupations:
Scuba divers
Police diver
Scientific diver
Civil engineering diver
Hazmat diver
Nuclear diver
Further Reading and Research
By clicking on the link(s) above you will be departing from the regulatory site of Special Risks Bureau. The Special Risks Bureau (Cura Financial Services) is not responsible for the accuracy of the information contained within the linked site(s).

"Alan and his team were great! Alan helped get me cover where my own company could not (I work in financial services too!) Would highly recommend and will come back in the future."

"Krystle was fantastic throughout and managed to knock almost 50% off my current life insurance premium."

"Very helpful, James worked hard to find the right cover for me and explore the detail with the underwriters."

"Couldn't rate more highly. I moved from another broker due to slow response speeds. Mark responded really quickly (sometimes from his holiday!)"

"Kathryn and her colleagues were very helpful because of my recent illness."

"Nick was my advisor, Excellent knowledge of products and what I needed, not just pushing me into a sale/policy, will always refer to him in the future."

Talk to a Friendly Adviser
Please feel free to call us on
0800 567 7450
and one of our qualified insurance advisers will be happy to assist you.
Please feel free to request a quote from us using our online form. The more information that you can provide us about your health conditions, hobbies, travel and/or occupation, the more accurate indications of price we'll be able to give you.
Experienced and knowledgeable advisers
Specialist advice with no fees to pay
Full assistance with all of your paperwork
Put your policy into trust at no cost
A dedicated insurance adviser for you
Here's our latest guides, musings, charity work, podcast, awards and industry updates. There's a lot going on!