Thyroid Conditions & Life Insurance
By clicking on submit I / We give consent for you to call me / us on the number provided to discuss my / our financial requirements.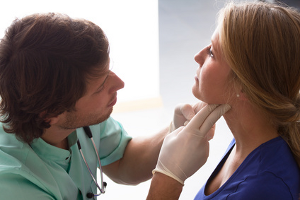 When you apply for Life Insurance, thyroid problems will need to be detailed to the insurer so that they can fully assess your health before offering cover. The policy terms that you will be offered will depend upon the type of condition that you had or still have, the severity of the condition, any medications you take and any other treatments you have received or are scheduled to do e.g. surgery, chemotherapy, etc.
For conditions such as thyroid cancer you would be best looking at our cancer page for details on obtaining Life Insurance.
For individuals with hyperthyroidism and hypothyroidism, provided that you have been diagnosed with the condition for at least three months and it is controlled well with or without medication, you can secure Life Insurance at normal terms with some providers. Where there has been surgery and/or removal of the thyroid gland there are a number of insurance providers who will offer cover at standard terms, given that you are fully recovered from the treatment. Please see the links below for further details about how your thyroid condition may effect your Life Insurance application.
Where your thyroid condition has been well controlled for at least three months, with or without medication, and there are no surgeries scheduled you can often secure this policy at standard terms (depending on the condition). If your thyroid condition has started to effect your eyes it is possible that the insurance provider may place special terms on your policy. Where surgery is scheduled and/or the condition is severe the insurer may wish to speak with your GP to establish the overall state of your health, or suggest that you delay the application until after the operation or once the condition is more well controlled. Please use the links below to see more details regarding your thyroid condition and Critical Illness Cover underwriting guidelines.
You tend to find that Income Protection applications for those with thyroid disorders have stricter underwriting guidelines than the other policy types mentioned above. By approaching the correct insurance provider with your application you may be able to secure an Income Protection policy at ordinary rates despite your condition. This is dependent upon your condition being well controlled for the last three months at least and no surgeries or other strong treatments scheduled. If your vision is affected by your thyroid condition then the provider may place special terms on your policy. We strongly recommend that you speak with one of our insurance advisers who will place your application with the correct insurer to secure the best terms for your circumstances. For more information regarding your thyroid condition and Income Protection please use the links below.
What is Thyroid Conditions?
The Special Risks Bureau regularly arrange Life, Life and Critical Illness and Income Protection application requests for the following thyroid conditions:
Thyroid gland removal

Goitre
Grave's disease
Hashimoto's thyroiditis
Jod-Basedow phenomenon
Subacute thyroiditis
Thyroid gland removal
Toxic adenomas
By clicking on the link(s) above you will be departing from the regulatory site of Special Risks Bureau. The Special Risks Bureau (Cura Financial Services) is not responsible for the accuracy of the information contained within the linked site(s).

"Alan and his team were great! Alan helped get me cover where my own company could not (I work in financial services too!) Would highly recommend and will come back in the future."

"Krystle was fantastic throughout and managed to knock almost 50% off my current life insurance premium."

"Very helpful, James worked hard to find the right cover for me and explore the detail with the underwriters."

"Couldn't rate more highly. I moved from another broker due to slow response speeds. Mark responded really quickly (sometimes from his holiday!)"

"Kathryn and her colleagues were very helpful because of my recent illness."

"Nick was my advisor, Excellent knowledge of products and what I needed, not just pushing me into a sale/policy, will always refer to him in the future."

Talk to a Friendly Adviser
Please feel free to call us on
0800 567 7450
and one of our qualified insurance advisers will be happy to assist you.
Please feel free to request a quote from us using our online form. The more information that you can provide us about your health conditions, hobbies, travel and/or occupation, the more accurate indications of price we'll be able to give you.
Experienced and knowledgeable advisers
Specialist advice with no fees to pay
Full assistance with all of your paperwork
Put your policy into trust at no cost
A dedicated insurance adviser for you
Here's our latest guides, musings, charity work, podcast, awards and industry updates. There's a lot going on!