The PPP - State of the Nation
By clicking on submit I / We give consent for you to call me / us on the number provided to discuss my / our financial requirements.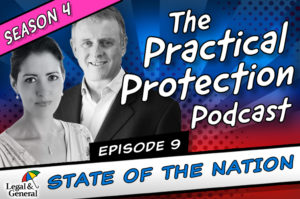 State of the Nation
For this episode of the Practical Protection Podcast, Kathryn is joined by Roy McLoughlin and special guest Jeff Woods from Legal & General. Legal & General have recently published their State of the Nation report, and they are doing a deep delve into business protection and SMEs.
This report gathers information from over 500 small and medium size UK businesses, about risks they may be facing and their awareness of these risks. The recent pandemic has had a huge impact on many things including UK businesses, which is reflected in this report, with 53% of businesses saying Covid-19 had a negative effect. The good news is that many reported that their financial outlook for the coming year seems to be more positive.
Some of the key areas that are discussed are business vulnerability, the need for advice, the impact of covid, and how businesses can plan for the future by using things such as business and group protection policies. The report also highlights some standout statistics.
One thing I found interesting when reading the report is that only 18% of businesses have life insurance in place, to cover the loss of a shareholder.
What is more interesting about this though is that 94% of businesses are able to recognise that they have at least one key person. Many people don't realise it but 70% of small and medium businesses within the UK would cease trading within 2 years, from the loss of a key person.
When trying to find out why there wasn't protection in place, Legal & General found that this was from people not seeing the need for protection, they intended to get it and never got around to doing it, or they just didn't have anybody to advise them to get it. Many companies also estimated the premium to be much higher than it is, with most thinking it's 4x the actual cost.
After this research was conducted, it was found that most companies didn't believe their reputation would take a long term hit following the loss of a key person, 39% felt that it wouldn't affect creditor attitudes and 33% also didn't think it would affect cash flow. A key part of this research is to help businesses understand their potential risks, so after understanding the consequences of losing an important person within the business, the stark reality was that 59% believed they wouldn't survive longer than 12 months.
When it came down to it, over a third of businesses said that one of their top three risks would be an owner becoming critically ill and unable to work, and over a half said their top risk would be the death of an owner.
The report shows that 75% of businesses have not heard about relevant life insurance or executive income protection, which may be one explanation as to why so few businesses do have protection in place. But 84% want to know more about it, the interest is there and it's our job in the insurance sector to find ways to get this information out to them.
Small and medium sized businesses actually count as the majority in the UK, with most companies having less than 10 employees. The initial thought may be opposite to this, but the smaller the company, the more they rely on their employees, as they basically make the company.
If a large company loses an employee then they may not be as hard to replace as if a small company was to lose someone. With that being said, many rely on loans to help fund their business, and many also have personal security against the loan.
Nobody wants to think about it, but what then happens if your client falls ill, is unable to work, then unable to pay off any loans and has personal items repossessed as a result of that? A business is likely to fail without having a plan B.
85% of respondents were happy to hear more about protection insurance once they knew some of the basics. This shows that it's definitely worth having conversations with your clients, to make them aware of what their options could be and the protection and security they're currently missing out on.
72% of businesses are willing to spend £50 or more per month on cover, over half are willing to spend over £250 per month, and over a quarter willing to spend over £2k per month.
Out of the businesses which did have protection, 73% of them had sought advice to take out the policy. Of those without protection insurance, 20% of people said they would do their own research, but altogether 97% said they would look for professional advice, regardless of if they have done their own research.
I think one key thing that has come from this report is the clear need to educate others on protection insurance. The majority of businesses that took part in this research were happy to learn more and would like a protection adviser to help if they were to take out a policy, so there is an opportunity there to start discussions. Not only does protection insurance protect the needs of a business, it can also work as an added benefit to its employees depending on the type of insurance taken out.
You can listen to more of Kathryn's podcasts here.
If you would like to know more about how to arrange protection insurance, take a look at Kathryn's new Protection Insurance in Practice course here.

"Alan and his team were great! Alan helped get me cover where my own company could not (I work in financial services too!) Would highly recommend and will come back in the future."

"Krystle was fantastic throughout and managed to knock almost 50% off my current life insurance premium."

"Very helpful, James worked hard to find the right cover for me and explore the detail with the underwriters."

"Couldn't rate more highly. I moved from another broker due to slow response speeds. Mark responded really quickly (sometimes from his holiday!)"

"Kathryn and her colleagues were very helpful because of my recent illness."

"Nick was my advisor, Excellent knowledge of products and what I needed, not just pushing me into a sale/policy, will always refer to him in the future."

Talk to a Friendly Adviser
Please feel free to call us on
0800 567 7450
and one of our qualified insurance advisers will be happy to assist you.
Please feel free to request a quote from us using our online form. The more information that you can provide us about your health conditions, hobbies, travel and/or occupation, the more accurate indications of price we'll be able to give you.
Experienced and knowledgeable advisers
Specialist advice with no fees to pay
Full assistance with all of your paperwork
Put your policy into trust at no cost
A dedicated insurance adviser for you
Here's our latest guides, musings, charity work, podcast, awards and industry updates. There's a lot going on!