By clicking on submit I / We give consent for you to call me / us on the number provided to discuss my / our financial requirements.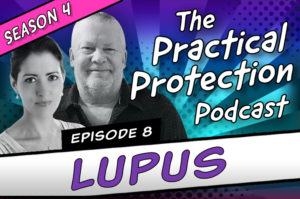 Lupus
Kathryn is joined by Matt Rann for another episode of the Practical Protection Podcast, focusing on Lupus. Lupus is an autoimmune condition caused by having too many antibodies within the immune system. Roughly 1 in every 1000 people within the UK have lupus.
There are four main types of Lupus:
Systemic Lupus Erythematosus (SLE) – this is the most common type of lupus and also the most serious, as it can affect many parts of the body including the organs.


Discoid Lupus (DLE) – this affects the skin and can cause rashes. It doesn't affect the organs but can sometimes lead to SLE.


Drug-induced lupus (DILE) – this type of lupus is often caused by medication, and can disappear once medication has been stopped.


Neonatal Lupus – this is a rare type of lupus, but can sometimes be found in the child of a mother with lupus. Symptoms of this would usually go away within a few months.

Lupus can be hereditary but it can also be triggered by hormones e.g. puberty, pregnancy, or the menopause, leading to more women than men being affected by lupus, with women nine times more likely to receive a diagnosis. It can also be triggered by other things such as a viral infection, sunlight and some medications. There are a range of symptoms a person may have if they do have lupus, these include fatigue, a skin rash, hair loss, and much more including difficulties with the kidneys.
Kathryn and Matt talk through the stages leading up to a diagnosis, and how this can potentially have an impact on a person's protection insurance application.
Access to insurance
Lupus can have a big effect on a person's life insurance application, but that absolutely does not mean life insurance can't be accessible, as there are often options for protection insurance with mainstream and specialist insurers. When applying, the insurer will have a few specific questions such as when was the diagnosis? What type of lupus is present? What are the symptoms? What medication is taken? Does this affect daily life? Basically, the insurer will want to know how much the condition plays a role in a person's life.
The terms offered can be affected by the type of lupus a person has, as rates for DLE are often more favourable than those for SLE, but there are also a number of other deciding factors.
It can be tricky for a person living with lupus to find critical illness cover on the standard market, and it may be that you have to go to a specialist insurer to arrange this. For critical illness cover on the standard market, the terms are dependent on the type of lupus that you have, your symptoms and treatments, and the policy is likely to come with non-standard rates. If you were to approach a specialist insurer, the policy would often have an exclusion for any claim which is related to lupus.
Similarly, terms offered for income protection are often based on the type of lupus present. If a person has DLE, they're likely to get better terms than a person living with SLE. Some insurers may look to increase the premium of the policy, where some may add an exclusion for the lupus. It can sometimes be difficult to arrange income protection for a person diagnosed with SLE, but some insurers may consider the application permitting there has been no symptoms for a certain amount of time and no medication is required.
It is also possible that options for people to buy these policies personally, do not feel like the best of value. Options that are arranged through a company or employer, called group income protection or enhanced sick pay, can be a really good policy to be a part of for value for money and it's possible that there will be no exclusions relating to your lupus.
When it comes to insurance, it's incredibly important that the application is as accurate as possible to the best of your knowledge. For most insurers your diagnosis of lupus will come up in the applications somewhere. But things are different if you are a carrier of the lupus gene, but do not have it yourself. Insurers are unable to ask for results of any genetic tests that identify an increased chance of developing lupus. So if there have been any genetic tests for lupus, the results of these don't have to be shared and can have no bearing on the terms offered for a protection insurance policy.
Case studies
A woman in her early 40's spoke to us as she needed financial protection in place for her family. She had been diagnosed with systemic lupus erythematosus (SLE) less than 20 years ago, which had developed from an initial diagnosis of discoid lupus (DLE). She had also developed another health condition due to the lupus. A life insurance policy was arranged covering her for £136,000 over a 27 year period, with a premium just over £28.


A woman in her mid 20's came to us needing life insurance to cover her mortgage. She had been diagnosed with systemic lupus erythematosus less than 10 years ago and took medication for this. We arranged a life insurance policy for 30 years, with a sum assured of £150,000 and a premium less than £10 per month.


A man in his late 20's approached Cura after being turned away from some insurers, he needed to ensure his mortgage could be paid off. He had been diagnosed with systemic lupus erythematosus around a before chatting to us, and had a couple of other health disclosures. A life insurance policy was arranged covering him for £223,000, with a premium just shy of £26 per month for 34 years.


Hopefully, you can see from the case studies above that it certainly is possible to obtain life insurance for a person who has been diagnosed with lupus, even with a recent diagnosis. If you're ever unsure, we have a range of advisers at Cura who are more than happy to help find protection insurance to meet the needs of clients.
If you would like to know more about how to arrange protection insurance, take a look at Kathryn's new Protection Insurance in Practice course here.
Don't forget to claim your CPD certificate if you have listened to this for work: https://practical-protection.co.uk/claim-your-cpd/

"Alan and his team were great! Alan helped get me cover where my own company could not (I work in financial services too!) Would highly recommend and will come back in the future."

"Krystle was fantastic throughout and managed to knock almost 50% off my current life insurance premium."

"Very helpful, James worked hard to find the right cover for me and explore the detail with the underwriters."

"Couldn't rate more highly. I moved from another broker due to slow response speeds. Mark responded really quickly (sometimes from his holiday!)"

"Kathryn and her colleagues were very helpful because of my recent illness."

"Nick was my advisor, Excellent knowledge of products and what I needed, not just pushing me into a sale/policy, will always refer to him in the future."

Talk to a Friendly Adviser
Please feel free to call us on
0800 567 7450
and one of our qualified insurance advisers will be happy to assist you.
Please feel free to request a quote from us using our online form. The more information that you can provide us about your health conditions, hobbies, travel and/or occupation, the more accurate indications of price we'll be able to give you.
Experienced and knowledgeable advisers
Specialist advice with no fees to pay
Full assistance with all of your paperwork
Put your policy into trust at no cost
A dedicated insurance adviser for you
Here's our latest guides, musings, charity work, podcast, awards and industry updates. There's a lot going on!