The PPP - Intergenerational Wealth Planning
By clicking on submit I / We give consent for you to call me / us on the number provided to discuss my / our financial requirements.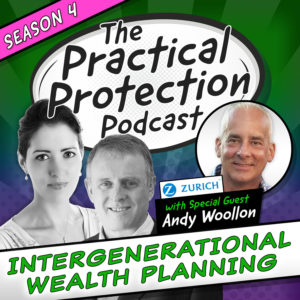 Intergenerational Wealth Planning
Last week we had an Inbetweenysode where Kathryn spoke about commission and fees. There has been a lot of discussion about these recently online, so Kathryn spoke through some of the pros and cons of each. We hope that you found it useful and that you might find it useful to potentially share with your clients, if they have any confusion on how things work.
For this episode, Kathryn is joined by Roy McLoughlin, as well as guest Andy Woollon to discuss intergenerational wealth planning. Following on from the recent Income Protection Taskforce week, discussing protection insurance and wealth planning feels like a natural next step for the podcast. If you haven't seen the sessions yet, you can check them out on YouTube.
With Kathryn and Cura being a part of the protection side of things, it's interesting to see how wealth planning and protection can go hand in hand. It's fair to say that income protection is pivotal to financial planning, and can be a key time to signpost to a protection adviser if you yourself wouldn't usually advise on protection. The recent pandemic has shown everybody that you can never really expect what's coming next, so having protection in place can really give your clients peace of mind.
You may find that you have a client in a position where they believe they could self fund themselves if their income was to stop meaning they wouldn't need protection in place. But the opposite can be true with income protection being one of their biggest needs, as they may have more expenses to pay out for and a more lavish lifestyle to fund.
Kathryn, Roy and Andy discuss how using a cashflow model is such a valuable tool as it allows you to highlight to your client what could happen if their income isn't protected. If a person was unable to work, this can have a huge impact on their financial plan.
Andy mentions the bank of mum and dad and some of the routes people may take to ensure their children are cared for as well as their pensions and retirement fund. Often, if somebody was unable to work due to injury or ill health, their parents may offer some short term support, but there may be a point where longer term financial help is needed. This can then be tricky, as the parents may have to use their pension to help out, or their child may have to downsize or even move house and change their lifestyle to adapt to their new circumstances.
In order for their parents to protect their own lifestyle as well as ensure their children and grandchildren are cared for, they may wish to pay the premiums for an income protection plan for their adult child, which protects their child's income as well as their own retirement and pension, as well as potentially helping with IHT.
Another thing suggested by Andy is equity release, which is one of many options when it comes to intergenerational wealth planning. Equity release has improved massively over the last 5 or 10 years and can help fund a deposit for the home of your client's adult child. Not everybody is fortunate enough to have money aside to pass to their children when they are wanting to purchase their own home, which is where equity release fits in. A person can release some of the equity from their home to pass on to their children, which would then result in a decrease in the value of their own home once it is passed on in the future.
This is where protection can come in quite nicely and is an example of protection being considered alongside a financial plan, rather than being an afterthought. Whole of life protection can sometimes be taken out to replenish the reduced value of the house, meaning the original value of the house can still be passed on.
When it comes to protection, many people will take out a policy to cover the term of their mortgage or to last until their retirement, which then usually leaves a person with no protection, it seems to be a common theme that many leave IHT planning until quite late on; this means quite expensive! There are convertible terms available with some policies, which allow a person to change their policy to whole of life when you get close to the original policy's end date, with no further medical evidence. You are likely to see the cost of the cover go up, or the sum assured drop down, to offset the additional risks now that you are older.
Roy brings to light an interesting yet possibly alarming figure, being that 33% of women access their pensions at the age of 55 and withdraw their 25% tax free sum, often to put into a low interest savings account. Some people may feel that this gives them more control over their money, or would like the comfort of it being accessible due to the effects of the pandemic on their savings or financial plans. But this can actually mean that people end up with far less funds in the long run. Even if people don't want to go through full financial advice and want to have control over everything themselves, it's a really good idea that they see some cashflow forecasts. Maybe this is something that could offer as an entry level of engagement for potential clients?
Listen to the episode below:
One thing that I'm sure many people will agree with me on, is the importance of signposting. If you can't advise on protection or chose not to, then refer to somebody who can. Protection can play an integral part of intergenerational wealth planning, as it can offer protection of wealth through a number of generations. Do you do protection, or is it something that you have moved away from with your skill set focused elsewhere? It's definitely something worth thinking about, and a conversation to be had with your clients.
If you're wanting to know more about how to arrange protection insurance, take a look at Kathryn's new Protection Insurance in Practice course here.
If you have listened to this episode of the podcast for your work, don't forget to claim your CPD certificate: https://practical-protection.co.uk/claim-your-cpd/

"Alan and his team were great! Alan helped get me cover where my own company could not (I work in financial services too!) Would highly recommend and will come back in the future."

"Krystle was fantastic throughout and managed to knock almost 50% off my current life insurance premium."

"Very helpful, James worked hard to find the right cover for me and explore the detail with the underwriters."

"Couldn't rate more highly. I moved from another broker due to slow response speeds. Mark responded really quickly (sometimes from his holiday!)"

"Kathryn and her colleagues were very helpful because of my recent illness."

"Nick was my advisor, Excellent knowledge of products and what I needed, not just pushing me into a sale/policy, will always refer to him in the future."

Talk to a Friendly Adviser
Please feel free to call us on
0800 567 7450
and one of our qualified insurance advisers will be happy to assist you.
Please feel free to request a quote from us using our online form. The more information that you can provide us about your health conditions, hobbies, travel and/or occupation, the more accurate indications of price we'll be able to give you.
Experienced and knowledgeable advisers
Specialist advice with no fees to pay
Full assistance with all of your paperwork
Put your policy into trust at no cost
A dedicated insurance adviser for you
Here's our latest guides, musings, charity work, podcast, awards and industry updates. There's a lot going on!