The PPP - Gender and Income Protection
By clicking on submit I / We give consent for you to call me / us on the number provided to discuss my / our financial requirements.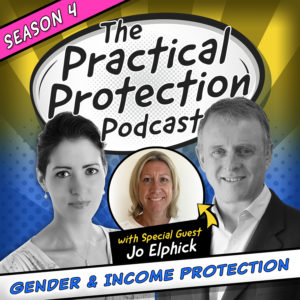 Jo Elphick from Legal & General joins Kathryn and Roy in this episode. Legal & General have been looking at how gender influences the way that people engage with group income protection insurance. The statistics are quite interesting!
65% of women surveyed believe that income protection is relevant to them, versus only 35% of men that felt it is worthwhile
As they talk through the findings, Jo helps us to understand the way that women tend to see the value of income protection more than men, yet less women than men take up and engage with this policy type. They discuss why women traditionally tend to address health concerns early on, in contrast to their 'invincible' male counterparts, which means we really should be shouting from the rooftops about how group support services can help them and their immediate family.
The key takeaways:
Some reasons for people not engaging with group income protection include not understanding what the policy is, their partner's sorting out all the finance stuff, and fear that employers might learn too much about their health.
Messages about group insurance support services are not often filtered to employees well, being lost amongst all the noise of employment contracts and onboarding procedures.
Storytelling that demonstrates the benefits of engaging with group support services, is where we can show how income protection isn't' just about money, it's about wellbeing too.
Next time, Matt Rann is back with Kathryn and they are chatting about skin cancer and how it can affect your insurance options. People are often surprised at how much someone having had a history of skin cancer can alter their terms.
Remember, if you are listening to this as part of your work, you can claim a CPD certificate on our website, thanks to our sponsors Octo Members.
If you want to know more about how to arrange protection insurance, take a look at Kathryn's brand-new Protection Insurance in Practice course here.
To listen to the podcast in full click here.

"Alan and his team were great! Alan helped get me cover where my own company could not (I work in financial services too!) Would highly recommend and will come back in the future."

"Krystle was fantastic throughout and managed to knock almost 50% off my current life insurance premium."

"Very helpful, James worked hard to find the right cover for me and explore the detail with the underwriters."

"Couldn't rate more highly. I moved from another broker due to slow response speeds. Mark responded really quickly (sometimes from his holiday!)"

"Kathryn and her colleagues were very helpful because of my recent illness."

"Nick was my advisor, Excellent knowledge of products and what I needed, not just pushing me into a sale/policy, will always refer to him in the future."

Talk to a Friendly Adviser
Please feel free to call us on
0800 567 7450
and one of our qualified insurance advisers will be happy to assist you.
Please feel free to request a quote from us using our online form. The more information that you can provide us about your health conditions, hobbies, travel and/or occupation, the more accurate indications of price we'll be able to give you.
Experienced and knowledgeable advisers
Specialist advice with no fees to pay
Full assistance with all of your paperwork
Put your policy into trust at no cost
A dedicated insurance adviser for you
Here's our latest guides, musings, charity work, podcast, awards and industry updates. There's a lot going on!