The PPP - Commission vs Fees
By clicking on submit I / We give consent for you to call me / us on the number provided to discuss my / our financial requirements.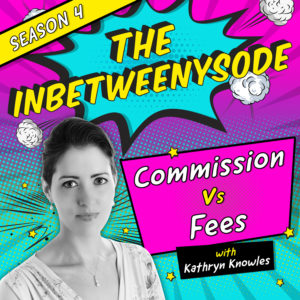 Commission vs Fees
Is there space for both?
Most people in the adviser space are aware of recent articles in the press that have been anti-life insurance and anti-adviser. I am sure that most of us found these pieces hard to read and felt a clear need to shout about the good work that advisers do and the importance of having insurance.
There is another thing that I keep hearing that is also making me want to speak up: commission bashing. I have seen this on social media a few times over recent months. To me, there is a time and a place for fees, and a time and a place for commission.
When you arrange protection insurance using an adviser, whether that be life insurance, income protection or any other type of protection insurance, your adviser is paid for their work and services. Rather than being out of pocket and having to pay a fee on top of your monthly insurance premium, many protection advisers are paid in the form of commission by the insurer. This payment is a way that insurers support regulated advisers, by paying some of the savings they have made from lower internal marketing and salesforce expenses.
Commission based advice comes at no added cost to the client with many advisers, though it is worth noting that some companies do have specific arrangements with insurers to offer 'loaded premiums'. A loaded premium is where the advisers and insurers have agreed to charge a higher premium to the client, so that the adviser gains more favourable commission rates. There are calls within our sector to ban this practice.
When it comes to commission, there are two different types:
Non-indemnity

commission pays the adviser a set amount per month, for a set period of time, often over one to four years; this depends on different factors, such as the length of your policy, the sum assured and your age, as well as other things.

Indemnity

commission is a lump sum amount paid when the policy is first taken out. If for whatever reason your policy is cancelled within the first few years, the adviser would then return some of this payment back to the insurer.

Protection Insurance Adviser Kathryn Knowles, helps to break it down here:
"As a protection insurance adviser I personally take commission for my work, usually as a non-indemnity commission wherever possible. This means we receive little payments every month.
Most people reading this will also be aware that I work in a high risk space, with many of my clients having health conditions that need extensive time and resources to source cover for, to best suit their individual needs. My question to people that do not like commission is, how would you price my fees? How do you justify a higher cost due to a person having circumstances that they cannot change?
It is quite routine for me to advise a client and for then three to four of my team to support them through the application process, chasing GP reports, complications that arise when GP reports are incorrect, Trust completion and more. I will then often have to get a copy of the GP report so that I can review it and determine what has led an insurer to offer terms that were not expected, or for them to have postponed or declined. Some are around 10 pages, others can be in excess of 300 pages. From this, I then need to support the client whilst they get their GP report corrected, or have a very sensitive conversation about how their health is worse than they thought it was.
On average it will take four to eight weeks from the start of an application, until cover is offered. That doesn't include the time spent researching the market, finding the right insurer, building a recommendation and the client confirming that they want to proceed. We have just had a GP report take one year to be returned, this isn't specific to covid timeframes, this has been happening well before 2020.
When it comes to my fees, how would I price for this case? Would I need to set different fees, one for people that need enhanced medical underwriting, and one for people that are accepted straight through online. Personally, I would feel very uncomfortable with that approach. I am also quite certain that I would be breaking some kind of disability and/or equality legislation.
My point is that commission isn't dirty, it opens up the opportunity for people to access advice, when they don't meet the minimum asset criteria that IFAs (independent financial adviser) require to onboard a client. Commission based advisers might get a higher upfront return for their work, compared to the fee that an IFA gets from their work. But an IFA is projected annual returns from their client for decades, commission based advisers will see a return for a maximum of 4 years per policy.
Sourcing and arranging an income protection policy for a specific client of ours would pay me £11.84 commission per month for 48 months, or I could opt to have this indemnified and receive a sum of £494.17 (having to return a percentage if the policy was to lapse or cancel within 48 months), the clients premium for either option would remain the same, at £19.61 per month.
For the same client a life insurance policy could pay me £3.76 per month for 48 months or a sum of £120.38 (again, having to return a percentage if the policy was to lapse or cancel within 48 months), the clients premium would remain £5.44 irregardless of how I took the commission.
Both the income protection policy and the life insurance policy would take the same amount of research, time and support from me and my team, but having this paid in commission rather than a fee would save the client from paying high fees."
If the adviser takes a fee rather than commission, depending on the arrangements made, a client can pay close to £1,000 for the recommendation, and then an additional fee on top to arrange the policy. This might work for some, but a recommendation does not mean that the offer of insurance is guaranteed, the client might not be able to access the policy once underwriting has taken place. They are then out of pocket £1,000 and back to square one.
You might see eye-wateringly high commission payments sometimes, but it's worth bearing in mind that the average protection insurance case we arrange pays a commission of less than £1,000, the lowest we get paid with some policies is £18. Commission and fees do not determine the quality of the work done for a client.
More than 1 in 5 people in the UK have a disability and for many of those, without the option of commission based advice, their ability to access insurance advice disappears, and the number of people who will be protected would decrease. Paying between £1,000-£2,000 as a fee for getting support to arrange a policy, is not something that a lot of people will want to do, or be able to afford to do. In that situation all we will find is less people being interested in having conversations about life insurance and income protection.
Another concern is that if there are high fees and no commission, people may then seek insurance themselves online to avoid a fee, and possibly be left underinsured or not properly protected. You would be surprised at how many times people ask for income protection when they mean critical illness cover and vice versa!
Some people may prefer to pay fees to their adviser, and there certainly are benefits either way, but I personally like to think of commission payments as a 'win win situation'. This being because I am able to help my clients, dedicate as much time as necessary to them to help source and take out the protection, and my client will never have the background worry of how much my service will cost or what they have to sacrifice in order to pay the fee, to secure the protection insurance they need for themselves and their loved ones.
Listen to Kathryn's latest podcast on Commission vs Fees
If you are listening to this as part of your work, you can claim a CPD certificate through the PPP website, thanks to our sponsors Octo Members.

"Alan and his team were great! Alan helped get me cover where my own company could not (I work in financial services too!) Would highly recommend and will come back in the future."

"Krystle was fantastic throughout and managed to knock almost 50% off my current life insurance premium."

"Very helpful, James worked hard to find the right cover for me and explore the detail with the underwriters."

"Couldn't rate more highly. I moved from another broker due to slow response speeds. Mark responded really quickly (sometimes from his holiday!)"

"Kathryn and her colleagues were very helpful because of my recent illness."

"Nick was my advisor, Excellent knowledge of products and what I needed, not just pushing me into a sale/policy, will always refer to him in the future."

Talk to a Friendly Adviser
Please feel free to call us on
0800 567 7450
and one of our qualified insurance advisers will be happy to assist you.
Please feel free to request a quote from us using our online form. The more information that you can provide us about your health conditions, hobbies, travel and/or occupation, the more accurate indications of price we'll be able to give you.
Experienced and knowledgeable advisers
Specialist advice with no fees to pay
Full assistance with all of your paperwork
Put your policy into trust at no cost
A dedicated insurance adviser for you
Here's our latest guides, musings, charity work, podcast, awards and industry updates. There's a lot going on!