By clicking on submit I / We give consent for you to call me / us on the number provided to discuss my / our financial requirements.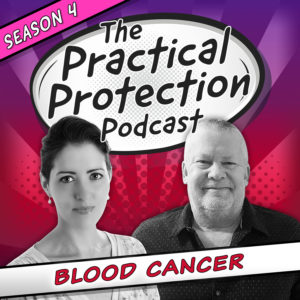 Blood Cancer
With September being Blood Cancer Awareness Month, Kathryn and Matt Rann are talking about blood cancer and its effects on the body during the most recent episode of the Practical Protection Podcast.
Blood cancer is a type of cancer which affects the blood cells in your body, causing them to become abnormal and not work properly, meaning your blood is less able to keep your body healthy. There are more than 100 types of blood cancer, some being leukaemia, lymphoma, myeloma, myelodysplastic syndromes (MDS) and myeloproliferative neoplasms (MPN), and roughly 250,000 people living with blood cancer in the UK.
With blood cancer being the fifth most common cancer in the UK, and the third biggest killer when it comes to cancers in the UK, Kathryn and Matt discuss some of the key signs and symptoms to look out for during this episode of the podcast. Matt explains a few different types of blood cancer in more detail, which has really helped me to visualise what happens when they develop.
The episode goes through some of the different treatment options that you may be faced with, if you were to be diagnosed with blood cancer. Leading to a conversation about how likely it would be to have a recurrence, and how this could potentially affect insurance terms.
The rate in which people are diagnosed in the UK took me by surprise, with one person being diagnosed with blood cancer every 13 minutes, which equates to 110 people per day, and 40,000 people per year. 500 of these each year are children under the age of 15.
A case study of Kathryn's is brought into conversation, about a woman who is now close to 30, who had blood cancer when she was three and five. Although there was little struggle finding life insurance, that wasn't quite the case when it came to critical illness cover. This wasn't available and there seemed to be no scope for this to change. In France and Belgium it is a person's legal right to forget that they have previously had cancer, this might sound alarming to some insurers, but it's certainly an interesting concept, it would enable so many more people to have options to access the insurance products they want.
When it comes to taking out life insurance if you have a history of blood cancer, there are a number of things an insurer would like to know, in order to make an educated decision. They will want to know things such as when were you first diagnosed? What was the staging of the cancer? What treatment have you had? When was your last treatment?
It is likely that if you had a more recent diagnosis or treatment, then you may have life insurance offered to you with a higher premium, but if a certain number of years has passed then you may be offered standard terms.
When it comes to critical illness cover, this can also sometimes be available depending on the number of years that have passed since your treatment, though you may need to go to a specialist insurer for this. A specialist insurer doesn't necessarily mean there is going to be a higher cost, but depending on your circumstances, there could be a higher monthly premium or an exclusion added to the policy.
This is similar to income protection, each insurer has different acceptance criteria but depending on your circumstances, you may be offered income protection with a higher premium or with an exclusion on the policy.
We have helped a number of clients who have had a past diagnosis or treatment for blood cancer. Another case study is of a 28 year old man, diagnosed with lymphocyte-predominant Hodgkin lymphoma in 2016, and received chemotherapy. This client is now in the clear but has reviews every 6 months. We were able to arrange this client to have a joint life insurance policy with his partner, for close to £10 per month with a benefit amount of £139,000.
As mentioned, there are often options when it comes to insurance but it's just knowing how to find them and what would actually be suitable for your needs, which is where it's often handy to use a financial adviser to give guidance, or to ensure you have done your research before taking out a new policy.
If you want to know more about how to arrange protection insurance, take a look at Kathryn's new Protection Insurance in Practice course here.
If you have listened to this episode of the podcast for your work, don't forget to claim your CPD certificate: https://practical-protection.co.uk/claim-your-cpd/

"Alan and his team were great! Alan helped get me cover where my own company could not (I work in financial services too!) Would highly recommend and will come back in the future."

"Krystle was fantastic throughout and managed to knock almost 50% off my current life insurance premium."

"Very helpful, James worked hard to find the right cover for me and explore the detail with the underwriters."

"Couldn't rate more highly. I moved from another broker due to slow response speeds. Mark responded really quickly (sometimes from his holiday!)"

"Kathryn and her colleagues were very helpful because of my recent illness."

"Nick was my advisor, Excellent knowledge of products and what I needed, not just pushing me into a sale/policy, will always refer to him in the future."

Talk to a Friendly Adviser
Please feel free to call us on
0800 567 7450
and one of our qualified insurance advisers will be happy to assist you.
Please feel free to request a quote from us using our online form. The more information that you can provide us about your health conditions, hobbies, travel and/or occupation, the more accurate indications of price we'll be able to give you.
Experienced and knowledgeable advisers
Specialist advice with no fees to pay
Full assistance with all of your paperwork
Put your policy into trust at no cost
A dedicated insurance adviser for you
Here's our latest guides, musings, charity work, podcast, awards and industry updates. There's a lot going on!