By clicking on submit I / We give consent for you to call me / us on the number provided to discuss my / our financial requirements.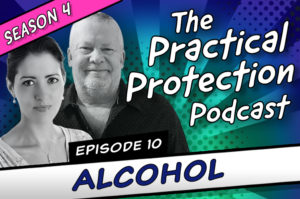 Alcohol
November 15th marks the start of Alcohol Awareness Week, so it seemed very fitting that this week's episode of the Practical Protection Podcast is all about alcohol intake.
During this episode, Kathryn is joined by Matt Rann to talk through how alcohol consumption can affect the insurance terms offered to you. They discuss some of the questions you may be asked when applying for protection insurance as well as talk through a case study of a client, who had previously been hospitalised due to alcohol dependency.
Many people choose to not drink alcohol, just as Kathryn did for a number of years when she was pregnant and breastfeeding. One thing to bear in mind is that just because a person doesn't drink alcohol or only does on special occasions, this doesn't automatically mean there hasn't been any past issues of dependency, or that they have never been advised to reduce their alcohol consumption.
Some of the statistics surrounding alcohol intake may come as a surprise, as they certainly did to me! Alcohol misuse is the biggest risk factor for death, disability and ill-health among those between the ages of 15 and 49, and is the fifth biggest risk factor across all ages. Alcohol has been found to be a causal factor in more than 60 health or medical conditions, including high blood pressure, depression and throat, liver and stomach cancer (Alcohol Change UK, 2020).
On average, 1 in 5 adults within the UK say they regularly drink above the recommended amount of 14 units.
For those who are maybe unsure, 14 units equates to roughly six pints of average strength beer or six average glasses of wine.
It doesn't just stop there, as misusing alcohol can lead to a whole load of other things, such as the breakdown of relationships, changes to the brain's function, weight gain and much more. With alcohol being known to be used as a coping mechanism, many people drink to relieve the symptoms of stress or mental health issues, and though this may give a brief sense of relief, it can make things much worse in the long run.
The brain initially reacts to alcohol by creating dopamine, which makes people feel good. Alcohol is in fact a depressant, which eventually slows down the brain's functioning, meaning the effects of the dopamine are then often replaced with more negative emotions.
Many people will have experienced a hangover at some point in their lives, as it is a normal reaction to alcohol intake, often even if you have only consumed a little amount. A hangover is caused by dehydration, low blood sugar and the by-products of alcohol, which can then leave you feeling down, sluggish and unwell for a number of hours, and for some people it can even be a couple of days.
In the long run, you can become dopamine-deficient if you are a heavy drinker, which can lead to experiencing a low mood much more often.
It can take great strength to admit and overcome alcohol misuse. If you think you are drinking too much, or know somebody who could maybe benefit from advice or help, there are many advice sheets available through the NHS or websites such as
Alcohol Change. There are many more websites which offer good advice, as well as online communities if you feel comfortable enough to speak to somebody about what you may be struggling with.
Access to insurance
Alcohol intake is often forgotten about initially when applying for life insurance, but it can actually have quite an influence on the terms that you're offered. Most insurers will be ok with up to 30 units of alcohol being consumed per week, but they may have questions if there's more than that.
It could be that you are a heavy drinker and acknowledge that you drink more than what's recommended, but have never actually seen a GP or medical professional, or seeked help. If this is the case, the insurer may still want to see a medical report from your GP, to ensure that there are no health conditions caused by the alcohol, and they may also request a blood test to take place.
If you have been diagnosed with alcoholism, there are some common questions that the insurer will ask. They will want to know when it was that you were diagnosed as an alcoholic or dependent on alcohol, how long you were dependent for, how much you would previously drink per day, if you still drink alcohol now and if you have ever sought counselling to help you. They may also ask if you have had a recent liver function test, and the results of this if you have had one. It's also likely that they will request a medical report to be completed by your GP.
The insurer will look at how much the alcohol consumption has impacted your health, they will often look for any signs of related mental health conditions or lasting liver damage.
Life insurance can be available with standard terms if you have been teetotal for a number of years and have no serious side effects as a result of the alcohol. If the alcohol did cause damage, it could be that the insurer will offer you a policy with a price increase. Some insurers on the standard market would potentially decline your application, in which case it would be best to use a protection adviser to approach a specialist insurer.
Critical illness cover is quite similar in the sense that the insurer will ask a number of questions surrounding your health and experience with alcohol intake but they may look at your application and health in more depth. A full understanding of your health is needed in order for the insurer to see to what extent the alcohol has impacted your general health. This is because long term heavy alcohol consumption can lead to an increased risk of you developing some of the critical conditions that this policy type covers.
If you have not been dependent on alcohol for a number of years then it could be that income protection is available with standard terms. If you have experienced any mental health conditions recently caused by the alcohol then the insurer may add a mental health exclusion to your policy, meaning you would be unable to claim for anything relating to mental health.
Case studies
A woman in her late 30s came to us needing protection insurance to ensure her mortgage can be paid off in the event of her death. She had issues with alcohol dependency for around 5 years. She had previously been in rehab for a few weeks and there was also a suicide attempt once the rehab had finished. No long-term health complications came from the alcohol. She now has a life insurance policy for 28 years, covering her for just short of £215,000 with a monthly premium of less than £40.



A person in their mid 30s approached Cura needing life insurance to offer their young child financial support. They initially began binge drinking in their youth and began rehab in their early 20's, they were then sober before relapsing and stopping drinking alcohol for good. Medical tests at the time showed no issues and they had then been teetotal for almost 10 years. Cura arranged a life insurance policy for 31 years, covering them for just over £83,000 with a monthly premium of close to £20 per month.

Alcohol doesn't usually cause a big issue if drunk responsibly, if you are finding yourself to have issues with alcohol consumption then there are many organisations which can offer support.
Resources
Alcohol Change UK (2020). Alcohol Statistics. [online] Alcohol Change UK. Available at: https://alcoholchange.org.uk/alcohol-facts/fact-sheets/alcohol-statistics [Accessed 15 Nov. 2021].
NHS (2019b). Overview – Alcohol misuse. [online] NHS. Available at: https://www.nhs.uk/conditions/alcohol-misuse/ [Accessed 15 Nov. 2021].

"Alan and his team were great! Alan helped get me cover where my own company could not (I work in financial services too!) Would highly recommend and will come back in the future."

"Krystle was fantastic throughout and managed to knock almost 50% off my current life insurance premium."

"Very helpful, James worked hard to find the right cover for me and explore the detail with the underwriters."

"Couldn't rate more highly. I moved from another broker due to slow response speeds. Mark responded really quickly (sometimes from his holiday!)"

"Kathryn and her colleagues were very helpful because of my recent illness."

"Nick was my advisor, Excellent knowledge of products and what I needed, not just pushing me into a sale/policy, will always refer to him in the future."

Talk to a Friendly Adviser
Please feel free to call us on
0800 567 7450
and one of our qualified insurance advisers will be happy to assist you.
Please feel free to request a quote from us using our online form. The more information that you can provide us about your health conditions, hobbies, travel and/or occupation, the more accurate indications of price we'll be able to give you.
Experienced and knowledgeable advisers
Specialist advice with no fees to pay
Full assistance with all of your paperwork
Put your policy into trust at no cost
A dedicated insurance adviser for you
Here's our latest guides, musings, charity work, podcast, awards and industry updates. There's a lot going on!