Offshore Workers Life Insurance: How Much Will It Cost?
By clicking on submit I / We give consent for you to call me / us on the number provided to discuss my / our financial requirements.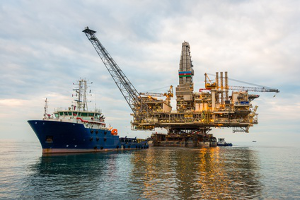 Offshore workers need to consider carefully where they place their applications for Life Insurance, Critical Illness Cover and Income Protection.
Insurance providers are interested in a number of factors when it comes to insuring those who work offshore. This will include details such as:
Offshore location – oil rig, wind farm, shipping vessel, etc
Geographical location – North Sea, European Union, non-EU countries
Occupation – bell diver, rig technician, heavy mechanical engineers, office-based management, etc
Occupational duties – working at heights, exposure to dangerous chemicals, use of explosives, manual work, working underwater, etc
Forms of transport – landing destinations, helicopter travel
Working pattern – For example 4 weeks on, 4 weeks off
When assessing an insurance application, insurers are primarily concerned with establishing the risks presented by health factors, occupational duties, extensive travel abroad and extreme sports. The good news for offshore workers is that, typically, the health aspect of the application will not be a large concern as you must be healthy to pass regular occupational medicals to work offshore.
Insurance for offshore workers will be underwritten with primary focus upon the risks presented by occupational duties, political and/or civil unrest in the locations visited and how you are transported between locations.
Some insurers are currently able to offer offshore workers standard terms for Life Insurance, Critical Illness Cover and Income Protection. This is because they understand that whilst the very nature of your offshore work is of a high risk nature, there is significant health and safety regulation governing how the industry operates. In our opinion many insurers still do not hold this view though and will likely rate your insurance policies due to an outdated perception of increased risk from occupation; this may involve a premium increase or exclusions on claim circumstances such as a rotary aviation exclusion.
What can these Insurances provide:
Different insurances provide financial protection against different life events. Some people choose to insure themselves with every insurance possible, others pick and choose which insurance they feel is of most concern to them and their family if they were to die or become unable to work.
The main pure protection insurances that you may want to consider are:
Life Insurance – pays a lump sum benefit upon your death
Critical Illness Cover (or Serious Illness Cover) – pays a lump sum benefit if you are diagnosed with a listed severe illness of a specified severity
Income Protection – pays a regular monthly income replacement if you are unable to work due to long-term disability or illness
A further insurance that may be worth considering is Redundancy cover. A Redundancy policy will pay an income replacement of between 12 and 24 months if you are made involuntarily redundant. It is very important that when you arrange one of these policies that you choose an insurer who is prepared to cover you under your working schedule. You should ensure that the insurer is aware of the amount of time that you spend abroad and how you are transported to your destination. It is also very important that you are fully aware that this policy will not pay if you elect for voluntary redundancy or behave in such a manner that your employment is terminated for unreasonable conduct.
For an example as to how much Life Insurance, Critical Illness Cover, Income Protection and Redundancy cover may cost to an offshore worker please view our infographic below. If you would like to discuss the impact of offshore work on your insurance applications further please feel free to speak to one of our advisers on 0800 567 7450 for a no obligation quotation.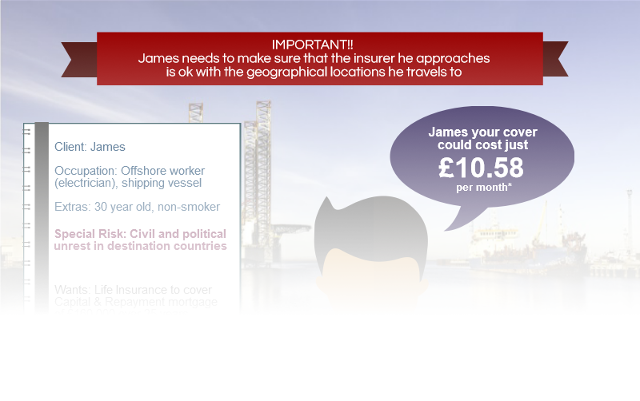 "Alan and his team were great! Alan helped get me cover where my own company could not (I work in financial services too!) Would highly recommend and will come back in the future."

"Krystle was fantastic throughout and managed to knock almost 50% off my current life insurance premium."

"Very helpful, James worked hard to find the right cover for me and explore the detail with the underwriters."

"Couldn't rate more highly. I moved from another broker due to slow response speeds. Mark responded really quickly (sometimes from his holiday!)"

"Kathryn and her colleagues were very helpful because of my recent illness."

"Nick was my advisor, Excellent knowledge of products and what I needed, not just pushing me into a sale/policy, will always refer to him in the future."

Talk to a Friendly Adviser
Please feel free to call us on
0800 567 7450
and one of our qualified insurance advisers will be happy to assist you.
Please feel free to request a quote from us using our online form. The more information that you can provide us about your health conditions, hobbies, travel and/or occupation, the more accurate indications of price we'll be able to give you.
Experienced and knowledgeable advisers
Specialist advice with no fees to pay
Full assistance with all of your paperwork
Put your policy into trust at no cost
A dedicated insurance adviser for you
Here's our latest guides, musings, charity work, podcast, awards and industry updates. There's a lot going on!