By clicking on submit I / We give consent for you to call me / us on the number provided to discuss my / our financial requirements.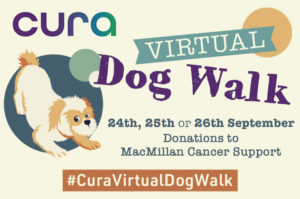 Macmillan Coffee Morning
Cura's Virtual Dog Walk
Macmillan is a cancer charity, offering support, an online community and lots of information surrounding different types of cancers, including symptoms, tests and treatments. Macmillan organise fundraising events through the year, but their most effective is the Macmillan Coffee Morning, raising £10 million in 2020 alone (Macmillan Coffee Morning, 2021).
In support of Macmillan, Cura took part in a virtual dog walk. With many people from our office choosing to currently work from home, we thought a coffee morning could potentially be difficult for our staff to partake in, so we put our own twist on things. Members of the Cura team went on walks, some together and some on their own, made much more enjoyable by the nice weather we had by the seaside, and the dog friendly ice cream! This really gave our team a chance to reflect, and donate towards a worthy charity, which helps those with cancer to live life as fully as they can.
Having a diagnosis of cancer can be a daunting moment, just as it can be having a loved one receive a diagnosis. It can leave you wondering, what's next? Fortunately, partly due to the fundraising efforts such as that of Macmillan, treatment and survival rates are the best they've ever been, with more research done on a daily basis.
Access to insurance
Here at Cura, we have a number of clients who have had cancer in the past, or who are currently living with cancer, many of them who came to us without hope after they had been declined insurance elsewhere. We are here to take you through the options that are available since you had your cancer diagnosis.
As there are so many different variables when it comes to cancer, it can be difficult to predict what the insurers may offer you, but there are some general questions that you would be asked if you were to apply for life insurance.
Life insurance can often be available once you're free of cancer and have finished treatment; there can sometimes be options if you are taking Tamoxifen. Insurers will want to know what type of cancer you had and where it was located, as well as the staging/grading, any treatment that you underwent and how much time has passed since your treatment ended.
There are some cancers such as low staging and grading basal-cell carcinomas, which cause little concern for insurers and you might get life insurance at normal terms (no premium increase). On the other end of the scale if the cancer has been quite serious or particularly aggressive, you may be faced with higher premiums. In some cases some insurers will also ask that a certain number of years have passed before you apply.
For any type of protection insurance, it's common for the insurer to request a report from your GP. This comes at no cost to yourself and its common practice so please don't let it cause you any concern. This allows the insurer to get a full overview of your health in order to make a decision on your application.
Critical illness cover will generally come with special terms, if it is available. The insurers will have similar questions to that of the application for life insurance, depending on your diagnosis and the time since you recovered. You may be offered terms with an increased premium or an exclusion, or in the worst case scenario your application will be postponed or declined.
Income protection can be trickier to arrange if you have a history of cancer, but it certainly isn't impossible. There are times where you may be offered standard terms, depending on how long you have been free of cancer, and the staging and grading of your diagnosis.
Case Studies
A man in his mid 50's came to us needing to replace his existing life insurance policy, due to changes in his circumstances. He had previously had a skin cancer diagnosis and two operations just a few years prior to the new policy being taken out. Taking into consideration his other health conditions, we were able to arrange a life insurance policy for him over 12 years with a monthly premium of just under £23, with £40,000 cover.

A man in his 30's spoke to one of our advisers and we could see that he needed life insurance and critical illness cover. He had been diagnosed with thyroid cancer around 5 years before completing the application and was now clear of cancer. We arranged a life insurance and critical illness policy of £91,000 for him at a premium just short of £30 per month over a 30 year period.

A woman in her late 30's came to us with a need for life insurance to provide some financial security for her young child. She had been living with chronic myeloid leukaemia for 11 years. We were able to arrange for her to have £200,000 level life insurance over 19 years for a monthly premium close to £24.
For some people, thinking about how you're going to ensure your family is cared for in the future is one of the first things that comes to mind. Having protection insurance can really put you at ease knowing your family will have the financial support they need. It's always a good idea to use a financial adviser to help arrange your insurance, as this way you know you will have the correct policies to cover your needs and circumstances.
Resources
Macmillan Coffee Morning. (n.d.). The World's Biggest Coffee Morning for Macmillan Cancer Support. [online] Available at: https://coffee.macmillan.org.uk/about/what/ [Accessed 25 Sep. 2021].
Categories: Access to insurance

"Alan and his team were great! Alan helped get me cover where my own company could not (I work in financial services too!) Would highly recommend and will come back in the future."

"Krystle was fantastic throughout and managed to knock almost 50% off my current life insurance premium."

"Very helpful, James worked hard to find the right cover for me and explore the detail with the underwriters."

"Couldn't rate more highly. I moved from another broker due to slow response speeds. Mark responded really quickly (sometimes from his holiday!)"

"Kathryn and her colleagues were very helpful because of my recent illness."

"Nick was my advisor, Excellent knowledge of products and what I needed, not just pushing me into a sale/policy, will always refer to him in the future."

Talk to a Friendly Adviser
Please feel free to call us on
0800 567 7450
and one of our qualified insurance advisers will be happy to assist you.
Please feel free to request a quote from us using our online form. The more information that you can provide us about your health conditions, hobbies, travel and/or occupation, the more accurate indications of price we'll be able to give you.
Experienced and knowledgeable advisers
Specialist advice with no fees to pay
Full assistance with all of your paperwork
Put your policy into trust at no cost
A dedicated insurance adviser for you
Here's our latest guides, musings, charity work, podcast, awards and industry updates. There's a lot going on!