12 Days of Christmas - Day 11, Value added benefits
By clicking on submit I / We give consent for you to call me / us on the number provided to discuss my / our financial requirements.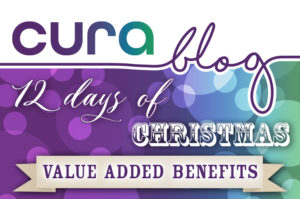 On the eleventh day of Christmas
Cura gave to me
Value added benefits
Value added benefits are something very easily forgotten and pushed aside, as they aren't usually a person's priority when searching for protection insurance. For those with an existing protection insurance policy, I can imagine that many people don't actually know what their added benefits are, meaning they're definitely not being put to good use.
When you take out a protection insurance policy, insurers will often provide added benefits along with your policy. These are complementary to the product you have taken out. The benefits made available to you will depend on the insurer you have used as well as the type of protection you have, but they are put in place to benefit the customer (you).
Added benefits vary quite a bit, with them ranging from nutritional health advice to access to a 24/7 online GP. Though added benefits aren't usually the deciding factor when taking out an insurance plan, they might actually end up being used quite often in comparison to your policy. You might never claim on the actual insurance that you are covered for, but these extra benefits are often something that is there the whole time for you and your immediate family to use.
Kathryn hosted an episode of the Practical Protection Podcast on Value Added Services, check it out below:
What Are The Options?
To give you an idea of what could potentially be available to you if you have a protection policy, below is a list of some of the added benefits currently being offered by protection insurers we work with. Not every insurer offers all of these but it can give you a good idea of what to look out for. Many insurers also have handy phone apps to keep on top of what you have.
24/7 online GP – access to a GP 24 hours of the day, 7 days a week. This can hugely benefit those who work 9-5 or have other commitments which don't allow for a regular appointment. These can often be by phone call or video call.
Best Doctors – a second opinion on your diagnosis or medical case, who can also recommend suitable treatments. A leading expert in your health condition will look through your medical reports and tests, and double check that everything has been thoroughly assessed for you.
Mental health support – support staff are available to provide support and treatment. They will assess your situation and provide you with some guidance and most importantly listen to you.
Parent and child cover – protection for if your child was to be diagnosed with an illness or needs to have an operation.
Rehabilitation services – support in returning to work at a pace that suits you. This means that you don't rush back into work before you are truly ready to.
Wellbeing services – access to nutritional plans, fitness programmes and online health checks.


Kathryn was joined by Sue Kinsella for an episode of the Practical Protection Podcast talking about her experience with RedArc nurses.
But I Don't Think I Need Them?
Not only can you access the added benefits, most insurers will actually make these available to your immediate family members too. Meaning your children and spouse can have access to the same benefits. Some things can't be foreseen, but knowing these are available for if something was to happen can put your mind at ease knowing you have options to fall back on. Added benefits can also be used as a form of early intervention as well, helping you to quickly identify anything that is not making you feel well and put plans in place to help you recover.
Benefits In Action
At Cura, we believe they can be greatly beneficial, and try to bring them into conversations with our clients. You don't pay extra for having these benefits and it might be because we are Northern, but in our eyes if you can have something at no extra cost, you take it!
Many of our employees have actually made use of them at some point too. Our MD Kathryn was in Malta a few years ago and one of her children wasn't well. She booked an appointment with a UK based GP, and they had a video call the next day, massively putting her mind at ease. Others in our team have expressed how grateful they were to have this support during the covid lockdown of 2020 and 2021, when access to GP services became very difficult.
It could be that you never have to use any of the added benefits, but they're there with no added cost so it's worth looking into. It's really important that you know that these benefits are also non-contractual. This means that they can change or potentially be removed at any time.
If you have a protection policy, it's definitely worthwhile checking what added benefits come with your policy, you can do this by calling the insurer, looking on their website or speaking with an adviser that you used. If you don't have any protection insurance or are currently looking at taking it out, the added benefits that come with the policy can be something to look out for. Some policies can be very similar in price, but the added benefits available may be completely different, and these extras could be what makes the decision for you.
In the below video, by Scottish Widows, Kathryn talks about how value added services help demonstrate the benefits of having protection in place.
Categories: Lifting the lid

"Alan and his team were great! Alan helped get me cover where my own company could not (I work in financial services too!) Would highly recommend and will come back in the future."

"Krystle was fantastic throughout and managed to knock almost 50% off my current life insurance premium."

"Very helpful, James worked hard to find the right cover for me and explore the detail with the underwriters."

"Couldn't rate more highly. I moved from another broker due to slow response speeds. Mark responded really quickly (sometimes from his holiday!)"

"Kathryn and her colleagues were very helpful because of my recent illness."

"Nick was my advisor, Excellent knowledge of products and what I needed, not just pushing me into a sale/policy, will always refer to him in the future."

Talk to a Friendly Adviser
Please feel free to call us on
0800 567 7450
and one of our qualified insurance advisers will be happy to assist you.
Please feel free to request a quote from us using our online form. The more information that you can provide us about your health conditions, hobbies, travel and/or occupation, the more accurate indications of price we'll be able to give you.
Experienced and knowledgeable advisers
Specialist advice with no fees to pay
Full assistance with all of your paperwork
Put your policy into trust at no cost
A dedicated insurance adviser for you
Here's our latest guides, musings, charity work, podcast, awards and industry updates. There's a lot going on!