12 Days of Christmas - Day 10, Support for worthy causes
By clicking on submit I / We give consent for you to call me / us on the number provided to discuss my / our financial requirements.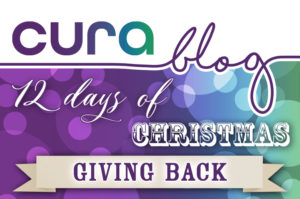 On the tenth day of Christmas
Cura gave to me
Support for worthy causes
With people and the community being at the heart of Cura, it only feels right that we do what we can to support them. Each month we donate or help out with a chosen charity or event, and quite often we manage to sneak an extra one in here and there!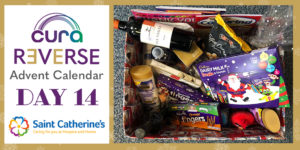 We are incredibly happy to be doing a Reverse Advent Calendar to raise funds for Saint Catherines Hospice this Christmas. Every day during advent we are donating an item to the hospice, the patients and their families. We are also collecting donations to give to their local stores. It's been wonderful to see the support from the local community.
Since this time last year we have donated to 14 different charities or fundraisers, starting with one very close to the heart of managing director Kathryn, with her also being an ambassador for the charity. To bring a little bit of joy and excitement to the end of a rather sad year for many, in 2020 Kathryn organised an event, Christmas Party for Parkinsons.
This was attended by many people, having purchased a paid for ticket with funds going towards Parkinsons UK. During this virtual event there were quizzes, competitions and raffle prizes, and Kathryn managed to raise a whopping £4000.
This meant so much to her as her dad was diagnosed with Parkinsons in his early 50s. A couple of months before the party he had deep brain stimulation surgery. This procedure is incredible and it is through donations to Parkinsons U.K. that research into these types of treatments is available.
After December, we then went on to donate to a number of other charities, in support of a variety of events.
February 2021 –

Cancer Research UK

, supporting Emma Thomson Run 56 Miles in February Challenge

March 2021 –

Epilepsy Society

, taking part in a Zoom Zumba in memory of Rob Tyrrell

April 2021 – St Wilfrid's Hospice, supporting Alan Easter's Challenge

May 2021 –

Bowel Cancer UK

June 2021 –

The Children's Hospital Charity

, supporting Richard Fyfe's 1000 Mile Challenge

July 2021 –

Great Ormond Street Hospital and Children's charity

, supporting Victor Sacks running 31km in the month of July

August 2021 –

Pumping Marvellous Foundation

, in support of

Rich and Mike Cleverley

running the London Marathon

September 2021 –

Saint Catherine's Hospice

in Scarborough, supporting Lindsay Mason completing the Great North Run

September 2021 –

The Truants Foundation

, supporting Tom Baigrie in completing The Truants: Scotland 2021

October 2021 –

The Royal Marines Charity

, supporting Dennis Hall completing the Marathon Des Sables, a 250km run in the Sahara Desert, seen as the toughest footrace on earth!

October 2021 –

Havens Hospices

, in support of Andrew Wibberley completing Chelmsford Marathon

November 2021 –

Filey Town Community Bus – Engine Appeal

alongside Hunters of Filey, some of our team walked 15 miles across the coast to fundraise for Filey town's community bus to receive a much needed new engine. A bus on which many of our local people rely.

November 2021 –

Shelter

, supporting our administrator manager Kellie Whetton in completing 100 sit ups per day for a month.

December 2021 –

Grief Encounter

, in support of

Kathryn Knowles

, Eve, Lynn and Melanie in their Appalachian Trail. A team of four women aiming to complete 3168 miles in a variety of different ways.


Though giving to charity is great, we know it's not all about that. As a business, we also have corporate social responsibility to take on board.
We aim to make as much of our services as accessible as possible, and we have a number of things in place in aid of that. An example of this is Recite Me, a software installed on our website which allows users to access our services more easily.
As we are mainly a telephone based broker, much of our communication is done over the phone or by email, but there are times where a client may require paper documents to be sent to them. In order to reduce our carbon footprint, many years ago we became as paperless as possible, only using it when completely necessary. But we also appreciate that not all of our clients may have access to emails or the internet, and they might need things on paper. Plus some insurers still use paper documents and we can't always avoid it!
As well as using as little paper as we can, we also
Pay for life insurance for our employees, to make sure that their families are financially secure if they pass away whilst working for us.

Pay for income protection for our team, so that if they fall ill, they will receive rehabilitation support as well as money to maintain their standard of living.

Support charities by providing them with video and blog materials to support their members that want insurance.

Provide access to mental health support, nutritional and exercise advice programmes.

Encourage serious consideration of pension planning and enhanced contributions.

We engage with local recruitment agencies and offer apprenticeships to help young people into work.


We are thrilled to be in a position to be able to help others, and we try to do our bit wherever and whenever we can. Our aim for 2022 is to continue supporting as many people and charities as we can, and we have a few exciting things up our sleeves which our whole team and community can get involved in too!
Categories: Access to insurance

"Alan and his team were great! Alan helped get me cover where my own company could not (I work in financial services too!) Would highly recommend and will come back in the future."

"Krystle was fantastic throughout and managed to knock almost 50% off my current life insurance premium."

"Very helpful, James worked hard to find the right cover for me and explore the detail with the underwriters."

"Couldn't rate more highly. I moved from another broker due to slow response speeds. Mark responded really quickly (sometimes from his holiday!)"

"Kathryn and her colleagues were very helpful because of my recent illness."

"Nick was my advisor, Excellent knowledge of products and what I needed, not just pushing me into a sale/policy, will always refer to him in the future."

Talk to a Friendly Adviser
Please feel free to call us on
0800 567 7450
and one of our qualified insurance advisers will be happy to assist you.
Please feel free to request a quote from us using our online form. The more information that you can provide us about your health conditions, hobbies, travel and/or occupation, the more accurate indications of price we'll be able to give you.
Experienced and knowledgeable advisers
Specialist advice with no fees to pay
Full assistance with all of your paperwork
Put your policy into trust at no cost
A dedicated insurance adviser for you
Here's our latest guides, musings, charity work, podcast, awards and industry updates. There's a lot going on!