12 Days of Christmas - Day 12, Great value for money
By clicking on submit I / We give consent for you to call me / us on the number provided to discuss my / our financial requirements.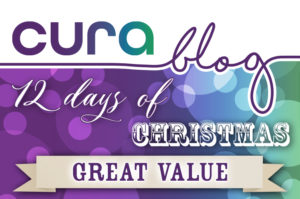 On the twelfth day of Christmas
Cura gave to me
Great value for money
The last episode of the Practical Protection Podcast of 2021 coincided perfectly with our 12 days of Christmas blog series. Kathryn hosted this episode solo, and spoke all about value for money and the effects that age can have on protection insurance.
It could be that you don't think you are in a position to need protection insurance just yet. People often have a few insurance policies in place, for example car insurance, home insurance, travel insurance, gadget insurance. The common denominator of them all, and most important thing, is you.
Ageing is inevitable, it's not something that we can avoid. We can however avoid some of its consequences, such as increased insurance premiums. Applying for protection insurance whilst you're younger and potentially healthier can have a big impact on the premiums you pay in the long run. At a younger age you're less likely to have 'risks' impacting your premiums and the terms that you're offered.
Life Insurance
To show exactly how your premiums can be affected, Kathryn ran through some premiums you could expect at different ages. Each of these premiums were generated for a person with no perceived 'risks' and with the same circumstances. Each of the quotes for life insurance are for £250,000, with the majority until the age of 68 with guaranteed premiums. A guaranteed premium means the premium will always stay the same, for the entirety of the policy. As the age increases, Kathryn also includes a few quotes until age 90, to get a feel of what would possibly be available still.
| | | | |
| --- | --- | --- | --- |
| Sum assured | Term | Current age | Monthly Premium |
| £250,000 | Until age 68 | 21 | £9.68 |
| £250,000 | Until age 68 | 31 | £14.04 |
| £250,000 | Until age 68 | 41 | £22.74 |
| £250,000 | Until age 68 | 51 | £39.62 |
| £250,000 | Until age 90 | 61 | £264.36 |
| £250,000 | Until age 90 | 71 | £579.08 |
| £250,000 | Until age 90 | 81 | £908.85 |
Monthly premiums start off quite low, at less than £10 a month. There's a steady increase until you reach the age of 61, which is when there is a big increase. We do appreciate that the price is jumping up a lot at this stage as we have changed the policy to last until age 90. We did this because once someone reaches the age of 61 they can often feel the need to insure themselves for longer than just another 7 years.
The reasoning behind the big increase is quite simple, once you're reaching 61 you're much closer to the average life expectancy age. Though many people live past this, insurers look at statistics to come up with their premiums and terms that they offer, and the data does show that as you get older the chance of you dying does increase.
Life Insurance and Critical Illness Cover
| | | | |
| --- | --- | --- | --- |
| Sum assured | Term | Current age | Monthly Premium |
| £250,000 | Until age 68 | 21 | £62.22 |
| £250,000 | Until age 68 | 31 | £90.67 |
| £250,000 | Until age 68 | 41 | £155.03 |
| £250,000 | Until age 68 | 51 | £268.79 |
| £250,000 | Until age 75 | 61 | £615.85 |
Critical illness cover can be available as a standalone policy, without life insurance being included. There are things to be aware of with this. In order to claim on a critical illness policy, there is often a survivability clause. Meaning you have to survive a certain number of days from diagnosis of a critical illness in order to be able to claim for anything.
To put this simply, if a person had a heart attack and died within a day, they wouldn't be able to claim anything as they hadn't survived the necessary amount of days. If a person had a heart attack and died that day whilst having a combined life and critical illness policy, the life insurance aspect would kick in.
Statistically, a person is much more likely to be diagnosed with a critical illness once reaching the age of 41, which is why there is a jump in the premiums. The premiums quoted are guaranteed premiums and you might find cheaper quotations if you apply for reviewable or age-costed guaranteed premiums, it's really important that you consider the long term increase of these premiums if you choose these options.
Whole of Life Insurance
| | | | |
| --- | --- | --- | --- |
| Sum assured | Term | Current age | Monthly Premium |
| £250,000 | Policy continues until death | 21 | £137.04 |
| £250,000 | Policy continues until death | 31 | £178.19 |
| £250,000 | Policy continues until death | 41 | £260.98 |
| £250,000 | Policy continues until death | 51 | £378.75 |
| £250,000 | Policy continues until death | 61 | £542.30 |
| £250,000 | Policy continues until death | 71 | £838.23 |
| £250,000 | Policy continues until death | 81 | £1708.02 |
A life insurance policy is usually taken out for a certain number of years, or until you reach retirement age. This is known as term insurance, as it is arranged for a specific length of time. A whole of life insurance policy is different as it will literally continue until your death. You are much more likely to claim on this policy than a policy with a set end date in your 60s. This is because this policy is almost guaranteed to have a claim pay out on it at some stage, as it never ends!
Again these premiums are on a guaranteed basis and you will see cheaper options that are reviewable or age-costed guaranteed. These are of course tempting, it's a lot less money at the start. But we are speaking to a number of people who have done this in the past and now that they are in their late 50s or older, they are finding that the premiums are simply no longer affordable as they have increased so much.
Income Protection
Benefit Amount

Term

Current age

Monthly Premium

£1,400 per month benefit

Until age 68.

2 month deferred period

21

£23.38

£1,400 per month benefit

Until age 68.

2 month deferred period

31

£33.89

£1,400 per month benefit

Until age 68.

2 month deferred period

41

£65.47

£1,400 per month benefit

Until age 68.

2 month deferred period

51

£85.11

£1,400 per month benefit

Until age 70.

2 month deferred period

61

£176.39
Income protection works in a different way to the other insurances mentioned, as you will be paid a monthly amount rather than a lump sum in the event of a successful claim. For these quotes, the monthly benefit amount has been chosen as £1,400 per month. You can only insure a certain percentage of your income with this kind of policy, usually a maximum of 50%-70% depending upon the insurer.
From the age of 41, the monthly premium almost doubles from that of a 31 year old. It may be surprising, but Kathryn mentions that as a 36 year old, she has a 50% chance that she will be absent from work for a period of 2 months. You might be thinking, well, I've never had to take that much time off work before. But there are many who have, and insurers love statistics.
Chances of an Insurance Payout
We can never be certain that a claim will be paid on a policy, and that's down to a couple of factors. No-one can guarantee that an insurance policy will pay out.
If premiums aren't kept up to date on a policy, it more often than not will lapse (cancel), or the insurer will not accept a claim unless the payments have been brought up to date. The other factor is the information provided to the insurer at the application stage. Quite often with our clients, an insurer will request a medical report and will then have all the information they need in order to make a decision. It could be that an insurer doesn't request a medical report and will make a decision based on the information the applicant has given.
An issue with this can arise at claim stage, if the insurer then finds something they weren't aware of or notices that some of the details weren't quite right. We often see errors in GP reports and the difficulty can be challenging these errors at the point of a claim.
Hopefully, it's quite clear now how much your age can influence the premiums you will pay for your protection insurance. You may not have a need right now to have insurance, but it is much better to get the insurance as soon as you do need it, rather than waiting and having to pay a higher cost for doing so.
You can listen to more of Kathryn's podcasts here.
The prices quoted in this article are based upon research completed on the 13th December, 2021.
Categories: Access to insurance, The Practical Protection Podcast

"Alan and his team were great! Alan helped get me cover where my own company could not (I work in financial services too!) Would highly recommend and will come back in the future."

"Krystle was fantastic throughout and managed to knock almost 50% off my current life insurance premium."

"Very helpful, James worked hard to find the right cover for me and explore the detail with the underwriters."

"Couldn't rate more highly. I moved from another broker due to slow response speeds. Mark responded really quickly (sometimes from his holiday!)"

"Kathryn and her colleagues were very helpful because of my recent illness."

"Nick was my advisor, Excellent knowledge of products and what I needed, not just pushing me into a sale/policy, will always refer to him in the future."

Talk to a Friendly Adviser
Please feel free to call us on
0800 567 7450
and one of our qualified insurance advisers will be happy to assist you.
Please feel free to request a quote from us using our online form. The more information that you can provide us about your health conditions, hobbies, travel and/or occupation, the more accurate indications of price we'll be able to give you.
Experienced and knowledgeable advisers
Specialist advice with no fees to pay
Full assistance with all of your paperwork
Put your policy into trust at no cost
A dedicated insurance adviser for you
Here's our latest guides, musings, charity work, podcast, awards and industry updates. There's a lot going on!