Early intervention is crucial for protection claims
By clicking on submit I / We give consent for you to call me / us on the number provided to discuss my / our financial requirements.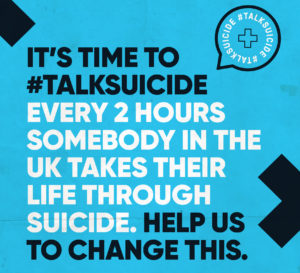 Cura became ambassadors for the #TalkSuicide campaign earlier this year, on completion of suicide prevention training for all staff.
The #TalkSuicide campaign encourages people to complete a FREE 20-minute suicide prevention training programme, which is available at talksuicide.co.uk. Businesses are encouraged to offer the training to their staff and can access support and resources at talksuicide.co.uk/employers.
People who complete the training are taught how to:
Identify the signs of when someone might be suffering from suicidal thoughts.
Feel comfortable speaking out about suicide in a supportive manner.
Signpost anyone suffering to the correct services and support.

The campaign is led by the Humber, Coast and Vale Health and Care Partnership – whose member organisations include Hull City Council, East Riding of Yorkshire Council, Hull University Teaching Hospitals NHS Trust, Humber Teaching NHS Foundation Trust, NHS Hull Clinical Commissioning Group and NHS East Riding of Yorkshire Clinical Commissioning Group.
Kathryn Knowles, Managing Director at Cura Financial Services said "For me this training is essential, for both my work and in my home life too. You never know if you may come across a situation where this training could save someone's life. I am proud that our team has taken a part in this."
Kellie Whetton, Administrations Manager at Cura Financial Services said "Mental health and suicide prevention has always been something close to my heart. I have dealt with depression and anxiety throughout my life and so have family and close friends, sometimes it is so easy to just say 'I'm Okay' rather than actually letting someone know you're struggling. I still think there is so much stigma around mental health and believe that if we all knew a little more about prevention, we could save someone's life whether it be a family member, a friend or a complete stranger! With the line of work we are in, we deal with so many vulnerable clients and almost daily speak to someone who currently or has previously dealt with some form of mental health. This is why I thought it was so important that everyone in our office has this knowledge to be able to spot and help prevent anyone that they may feel needs that valuable support. I have recently lost a friend to suicide and know it's devastating effects. Everyone needs to #TalkSuicide – it may just be the lifeline someone so desperately needs!"
Protection Insurance Adviser, Nick Davis, who took the training said "The main thing I took away from it was to be direct when talking to someone who might potentially be in a situation of thinking about suicide, rather than "skirting around the issue" – I didn't know that before the training. I'm not sure how confident I would be when faced with that situation, but hopefully my instincts would take over – and the training that we have done. Ultimately I'm glad I did the training."
Read more here.
Are you an employer wanting to offer suicide prevention training to your staff? Request your FREE training pack at talksuicide.co.uk/employers.

"Alan and his team were great! Alan helped get me cover where my own company could not (I work in financial services too!) Would highly recommend and will come back in the future."

"Krystle was fantastic throughout and managed to knock almost 50% off my current life insurance premium."

"Very helpful, James worked hard to find the right cover for me and explore the detail with the underwriters."

"Couldn't rate more highly. I moved from another broker due to slow response speeds. Mark responded really quickly (sometimes from his holiday!)"

"Kathryn and her colleagues were very helpful because of my recent illness."

"Nick was my advisor, Excellent knowledge of products and what I needed, not just pushing me into a sale/policy, will always refer to him in the future."

Talk to a Friendly Adviser
Please feel free to call us on
0800 567 7450
and one of our qualified insurance advisers will be happy to assist you.
Please feel free to request a quote from us using our online form. The more information that you can provide us about your health conditions, hobbies, travel and/or occupation, the more accurate indications of price we'll be able to give you.
Experienced and knowledgeable advisers
Specialist advice with no fees to pay
Full assistance with all of your paperwork
Put your policy into trust at no cost
A dedicated insurance adviser for you
Here's our latest guides, musings, charity work, podcast, awards and industry updates. There's a lot going on!