How Cura can help people with limited vision or hearing loss complete an insurance application
By clicking on submit I / We give consent for you to call me / us on the number provided to discuss my / our financial requirements.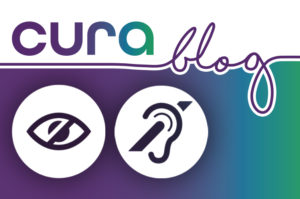 How Cura can help people with limited vision or hearing loss complete an insurance application
At Cura, we are continuously fighting for fairer access to insurance for all, so it's only right that we ensure our services are accessible too.
If you are blind or have reduced vision, deaf or have hearing loss, then it can be difficult finding a company that caters for your needs. When we decided to write this blog we kept seeing the terms visually or hearing impaired. We hate the word impaired, it's used in reference to a lot of our clients' circumstances and it doesn't sit right with us. The people that we speak to are not impaired, they are living with their conditions.
We do our best to try to make things a little bit easier for you. If there is anything that you think we could do better, please let us know, we always want to learn and grow.
One thing that we do is ensure our website is accessible, by using accessibility tools. To us this seems like a simple step to take for such a positive impact it can have on a person's insurance journey.
You should be able to see the ReciteMe toolbar on our website and you can see and/or hear a video explanation of how this works at our dedicated accessibility page.
People Living with Blindness or Limited Vision
We are a telephone based adviser firm, meaning that the majority of the time we are talking to clients on the phone, which is great as it really means we can provide a more personal service and get to know our clients true needs.
One thing that we help all of our clients do is complete the application form, no matter what their circumstances are. We would usually have some basic information about you before it came to the point of completing an application, so we could already have some things inputted. This would be your name, date of birth, address and the type and amount of cover that you need.
An adviser or one of their assistants would then call you at a time that suits you, to run through the application with you. We can answer the questions for you with the information that you give us and we are here to make sure that the questions are being interpreted correctly, and that the insurer will be receiving all the relevant information. We will read out the questions to you in full and give you time to consider your answers.
Another option we have is to record audios discussing the advice that an adviser gives, or a recording explaining any risk warnings, as well as anything else that you need. This means that you would then have this to hand if you ever did need to refer back to it, without having to rely completely on written documentation.
People Living with Deafness or Hearing Loss
Another way that we speak to a lot of our clients is by email, which comes in handy for people who find communication by telephone difficult, have a very busy schedule, or maybe just don't feel comfortable talking to somebody.
If you do have an aural condition that affects your hearing and ability to use the phone, it is very easy for communications to be arranged to go out by email or post, rather than say a telephone call.
As with all clients, we do have to check that we fully understand a person's needs and both get to know one another. It may be that we ask for a very quick phone call or even a video call at some stage, where we can simply see each other and maybe even have a conversation via a chat function. This doesn't have to be at the start of our conversations, we can chat by email or post for a good while.
We are big on data protection, so we have things in place to enable us to communicate and send things to clients securely. If you're worried about communicating through email about personal information, such as questions regarding your health, we can do all this through our secure online storage system.
Our systems require a password each time you try to access it, the password is set by us and only shared with yourself. The link to this storage folder would only be shared with you, and it expires after a short time period to keep your data secure.
We are always trying to improve, so if you do have any requirements when communicating with us that we are not meeting, we would love to hear how we can help you more. We are very open minded and a proud supporter of Purple and their mission to improve accessibility for all.
Categories: Getting to know us

"Alan and his team were great! Alan helped get me cover where my own company could not (I work in financial services too!) Would highly recommend and will come back in the future."

"Krystle was fantastic throughout and managed to knock almost 50% off my current life insurance premium."

"Very helpful, James worked hard to find the right cover for me and explore the detail with the underwriters."

"Couldn't rate more highly. I moved from another broker due to slow response speeds. Mark responded really quickly (sometimes from his holiday!)"

"Kathryn and her colleagues were very helpful because of my recent illness."

"Nick was my advisor, Excellent knowledge of products and what I needed, not just pushing me into a sale/policy, will always refer to him in the future."

Talk to a Friendly Adviser
Please feel free to call us on
0800 567 7450
and one of our qualified insurance advisers will be happy to assist you.
Please feel free to request a quote from us using our online form. The more information that you can provide us about your health conditions, hobbies, travel and/or occupation, the more accurate indications of price we'll be able to give you.
Experienced and knowledgeable advisers
Specialist advice with no fees to pay
Full assistance with all of your paperwork
Put your policy into trust at no cost
A dedicated insurance adviser for you
Here's our latest guides, musings, charity work, podcast, awards and industry updates. There's a lot going on!