Breast Cancer Awareness Month
By clicking on submit I / We give consent for you to call me / us on the number provided to discuss my / our financial requirements.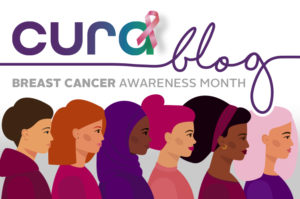 Breast Cancer Awareness Month
October marks Breast Cancer Awareness Month, with 1 in 7 people being diagnosed with breast cancer in their lifetime, it's predicted that nearly 5,000 people will be diagnosed with breast cancer throughout this Breast Cancer Awareness Month. You might have noticed how we mention 'people' being diagnosed with breast cancer, although it's less likely for a male, they can still receive a diagnosis (Breast Cancer Now, 2015).
Breast cancer is the most common cancer in the world (Breast Cancer UK, 2021) and the fourth most common cause of cancer death in the UK, as well as being a leading cause of death for women over the age of 50 in the UK. Thanks to the huge efforts from a number of charities and fundraising campaigns, 85% of all people diagnosed with breast cancer now survive past 5 years, and it can often be a diagnosis which allows you to get on with your everyday life without too much disturbance (Breast Cancer Now, 2015).
Wear It Pink is a well known campaign, organised by Breast Cancer Now, whose priority is to discover how to prevent, save lives and live well with breast cancer. Not only do they offer a community to all those affected by breast cancer, they also offer advice and fund hundreds of life-saving research projects.
Breast cancer is often associated with more mature women, which is why the charity CoppaFeel aims to create awareness amongst younger people, to educate and remind them of the importance of checking their boobs.
Know your lemons is a campaign outlining what breast cancer can look and feel like, and highlighting the all important symptoms. With handy graphics, this really allows people to visualise what they should be looking for and how to be looking, and they even have an app which guides you through it all.
The Hashtags #WearItPink, #BreastCancerAwarenessMonth, #KnowYourLemons and #Coppafeel take social media by storm throughout the month of October, showing that you're never alone, whether you have received a diagnosis or are affected by a diagnosis. There are so many charities and organisations which offer support and a community for people in a similar situation.
As well as the charities and campaigns mentioned, there are a number of others which have a significant impact in the fight against breast cancer, many contributing towards the progression of life-saving cancer research.
If you have had a breast cancer diagnosis, you may have wondered how your family would be cared for if the worst was to happen, or what would happen if you were unable to work, which is where protection insurance comes in. There are different types of protection insurance to be considered, depending on your own needs and circumstances. It can sometimes be difficult to say exactly what you will be offered by insurers without knowing about your own individual circumstances, but we are able to give a guide. We often get asked questions by people who have had cancer previously such as 'can I still get insurance after having cancer?' Hopefully this will clear things up.
An application for life insurance can often be considered by insurers, once you have completed your treatment and are recovering well. In some cases we have found that life insurance can be accepted at normal terms (no price increase or exclusion); this is down to every individual's own circumstances. There are a number of things the insurers will ask such as when were you diagnosed with breast cancer? What was the staging and grading? What treatment did you have? Are you now recovered and free of treatment?
As it stands, the more time that has passed since your diagnosis and the lower the staging and grading, the more favourable the terms will usually be. If you were diagnosed with a low staging/grading with no recent treatment, you could possibly have your application accepted at standard pricing. If the diagnosis was a high grading/staging with recent treatment, it's more likely that your application will be accepted with non-standard terms (this is usually a price increase for life insurance).
Critical illness cover is potentially available with an exclusion of cancer or breast cancer added to the policy, once you are revived. The insurers will have similar questions to that of a life insurance application. If your diagnosis or treatment has been recent, it could be that the insurer will postpone your application for a number of months, and suggest you reapply once some more time has passed. If that was to be the case, you can look at specialist critical illness policies.
When it comes to income protection, your application will be reviewed by the insurer and they will normally put a lot of focus on the amount of time that has passed since treatment as well as the stage/grading of the cancer. In most cases it is likely that a breast cancer of full cancer exclusion will be placed on your policy, or they postpone the cover until more time has passed since you have been cancer free.
You may be reading this because you have the BRCA gene and are wondering how that might change things for you when it comes to protection insurance. Insurers are not actually allowed to ask for or take results of any genetic tests that you've had to help them assess your application. Although this means you do have an increased chance of developing breast cancer, there's no guarantee that it will develop. The insurers will however ask if you have had any immediate family members who have had breast cancer before the age of 66, as they ask about your family's medical history.
Case Studies
A woman approaching 40 came to us needing to ensure her mortgage can be paid off and her family provided for. She was diagnosed with breast cancer less than 10 years before approaching Cura, and her diagnosis was stage 2 grade 2. She now has two life insurance policies, one with a premium of just under £20 and a sum assured of £116,000 with a term of 39 years, the other policy has a monthly premium of under £13 with a sum assured of £170,000 and a term of 29 years.


A woman in her mid 40s, spoke to us as she needed life insurance so that her mortgage could be paid in the event of her death. She had been diagnosed with breast cancer less than 10 years before coming to Cura and had chemotherapy, a double mastectomy and a precautionary hysterectomy. She has now been clear of cancer for around 8 years. We arranged a life insurance policy, covering her for £845,000 with a premium of just over £60 and a 20 year term.


Receiving a breast cancer diagnosis may be a daunting moment, but hopefully this has helped you to see that you're certainly not alone and it doesn't have to limit your options. There are so many charities, organisations and support networks available to anybody affected by breast cancer, and even those who just want to know a little bit more about it.
Resources
Breast Cancer Now (2015). Facts and statistics 2021. [online] Breast Cancer Now. Available at: https://breastcancernow.org/about-us/media/facts-statistics [Accessed 11 Oct. 2021].
Breast Cancer UK. (n.d.). UK Breast Cancer Statistics. [online] Available at: https://www.breastcanceruk.org.uk/about-breast-cancer/facts-figures-and-q-as/facts-and-figures/ [Accessed 11 Oct. 2021].
Categories: Access to insurance

"Alan and his team were great! Alan helped get me cover where my own company could not (I work in financial services too!) Would highly recommend and will come back in the future."

"Krystle was fantastic throughout and managed to knock almost 50% off my current life insurance premium."

"Very helpful, James worked hard to find the right cover for me and explore the detail with the underwriters."

"Couldn't rate more highly. I moved from another broker due to slow response speeds. Mark responded really quickly (sometimes from his holiday!)"

"Kathryn and her colleagues were very helpful because of my recent illness."

"Nick was my advisor, Excellent knowledge of products and what I needed, not just pushing me into a sale/policy, will always refer to him in the future."

Talk to a Friendly Adviser
Please feel free to call us on
0800 567 7450
and one of our qualified insurance advisers will be happy to assist you.
Please feel free to request a quote from us using our online form. The more information that you can provide us about your health conditions, hobbies, travel and/or occupation, the more accurate indications of price we'll be able to give you.
Experienced and knowledgeable advisers
Specialist advice with no fees to pay
Full assistance with all of your paperwork
Put your policy into trust at no cost
A dedicated insurance adviser for you
Here's our latest guides, musings, charity work, podcast, awards and industry updates. There's a lot going on!