Armed Forces Life Insurance
By clicking on submit I / We give consent for you to call me / us on the number provided to discuss my / our financial requirements.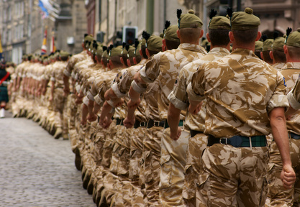 Life Insurance for people in the armed forces is a turbulent market. Insurance companies seem to constantly change their minds on the risk of Armed Forces personnel, and alter their underwriting guidelines on a regular basis.
Can I get Life Insurance?
Life Insurance is available for most people in the Armed Forces and there are specialist companies recommended by the Armed Forces. However, what many Armed Forces personnel do not realise is that they can often place their cover cheaper on the standard market than with the specialist companies.
Our fully trained financial advisers are skilled in placing cover for people doing a variety of roles within the Armed Forces. We have secured Life Insurance for Armed Forces pilots, gunners, band members, infantry, engineers, cooks, etc. Additionally we search from a fair analysis of the whole market ensuring any recommendations given are legitimately competitive.
Will I have to pay more being in the Armed Forces?
As a rule of thumb if you are presently in the navy or RAF and are not performing overly hazardous activities then you can often get life cover at standard terms. If however you are in the army and are due to go to an active theatre of operation within the next six months then you will often pay a higher price for Life Insurance.
Armed Forces personnel regularly doing hazardous roles such as fast jet air crew, explosive handlers, etc will always pay a higher price for cover due to the heightened risk of their activities. The cost of Life Insurance is largely dependent upon the amount of cover you want, the length of time you want to be covered for and the reason for cover. The price may not be as bad as you expect, so why not use our no obligation service to find out if Life Insurance is right for you.
Before jumping straight to a highly priced and limited specialist policy for Armed Forces personnel, always check for a price on the standard market through a broker first. If the cost of Life Insurance seems too high then you should still check with specialist providers through a broker to see if they can offer better terms of cover.
A little unknown tip worth noting. If you choose to have a standard policy and the premiums are increased, you can seek advice from your personnel department about a JS form JPA F010 which allows you to claim back up to 90% of the premium increase due to your occupation (for Life Insurance policies of £130,000 or less). Details of the Ministry of Defence Service Risks Insurance Premium Refunds (SRIPs) scheme should be available from your Human Resources department

"Alan and his team were great! Alan helped get me cover where my own company could not (I work in financial services too!) Would highly recommend and will come back in the future."

"Krystle was fantastic throughout and managed to knock almost 50% off my current life insurance premium."

"Very helpful, James worked hard to find the right cover for me and explore the detail with the underwriters."

"Couldn't rate more highly. I moved from another broker due to slow response speeds. Mark responded really quickly (sometimes from his holiday!)"

"Kathryn and her colleagues were very helpful because of my recent illness."

"Nick was my advisor, Excellent knowledge of products and what I needed, not just pushing me into a sale/policy, will always refer to him in the future."

Talk to a Friendly Adviser
Please feel free to call us on
0800 567 7450
and one of our qualified insurance advisers will be happy to assist you.
Please feel free to request a quote from us using our online form. The more information that you can provide us about your health conditions, hobbies, travel and/or occupation, the more accurate indications of price we'll be able to give you.
Experienced and knowledgeable advisers
Specialist advice with no fees to pay
Full assistance with all of your paperwork
Put your policy into trust at no cost
A dedicated insurance adviser for you
Here's our latest guides, musings, charity work, podcast, awards and industry updates. There's a lot going on!