Abseiling For Beginners: Interview with Dart Rock Centre
We are specialist high risk insurance advisers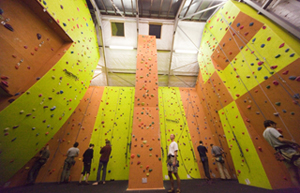 Abseiling can be thrilling for anyone involved, particularly youngsters who wish to experience the buzz of enjoying heights whilst successfully negotiating a tough assignment.
Abseiling can be quite daunting however for those with little to no experience of the activity, but if you are in the mood for trying something completely new then abseiling could be the one for you.
Throughout the last decade, there has been an increase in the number of people of all ages participating in activities associated with climbing and abseiling, with many centres providing lessons for these activities.
We got in touch with a leading indoor climbing centre, the Dart Rock Climbing Centre in Devon, to learn more about experienced and inexperienced abseilers who use this facility.
SRB: Have you found that people use Dart Rock Centre as preparation for bigger abseiling challenges outdoors?
DRCC: Yes, we have had several individuals and groups come to try abseiling before charity events that they are taking part in.
SRB: Why would people choose to use Dart Rock Centre over something that could be considered more challenging outdoors?
DRCC: Teaching abseiling indoors in a non-threatening environment builds confidence and enables instructors to teach good technique without stressing the client.
SRB: How popular have you found abseiling to be amongst beginners? Is it more popular with, for example, the younger generation rather than the older generations?
DRCC: Adults and children enjoy the challenge of abseiling, however there are more younger people that give it a go.
SRB: How would you describe the experience of abseiling at Dart Rock Centre compared to other outdoor experiences?
DRCC: Dart Rock Climbing Centre is an ideal venue to learn the important techniques for abseiling. Whilst not high it is still challenging for first time abseilers and nervous individuals who have never tried anything like it before.
Thanks to Robbie Warke, manager of Dart Rock Climbing Centre in Devon for talking to us.
Read more about abseiling insurance.
Read more about rock climbing insurance.
Categories: Pastimes

Get a Free Quote