By clicking on submit I / We give consent for you to call me / us on the number provided to discuss my / our financial requirements.
Business protection insurance is a highly valuable asset to any business which can provide companies with financial assistance.
It is used to provide financial protection to a business in events such as a key person dying, becoming subject to a professional complaint or a member of the public injures themselves on your premises.
What is Business Protection?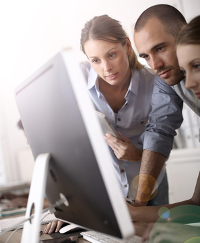 Business protection insurance can provide companies with valuable financial assistance in the event that a key employee dies or becomes critically ill, or that the company is sued by a client or a member of the public.
The insurance is a highly valuable asset to any business as it is possible that any company can be rightly or falsely accused of misconduct and the insurance can provide a great peace of mind that legal and compensatory funds are available in either scenario.
Business Protection insurance that is available will often fall into one of the following areas:
Key Person – An insurance policy that is used to insure the life of a core person within the business who would be difficult to replace if they were to die. The insurance is designed to cover costs of recruiting a replacement employee or to cover loss of profit.
Shareholder Protection – An insurance policy that covers the value of the shareholders investment in the business, so that if the shareholder dies or is diagnosed with a critical illness that the shares can be bought by the others.
Relevant Protection Insurance – This can be life insurance, significant illness cover or income protection, depending upon what you need. It's designed to be arranged as a thank you for an employee's service to your company.
Business Loan Protection – This is a policy designed to provide financial aid to cover any outstanding liabilities held by the business, in the event of death or critical illness.
Professional Indemnity (Professional Liability) Insurance – This insurance is used to aid businesses in the event that a client is dissatisfied with the company's services and wishes to make a formal complaint about professional conduct. The policy will generally cover legal costs and compensation settlements.
Public liability – A policy designed to provide financial assistance in the event that the business is sued by a member of the public for accidental injury or damages. The policy will generally cover legal costs and compensation settlements.
What if I have a Health Condition?
When an individual is being insured it is possible that a health condition could affect the policy acceptance terms, this isn't always the case.
For policies such as Key Person, Shareholder Protection and Business Loan Cover, disclosures such as medical history, hazardous sports, excessive foreign travel and high risk occupations will all be taken into account. For other business protection policies such as Professional Indemnity and Public Liability insurance factors such as company size, location, base of operations and primary activities may impact upon the policy terms and costs.
*We do not offer advice on Professional Indemnity Insurance or Public Liability Insurance. Enquiries about cover are referred to an authorised third party.
Client Reviews
Cura Financial Services has been rated 5 out of 5 based on 724 reviews.
Review by Joyce on 14th October 2022
"More people should hear about your work. A compassionate and professional approach to service delivery. Annaliese was patient and provided me with the right information that enabled me to make decisions about the best value for money. A truly incredible service that I would definitely recommend to others." - 5 
You can read more of our reviews here.

"Alan and his team were great! Alan helped get me cover where my own company could not (I work in financial services too!) Would highly recommend and will come back in the future."

"Krystle was fantastic throughout and managed to knock almost 50% off my current life insurance premium."

"Leanne couldn't have been more helpful and thoughtful with her questions and work on my enquiry."

"Couldn't rate more highly. I moved from another broker due to slow response speeds. Mark responded really quickly (sometimes from his holiday!)"

"Kathryn and her colleagues were very helpful because of my recent illness."

"Nick was my advisor, Excellent knowledge of products and what I needed, not just pushing me into a sale/policy, will always refer to him in the future."

"I would like to say a very big thank you especially to Amy you really went above and beyond."

"Fantastic at keeping in contact. Happy with how they dealt with my more complex medical history. Would recommend Vivek and the team!"

"Annaliese was absolutely fantastic, making us both feel at ease and helping us navigate issues that had caused us problems with previous attempts to obtain insurance."

Talk to a Friendly Adviser
Please feel free to call us on
0800 567 7450
and one of our qualified insurance advisers will be happy to assist you.
Please feel free to request a quote from us using our online form. The more information that you can provide us about your health conditions, hobbies, travel and/or occupation, the more accurate indications of price we'll be able to give you.
Experienced and knowledgeable advisers
Specialist advice with no fees to pay
Full assistance with all of your paperwork
Put your policy into trust at no cost
A dedicated insurance adviser for you
Here's our latest guides, musings, charity work, podcast, awards and industry updates. There's a lot going on!