By clicking on submit I / We give consent for you to call me / us on the number provided to discuss my / our financial requirements.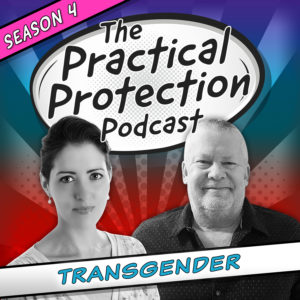 Matt and Kathryn chat about accessing insurance when someone is transgender. They discuss how underwriting has progressed and what more can be done to better the application process.
As with many things the insurance world has made clear growth in how it underwrites insurance applicaions for people that are transgender. It's not yet perfect, but it's much better than it was and we talk through how things have changed over the years.
The key takeaways:
There are approximately 600,000 people that are transgender or non-binary within the UK.
Transgender is not a mental health condition, but you might end up having to answer questions as if it is, in an insurance application form.
A case study detailing life insurance and income protection for a transgender man.
Next time, I have Roy McLoughlin and Jo Elphick from Legal & General joining me. We are going to be chatting about group insurance, income protection and some research that shows the differences in how men and women approach these areas.
Remember, if you are listening to this as part of your work, you can claim a CPD certificate on our website, thanks to our sponsors Octo Members.
If you want to know more about how to arrange protection insurance, take a look at Kathryn's brand-new Protection Insurance in Practice course here.
To listen to the podcast in full click here.

"Alan and his team were great! Alan helped get me cover where my own company could not (I work in financial services too!) Would highly recommend and will come back in the future."

"Krystle was fantastic throughout and managed to knock almost 50% off my current life insurance premium."

"Very helpful, James worked hard to find the right cover for me and explore the detail with the underwriters."

"Couldn't rate more highly. I moved from another broker due to slow response speeds. Mark responded really quickly (sometimes from his holiday!)"

"Kathryn and her colleagues were very helpful because of my recent illness."

"Nick was my advisor, Excellent knowledge of products and what I needed, not just pushing me into a sale/policy, will always refer to him in the future."

Talk to a Friendly Adviser
Please feel free to call us on
0800 567 7450
and one of our qualified insurance advisers will be happy to assist you.
Please feel free to request a quote from us using our online form. The more information that you can provide us about your health conditions, hobbies, travel and/or occupation, the more accurate indications of price we'll be able to give you.
Experienced and knowledgeable advisers
Specialist advice with no fees to pay
Full assistance with all of your paperwork
Put your policy into trust at no cost
A dedicated insurance adviser for you
Here's our latest guides, musings, charity work, podcast, awards and industry updates. There's a lot going on!